Cotton growers typically rely on John Deere for its efficient, durable equipment. The John Deere 9996 is an example of a machine that agricultural professionals turn to for its numerous features, including a high-powered engine and reliable braking system.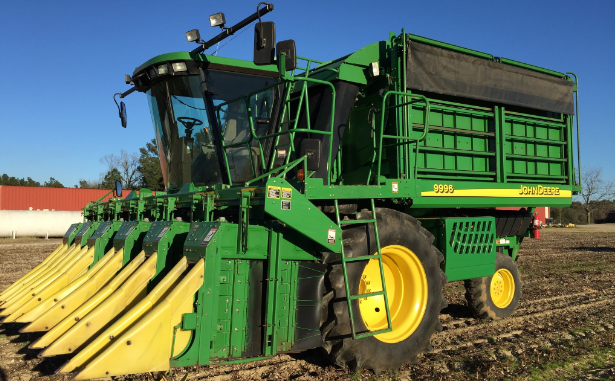 Let's take a look at some of the other highlights of the John Deere 9996 and how it can make an impact on the cotton harvest.
Dual Hydrostatic Drive
The John Deere 9996 includes dual hydrostatic drive for the utmost efficiency. The inner hydrostatic pump drives the transmission, while the outer pump drives the row units. A hydraulic reservoir located in the pump housing supplies oil for the entire system.
PowerTech™ Diesel Engine
An 8.1-liter PowerTech diesel engine is housed in the John Deere 9996 for maximum power. It features 350 horsepower and an electronic governor that delivers constant power even in wet, hilly conditions.
Large Fuel Tank
The fuel tank of the John Deere 9996 can hold up to 200 U.S. gallons. This means that operators need to fill up less, giving them more opportunity to focus on the task at hand.
ComfortGard™ Cab
Operators are sure to be comfortable during the workday in the John Deere 9996. It features a ComfortGard-styled cab with a standard heater, air conditioner, and pre-wiring for a two-way radio. There is also an optional air suspension seat, and power steering makes for simple operation.
PRO-LIFT™ Basket
The John Deere 9996 comes with a PRO-LIFT basket, which offers 1,400 cubic feet of capacity. Its low center of gravity provides an ample amount of stability while moving material. The John Deere 9996 also comes with a basket-monitoring system to make it easier to manage loads.
Row Unit Options
PRO-16™, PRO-12™, and PRO-12™ VRS picking units are compatible with the John Deere 9996. They have two drums positioned "in line" on the crop row for a narrow row unit profile. Additionally, they all include individual slip clutch protection and doffer zone monitors.
Row-Trak™ Controller
The Row-Trak controller system of the John Deere 9996 monitors the input signal from the probe sensor and feedback sensor in order to send output signals to the hydraulic manifold. This adjusts the steering system for operators on the job.
Optimal Wheels and Tires
The dual drive tires of the John Deere 9996 provide additional weight-carrying capacity while improving floatation. They also reduce ground compaction while the machine is on the move. Cleat tires are available for muddy, wet terrain.
If you enjoyed this post or want to read others, feel free to connect with us on Facebook, or Twitter!
You might also like: