The John Deere 5075E is a utility tractor that can be used for a wide range of jobs out in the field. Regardless of the task at hand, the 5075E can help you work quickly and efficiently.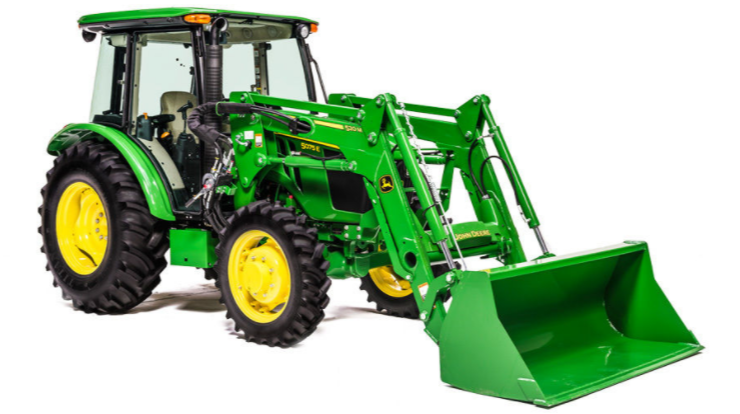 Let's take a look at some of the John Deere 5075E attachments that can add more versatility to the machine.
Engine Coolant Heater Kit
This attachment is essential for tractor owners who work in a cold climate. The kit comes with a screw-in type 120-volt element designed to heat the coolant. In turn, the engine is warmed up for more efficient start-up in cold weather. There is also better lubrication at startup, which reduces engine wear over time. Keep in mind that a battery with a minimum of 925 CCA is required.
Rear Fender Extension Kit
Operators who want to avoid exposure to debris will want this extension kit. It extends the rear fenders to prevent dirt and debris from being misdirected toward the cab.
Horizontal Side Exhaust
This is one of the John Deere 5075E attachments that operators will want if they happen to be working in low-clearance areas. The side exhaust can be used with Final Tier 4 emissions on the 5075E for an alternative to the standard exhaust.
Drawbar Clevis Kit
With this offset drawbar kit, operators can easily hook up drawn implements to the John Deere 5075E as needed out in the field.
Front Utility Box
This box comes with two removable shelves, as well as an innovative front door and lid design. Items such as grease guns and tow chains can be conveniently stowed away in the box.
Quik-Coupler
This is a second-generation iMatch™ quick-hitch. Owners who use this item can make it easier to attach implements, such as rear blades, rotary cutters, and box blades. The hitch itself is constructed of strong, welded steel. The bushings and hooks are heat treated, meaning they are specially designed to withstand wear and tear over time. Hitch-locking handles are made to rotate 100 degrees to open the locking lugs.
Auxiliary Rear Work Light Kit
This kit is one of the John Deere 5075E attachments operators will want if they work before sunrise or after sunset. The kit comes with a 37.5-watt halogen floodlight, which is adjustable and illuminates areas behind the tractor. The bulb can also be easily replaced as needed.
If you have any questions on John Deere 5075E attachments or the tractor itself, contact your local John Deere dealer.
If you enjoyed this post or want to read others, feel free to connect with us on Facebook, Twitter or Google+!
You might also like: