The John Deere S770 is a combine that agricultural professionals will want if they strive to improve their productivity and efficiency out in the field. This machine comes with a variety of features, such as ActiveYield™ and Combine Advisor™ to make it a more effective piece of equipment during the harvesting process.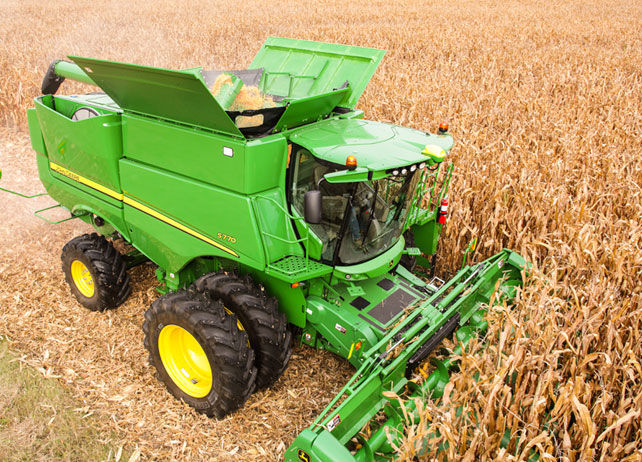 Let's take at some of the other highlights of the John Deere S770.
Variable-Stream Rotor
This machine has a variable-stream rotor, specifically designed to handle tough material. The rotor is designed to smooth crop flow and maximize throughput. The longer rotor taper improves material handling, and the transport vanes can be electrically adjusted as needed. The vane angle can be changed directly from inside of the cab.
ProDrive™ Transmission
The ProDrive system of the John Deere S770 utilizes PowerShift™ transmission technology. This means that the machine can automatically shift between two speed ranges to accommodate changing terrain. Operators also have more precise control over the combine's speed, and they can maintain ground speed when using four-wheel drive. The system comes with Harvest Smart™ (a feedrate control system) to maximize productivity.
Gen 4 CommandCenter™ 4600 Display
Operators who want to be able to keep an eye on diagnostics as they work will enjoy the Gen 4 CommandCenter 4600 Display. With this item, everything from diagnostic information to harvest data can be viewed from the cab. The layout is completely customizable to operator preferences. Its features can be quickly and easily navigated with touch functionality.
Combine Advisor
The Combine Advisor package can be used with the John Deere S770, giving operators a wide range of technologies to maximize harvesting profits. For example, VisionTrak comes with the package, which can monitor losses and overall harvesting performance. The Interactive Combine Adjustment performance wizard also comes with the system. This optimizes the combine as a whole for more productivity and efficiency out in the field.
Platform Tilt
Platform tilt is an option on the John Deere S770 that operators can use as they work to maximize the performance of the header. It is especially helpful in down crop or changing field conditions. Growers can hydraulically adjust the fore-aft pitch of the front-end equipment with a single button located within the cab.
If you have any questions on John Deere S770 or any of its features, contact your local John Deere dealer.
If you enjoyed this post or want to read others, feel free to connect with us on Facebook, Twitter or Google+!
You might also like: