When customers have an ample amount of ground to cover, they can rest assured that John Deere has a residential mower to suit their specific needs. The John Deere Z540R is one example of a machine that can provide an ideal cut and reduce the amount of time it takes to complete the task at hand.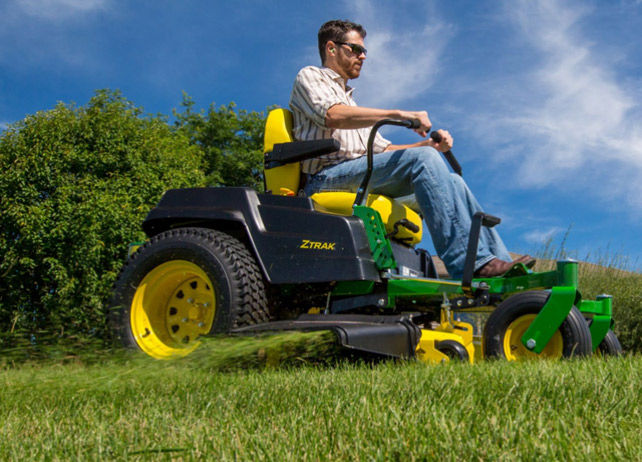 Let's take a closer look at some of the features of the John Deere Z540R and how it can help with mowing jobs of all sizes.
Powerful Engine
The John Deere Z540R features an engine with a V-twin design for reliability and a long life. It provides 24 horsepower and an ample amount of torque. Cast-iron cylinder liners provide a long-wearing surface for the utmost durability, and full-pressure lubrication keeps the engine running smoothly. A flywheel alternator offers the capacity to quickly recharge the battery as necessary.
Convenient Serviceability Points
Operators can easily access service points around the entire John Deere Z540R. For instance, the footrest area is hinged and can be easily raised to service the mower deck. There is also a convenient service interval decal that provides basic maintenance information to operators.
The Edge™ Cutting System
The Edge Cutting System High-Capacity Mowing Deck comes in either a 60-inch or 48-inch size. The 48-inch mower deck is specifically designed to handle higher volumes of grass. Both models are composed of a heavy, 9-gauge, 0.150-inch steel designed to minimize the number of welds and provide a smooth underside for reduced material buildup. A durable plastic deflector spreads grass clippings evenly across the lawn. One-inch cold-forged spindles are heat-treated for strength. The blade overlap is greater than other conventional decks, meaning these decks provide a cleaner cut.
Operator Station
The operator station of the John Deere Z540R is specifically designed for comfort. The seat has two suspension springs and adjustable armrests. Shock absorbers dampen control movements for smooth operation. The main controls are also color coded for easy identification, and the commercial-style footrest flips up, making it easy to clean grass out of the area at the end of the workday.
Strong Frame and Wheels
The frame of this mower is composed of a heavy-duty steel for a long life and maximum durability. Large front caster wheels and large rear wheels make for a smoother ride, and they also provide better traction.
If you have any questions about the John Deere Z540R, you can contact your local John Deere dealer.
If you enjoyed this post or want to read others, feel free to connect with us on Facebook, Pinterest, or Twitter!