Since 1927, John Deere combines have changed the way farmers take on the harvesting season. A dedication to quality, constant innovation, and convenience have helped this company become a global leader, serving people around the world.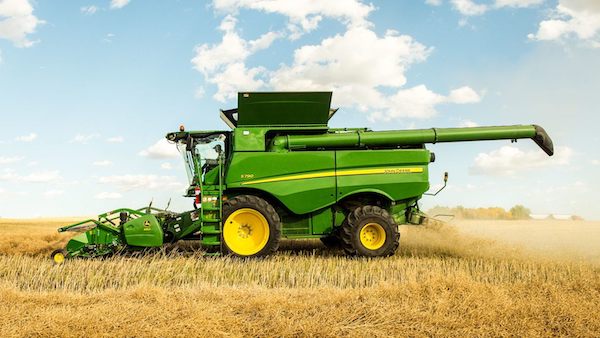 In order to truly understand the value behind John Deere combines, we should break down the top features, from A to Z.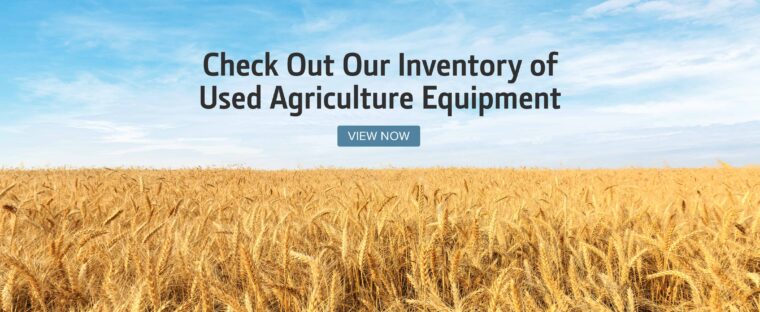 A: Adjustments
When it comes time for harvest, don't let an issue such as grain damage end the season early. With interactive combine adjustment (ICA), John Deere combine operators can easily find a solution based on their harvesting priorities. These areas include:
Grain damage
Grain loss
Grain cleanliness
Straw condition/quality
Once an area is chosen, recommendations will be given before the machine automatically adjusts settings. Once this adjustment is complete, operators can then evaluate the change in performance and determine if any new issues are present.
B: Best in Class Power
PowerTech™ PSS engines equipped with Final Tier 4/Stage IV Technology ensure that John Deere combines are able to get any job done with ease. Five different liter options, from 4.5 to 13.6, are designed specifically for off-highway applications. Additionally, the inclusion of turbochargers, both low-pressure and high-pressure, guarantee improved performance and responsiveness. With an engine this resilient, operators will never need to worry about whether or not they will be able to get through the harvest season.
C: Cleaning Systems
John Deere S-Series combines come equipped with a Dyna-Flow™ Plus cleaning system which offers even distribution, improved performance, 2-stage-pre-cleaning, and a larger design for increased capacity. Overall, this feature increases the machine's capacity up to 10% in corn and 13% percent in wheat and canola. Additionally, with tailings reduced by as a much as 28%, operators will enjoy increased speed, meaning increased productivity.
D: Draper Platforms
700FD HydraFlex Drapers, available for S-Series combines, feature an optional 18" top-crop auger that allows operators to handle thicker crops, such as canola, while knowing these crops are feeding smoothly into the combine. Additional features include an optional seal kit, which reduces center section losses by up to 45%, a side draper belt system, and a symmetrical belt design. When using these draper models alongside their John Deere combines, operators can rest assured that they will not be spending their time cleaning out debris when they could be out in the field harvesting. These draper models include the 730FD, the 735FD, the 740FD, and the 745FD.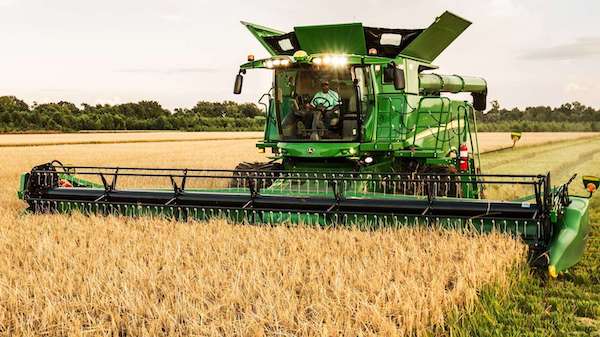 E: Emission Systems
When it comes to environmental regulations, agencies emphasize four types of engine emissions: carbon monoxide (CO), hydrocarbons, nitrogen oxides (NOx), and particulate matter (PM). In order to meet these worldwide regulations, John Deere combines use PowerTech Final Tier 4/ Stage IV Technology – this includes a smart exhaust filter, selective catalytic reduction, which converts NOx to nitrogen and water vapor, and ultra-low sulfur diesel to lower PM. Overall, meeting final Tier 4/Stage IV regulations requires an additional 80% reduction in NOx compared to the previous level.
In addition to delivering several environmental benefits, this technology provides customers with great machine productivity, longer intervals between active filter cleaning, reduction of noise, and improved high-altitude performance.
F: Feeding Systems
The feeding system of a combine is critical because it moves material from the front end to the separating system. In order to get the most out of this system, operators should be aware of certain factors for maintenance purposes. First off, the feederhouse chain should be adjusted on both sides but be careful because too much tension can cause shaft and bearing failures! These chains feature hardened cast iron slats which ensure superior material handling. Other considerations for inspection include the feederhouse floor, feed accelerator wear plates, and drive chains. Taking steps to ensure these parts are working properly can increase the overall productivity of your John Deere combine.
G: GoHarvest
The GoHarvest app allows operators to optimize their John Deere combines quickly and easily – this technology is supported by S, W, and T series models from 2012 and later. Making the most out of your equipment is easy with a wide range of features, including, but not limited to:
ActiveYield
Yield Accuracy
Auto Maintain
Integrated Combine Adjustment
Combine Power Management Tools
Operators also have the ability to enhance their proficiency of the machine with GoHarvest Premium Combine Simulator, which provides versatile training environment levels, a portable base that is easy to maneuver, and a variety of learning modules.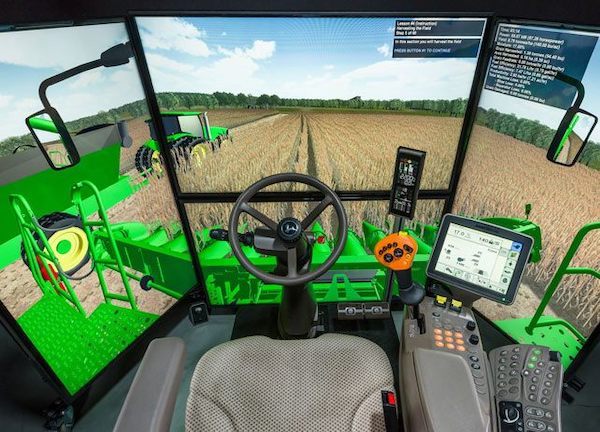 H: History
Over the past century, John Deere combines have been helping farmers harvest their crops as efficiently as possible. Key moments in history worth noting range from the company's first combine produced in 1927, the John Deere No. 2, to the development of the first self-propelled combine, the 55H combine, from 1954 – 1961. With this machine, operators had full control with easy steering and hillside technology that also maximized safety. Unsurprisingly, Deere has continued to perfect this equipment and in 2010, the company produced its 500,000th self-propelled combine. The history of John Deere combines showcases a sense of motivation which has led to the development of machines that work hard in the field so that operators don't have to.
I: Innovation
John Deere has found continued success over the years due largely in part to its core values: Integrity, Quality, Commitment, and Innovation. This dedication to innovation has helped the company stand out and continue to provide its customers with the best technology possible. John Deere combines illustrate this commitment to creating the next big thing. In 2018, Deere's Deere S700 Series Combine was recognized for its integration of "smart" technology in addition to other details designed to improve operator experience.
J: JD Link
With JDLink™, operators can remotely access critical information related to their John Deere combines – this tool enables machine location monitoring, maintenance planning and logging, and geofencing. Having the ability to monitoring performance, schedule reports, and get support, sometimes without the need for an in-person visit, means operators can take on the harvest season with confidence.
K: Kits
In addition to having access to JD Link through an embedded kit, customers also have the choice of several other kits that are designed to make John Deere combines run smarter and more productively. Let's take a look at just a few of these options and the benefits they provide.
Real Tine Flip Over Kit

This kit is designed to make it through tough vine crops, boosting efficiency when harvesting soybeans, peas, and canola.

Knifeback Repair Kit

Don't let a damaged cutterbar ruin your harvest season! Top and bottom reinforcement straps will repair this tool and make sure it is as good as new in no time.

2-Speed, 4-Wheel Drive Conversion Kit

With this option, operators will enjoy increased traction and ground propulsion thanks to new wheel angle sensor components and XHD axle housing and extensions.

Air-Chute Kit

This will help improve grain cleanliness, reduce feederhouse dust, and keep the rotary screen debris-free.
L: Lights
John Deere combines come with various lighting package options, each of which provides maximum illumination. The service lights package illuminates both sides of the combine body in addition to the engine compartment; this feature is especially useful for nighttime equipment maintenance. FieldVision™ Xenon HID Lighting provides up to 200% more light than regular halogen bulbs while operating with less heat and lasting five times longer.
M: Models
John Deere combines are available in two different harvesting separator configurations. These include the T670, tangential-tine separator combines, and the S-Series, single-tine separator combines. The T670 Combine features single-point feederhouse latching, a mass-flow sensor, and reel resume in-cab control. Additionally, this model has one of the largest active separation areas in the market, offering maximum capacity while harvesting small grains.
S-Series combines models include the S760, S770, S780, and S790. These models provide customers with top of the line rotary threshing while working with all types of crops and conditions. While the T670 and S-Series combines provide different benefits, all John Deere combine models have built-in performance, safety, service, and reliability features that keep them going strong for years.
N: New for 2019
In 2018, Deere announced several updates to its S-Series lineup designed to improve performance, ride quality, and harvesting efficiency for small grains. These additions include the option of a suspension track system in 30- or 36-inch belt widths, improved ground sensing with new 700FD HydraFlex Draper, and enhancements to the MyOperations™ mobile app. These updates are fully compatible with S700 Series Combines, working with the current technology that makes these machines great.
O: Operator Comfort
Operator comfort is a key component that makes John Deere combines best in class machines. S-Series customers get to enjoy a premium cab which includes a 180-degree view, cloth interior, air suspension seats, and easily accessible controls. In addition, updated Bluetooth features, foot pegs, and more storage guarantees that the only thing on your mind is the field that surrounds you.
P: Precision Technology
With precision ag technology, operators can rest assured knowing that their equipment is working as efficiently as possible with the utmost accuracy. Customers have their choice of a range of management, field and crop, and guidance solutions that save time and resources and can help your business stay ahead. Here are just a few examples of stand-out solutions for your combine:
These solutions are designed to work quickly in order to provide fast results that can help you make the most out of your time in the field.
Q: Quality
Ever wonder how John Deere combines are made? At Deere's East Moline, IL factory, Harvester Works, a combination of the best tools, processes, and people ensures that only the most quality equipment is put out into the public. Each combine is built to order, showcasing a commitment towards craftsmanship and innovation. Let's take a behind the scenes look at Harvester Works and its dedication to quality.
R: Residue Management
When it comes to controlling material distribution with ease, customers have several options for equipping their combine. These include:
PowerCast™ Tailboard

This tailboard assembly mounts to the rear of the chopper and is able to spread residue from 36 ft. to 50 ft. Additionally, wider platforms help manage residue distribution.

Extra-Wide Straw Spreader

Two large impellers ensure consistent, wide distribution of material from the separator and the cleaning system.

Cob Deflector

Improving airflow in small grain crop is now as easy as removing one pin and rotating the handle of the cob deflector.

Easy Knife Bank Adjustment Kit

This kit allows for easy adjustment of knife blades when going from one crop to the next.
S: Safety
Before operating your combine, it is critical to be aware of the safety features of the machine. This could mean referring to your operator's manual, watching training and safety videos, or trying out a training simulator. In order to keep operators safe while working, Deere engineers have designed an alarm system which alerts bystanders to not get too close to the machine's moving parts. This system includes a buzzer, horn, and an operator's seat presence switch which will set off the buzzer and horn once the seat is empty. This system can be tested in just 6 steps in order to ensure that it is working properly; if the alarms are not heard while testing, your local John Deere dealer should be called to repair this system.
T: Transmission
The ProDrive™ ground drive system provides operators with maximum control through the CommandTouch™ armrest console; operators can reach up to 23 mph using the navigation tools on this console. This transmission offers seamless shifting between two speed ranges, one for harvest and one for transport, and provides 64% more torque at a harvesting speed of 5mph. This ease of use maximizes uptime and helps get every job done as efficiently as possible, no matter the terrain.
U: Used Combines
For those who cannot afford to purchase new equipment or maybe just prefer equipment with some years on it, John Deere's Certified Pre-Owned Program is ideal. Each machine is field tested, inspected, and certified, with combines facing 200 inspection points; these points include tires, grain tank section, and the feederhouse area. Eligible John Deere combines consist of S-Series machines that are two years old or newer with fewer than 1,000 engine hours. By participating in this program, customers can relax knowing that they are not skipping out on quality by going with a piece of used equipment.
V: Versatility
Changing over from one crop to another shouldn't have to be difficult – this is where Deere's 700C/FC Stalkmaster Chopping Corn Heads come in. Available on 7 different models, this system is designed to be attached and removed quickly, leaving more time for harvesting. This is possible thanks to a convenient shifting lever on the right side of the gearcase, this function can be turned on or off.
W: Worldwide Leader
How many countries does John Deere operate in? With over 100 locations in more than 30 countries, it is clear that this company has a prominent global presence that reaches a wide array of individuals. In addition to producing equipment in a variety of locations, it is also believed that John Deere combines help harvest almost half the crops in the world.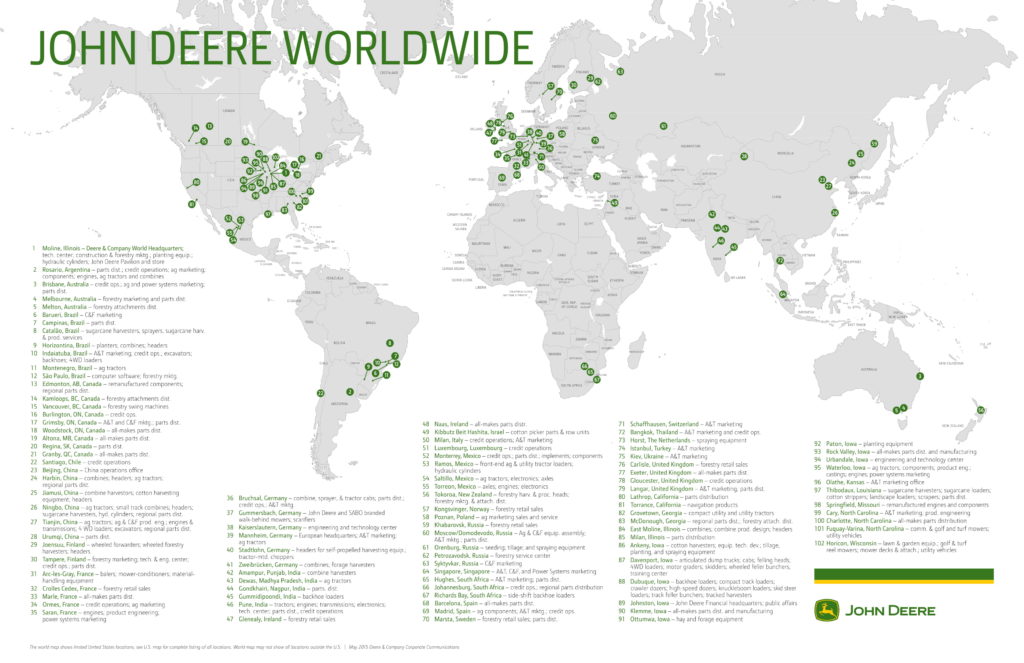 X: Xtra Fast Unloading System
Deere's Xtra Fast System, available on T670 combines, guarantees an unloading rate that is 50% faster than its predecessor – 125 L/sec (3.3 bu/sec.). This is achieved by grain tank cross augers and an increased discharge housing which includes a vertical auger.
Y: Yield Monitoring System
John Deere S-Series combines include a yield monitor system which operates by moving clean grain from the elevator to the moisture sensor. Once a moisture reading is taken, the grain will move through the elevator once again to cover the grain proximity sensor which will then activate the motor for a continuous flow of grain across the moisture sensor. As it continues to move, the grain flow rate will be calculated and recorded by the controller software in the combine.
Z: Zweibrücken, Germany
As previously mentioned, John Deere is a global organization that produces equipment around the world. One of these locations is in Zwebrücken, Germany, where S-Series combines and their respective 'i' versions for the European and CIS markets are being produced. By investing approximately $22.7 million in the development of this facility, Deere has demonstrated its commitment to serving the global market.
If you enjoyed this post or want to read others, feel free to connect with us on Facebook, Twitter or Pinterest!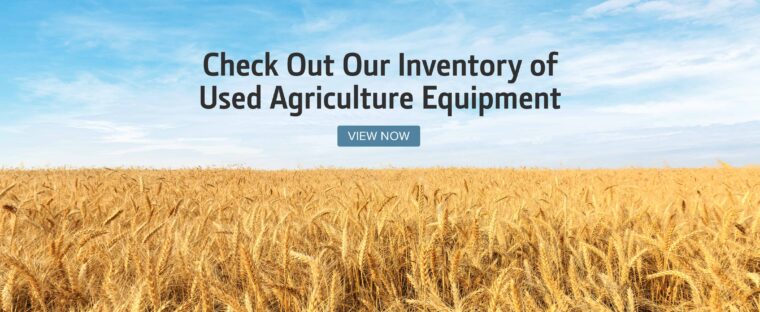 You might also like: