If you're in the market for a specialty tractor to meet unique agricultural demands, Deere likely has the perfect solution for you. For example, the company recently added the premium high-crop 5115RH tractor to its line-up, which has 230/95 R40 tires and provides 26.9 inches of crop clearance to the drawbar.
"John Deere is firmly committed to the high-value crop market and to providing the best possible power solutions for customers who need these specifically configured machines," said John Doyle, product marketing manager for John Deere. "In addition, farmers said they were frustrated with the lack of technology and data collection available in this class of tractor and struggle to find skilled labor to operate them. The 5115RH addresses these concerns with integrated technology and improved operator comfort, while delivering best-in-class fuel efficiency and hydraulic capacity."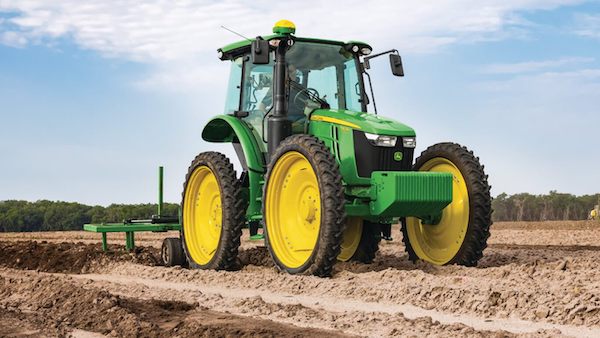 But the 5115RH tractor is just one of the many options Deere has to offer. Let's take a look at the three varieties of specialty tractors that Deere provides to its customers.
Narrow Tractors
John Deere offers two narrow tractors: the 5GV and 5GN Narrow. They feature 75, 90 and 100 horsepower engines, along with working widths as narrow as 39 inches. They also have a turning radius of 11.9 feet, and customers can opt for an open station or a cab.
Low-Profile Tractors
The 5GL, 5EL, and 5ML are all a part of the low-profile tractor lineup that John Deere has to offer. These specialty tractors have 75 horsepower engines with 61 PTO HP. They also feature a 24F/12R PowrReverser transmission and standard MFWD. They stand at 53.5 inches tall and 53 inches wide, giving operators the low profile they need to take care of their fields.
High-Crop Tractors
The 5MH and 6RH make up John Deere's hi-crop tractor lineup. These tractors feature 115 engine horsepower and 787.4 mm of front axle clearance. They also have AutoTrac and JDLink factory installed, and closed center hydraulics with 31gpm of hydraulic flow. The Command8 transmission of the hi-crop tractors features auto mode, which enables the operator to maintain a consistent ground speed effortlessly. AutoClutch also automatically regulates the load on the tractor when operators come to a complete stop. It provides the ability to inch or creep the tractor forward or reverse on a level surface or incline.
If you have any questions about the specialty tractors Deere has to offer, you can contact your local John Deere dealer.
If you enjoyed this post or want to read others, feel free to connect with us on Facebook, Pinterest, or Twitter!
You might also like: