Did you know the U.S. corn crop acreage could cover all of Germany? And that corn is grown on all continents except for Antarctica?
Corn is present in almost all parts of daily life for Americans. The most obvious consumption of corn is on its own as a food source. That being said, it is used for many other things, such as sweeteners, fuel ethanol, and starches. With corn presenting itself as such a crucial aspect of everyday life for many, it is important to also understand the amount of work that goes into the corn harvest every year. 
Corn harvest begins this October and will commence throughout the month of November. Since introducing the corn sheller in 1955, John Deere has played a major role throughout the harvest season. Let's go over the process of corn harvesting, as well as tips and attachments that can help you have the most efficient corn harvest possible in 2019.
Tips for Harvesting Corn with John Deere Equipment
When it comes to productivity and efficiency, there are a few steps you can follow to ensure a great harvest, and it all starts before you turn on your machine. Let's take a look at how John Deere S-series combines are designed to optimize and automate harvesting operations.
1. Safety First
Before you even start up the engine on your harvesting equipment, making sure your machine is up to safety standards is crucial. Here are some of the things that can help you stay safe this harvesting season.
Make Sure Parts are in Good Condition:

It's very important to make sure all of your machine parts are in good condition. This means looking out for excessive rust, sharp edges, missing pieces, and more.

Watch Out for Jagged Edges

: One of the things to look out for is sharp or jagged edges on threshing elements and augers.

Check the Settings on your Corn Head Row Unit

: The deck plates of the corn head row-unit must be set less than one-eighth of an inch wider than the typical cob's diameter. If the plate is set too wide, you can damage the kernels on the cob. 
2. Feederhouse Chain and Belt Tension Verification
When it comes to optimizing harvest performance, one thing to focus on is verifying that the feederhouse chain and belt tensions are correctly set. When adjusting the combine, a common mistake made by operators is underestimating the impacts of the feederhouse drum. The feed drum height position determines how the crop will be fed to the rotor and concave area. For corn, the front drum should be in the up position.
3. Fine-Tuning your Combine
When fine-tuning your combine, it's important to move the straw chopper to the windrow position in order to get an accurate indication of what is coming off the back end of the rotor. You will also want to remove concave inserts and separator grate covers before inserting separator grate spacers. If the rotor speed and concave spacing are correct, the operator should find what is typically referred to as busted cob, as well as some occasional whole cobs with no kernels attached.
4. Adjusting the Cleaning Systems
When adjusting the cleaning system of a John Deere S-Series combine, operators must first determine if settings and configurations are correct for the job. In order to obtain the highest cleaning and grain capturing capacity, it is important to check if the chaffer and sieves are in a deep tooth configuration. Set the rear of the dual-zone chaffer to 5 millimeters for level terrain or 10 millimeters for rolling terrain to help reduce the potential for heavy tailings. Chain tension should be loose enough to move the chain a little side-to-side, but tight enough so that you can not pull it away from the sprocket.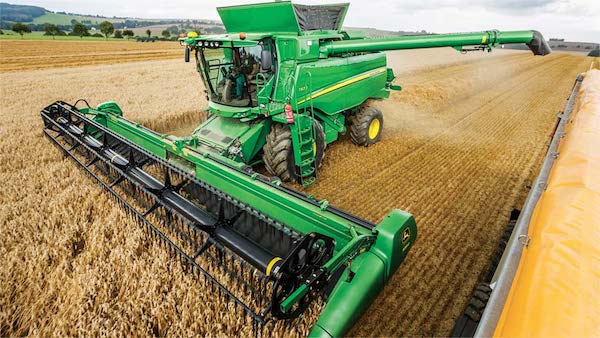 Combine Parts & Attachments for Improved Corn Harvesting
Producers and farmers consistently have one goal in mind when it comes to harvesting season: returning the highest yield possible, while also maintaining quality. John Deere attachments and parts can help to achieve maximum efficiency and productivity again and again. Let's explore a few of those options.
1. Grain Tank Trough Liners
Oftentimes, holes will appear under grain tank augers. To avoid becoming a victim of grain loss because of this, stainless steel liners will help to extend wear life and save grain.
2. Tine/Paddle Beater
The tine/paddle beater is recommended to be used in conjunction with the high-inertia cylinder for heavy-duty operations – this will help to increase crop agitation. The paddles strip while the tines separate for more efficient and aggressive separation of crop. These John Deere combine parts work to eliminate any buildup and plugging of unwanted materials.
3. High-Torque Variable-Speed Feederhouse Drive
Higher capacity drive-power lets the combine operator harvest corn at a higher yield, with faster ground speeds. When compared to standard heavy-duty variable feederhouse drives, this features heavier belts, larger gears, shafts and bearings for maximum productivity.
4. Two-speed 4WD Conversion
This system allows the operator to go from a two-wheel drive to a 4WD drive system with two speeds and torque ranges, helping to increase ground-speed versatility.
5. AutoTrac RowSense Universal Kit
By fusing GPS data from the StarFire™ receiver with data from the universal row sensor, you can experience a comfortable hands-free experience with reduced operator fatigue.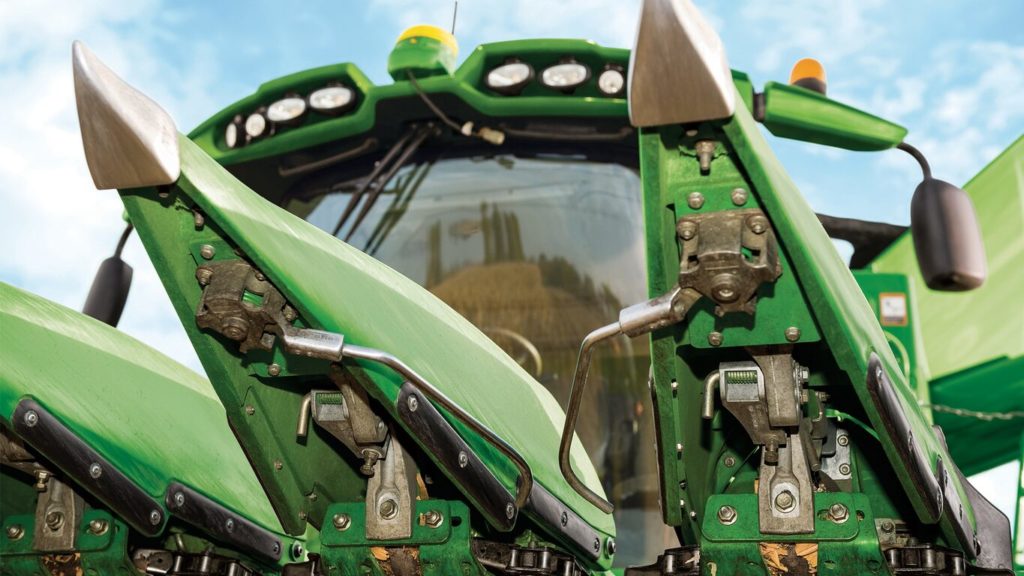 6. PowerCast™ Tailboard
This tailboard attachment lets the operator change spread width from 35 to 50 feet directly from the cab, replacing the 12-vane tailboard. This helps to better manage residue distribution with wider platforms.
7. High-Inertia, Enclosed Cylinders
Operators can rely on the high-inertia cylinder when harvest conditions demand more highly aggressive processing. The cylinders prevent plugging and vibration because they are fully-enclosed. This can help to improve your material flow, saving energy and fuel, especially during tough and damp straw conditions.
8. Camera Observation System
In terms of visibility enhancement, the camera observation system gives operators a great view of crucial combine functions.
9. FieldVision™ Xenon HID Lighting
Darkness can often stand in the way of a successful harvest, and in most cases, visibility enhancement is necessary. With HID lighting, the operator will experience 200% better illumination while running at less heat.
10. Full-Fingered Auger Assemblies
These full-fingered assemblies boost feeding capacities and reduce slugs that are in unfavorable conditions. This attachment features standard center fingers and one retracting feed finger between each auger flight.
11. High-Wear Knife Guards
These knife guards can withstand tough, abrasive soil and crop conditions, while also maximizing cutting performance for a much longer period of time.
12. Combine Observation System
John Deere's combine observation system is available for 50, 60 and 70 Series combines, providing better visibility and flexibility on-the-go. With two color cameras, operators have a clear overview of key harvesting functions. 
13. Corn Head Shoe Cover
This attachment prevents trash buildup and bunching in damp conditions. The shoe covers also have a fluorescent strip to provide better visibility at night or when harvesting in downed corn or narrow rows.
14.  Wide Reel Finger
Each snap-on reel finger is designed for improved sweeping action in short or light crops and is wider and more rigid than a more traditional reel finger. It helps clear the cutterbar of material buildup while also promoting the spearing of the crop with its angled, pronged edges.
15. Rotary Screen Brush Kits
Overheated engines can become a huge problem during harvesting season. The rotary screen brush kit keeps the rotary screen clean of buildup and helps minimize plugging.
16. Walker Sidehill Performance Kit
Don't let grain sitting on the hillside go to waste. This attachment's tall center chaffer divider and grain agitators stop grain from shifting to one side of the cleaning shoe, keeping it spread evenly across the chaffer for reduced grain loss.
John Deere Corn Harvesting Equipment: The Folding Corn Head
Folding corn heads can provide a huge opportunity to producers. The largest advantage that it supplies is the fact that producers no longer have to take the head off of the combine. Overall, this helps to improve the number of acres harvested each day, as well as decreasing the costs associated. The decreased costs come from the reduction in labor and fuel needed to take the head off of the combine. There are many features to folding corn heads that can help you achieve efficiency and exceed your harvest goals.
Perma-Glide™ Shields and Points

: Perma-Glide is a tough, solid polyethylene material that stands up to the bumps and bruises that come along with harvesting corn. This helps to resist damage to the machine and decreases the amount of sticking and bunching.

Header Height Sensing System: When operating the 893 Corn Head, users can leverage the header height sensing system to keep the header at the desired height with the turn of a dial in the cab. 
StalkMaster™ Gear Case and Chopping Blades:

The chopping gear case is the muscle behind the StalkMaster corn head. This helps to provide maximum stalk processing and works in conjunction with Knife Stalk Rolls. 
600FC Series Corn Heads
The 600 series folding corn heads work very well with John Deere S-Series combines. Here are some of the benefits:
Ease of Transportation:

The

608FC

corn head is designed for transport on very narrow roads and one-lane bridges, making it the perfect option when transportation might otherwise be an issue.

Increased Harvest Capabilities:

The

612FC

allows you to increase your acres harvested by about 30 acres a day while reducing operating costs by 15%. 

Ease of Use:

Both headers can be folded on the spot, helping operators easily move from field to field in less time.

StalkMaster Technology

: All models are also equipped with the StalkMaster™ chopping system, allowing operators to chop corn stalks while harvesting and eliminating the need for second-pass operations.
700FC Series Corn Heads
The 708FC and 712FC folding corn heads, part of the 700 series, are two of the newer models that corn producers may also want to consider utilizing out in the field. Here are some of the benefits to this model series:
StalkMaster:

Similar to the 600FC models, these machines have the

StalkMaster

corn head-chopping system that allows for the chopping of corn stalks while harvesting.

Hydraulically-Adjustable Deck Plates:

These help to reduce ear loss, maximizing potential yield and minimizing material-other-than-grain intake.

AutoTrac RowSense:

This is a feature of both the 708FC and 712FC. This leading-edge technology combines satellite position data with feeler data gathered from the row sensor, allowing you to reach greater levels of productivity.

RowSense:

This technology allows operators to maintain harvesting efficiency in down crop and low visibility conditions. In turn, it increases hourly performance potential and reduces crop loss.

Intermeshing Stalk Roll Options:

These options for premium stalk processing are also available for both the 708FC and 712FC. With this option, the majority of stalk material will be sized at six inches or longer to provide soil protection from wind and water. This is ideal for working in wet harvesting conditions.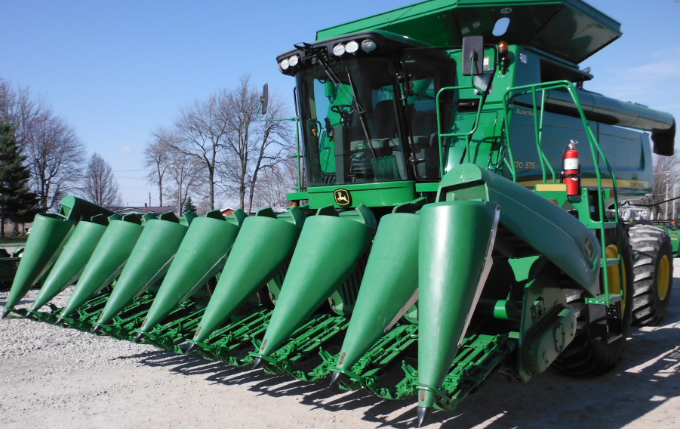 Final Thoughts
Throughout the corn harvest season, it is important to not only inspect your equipment at the beginning but also to look for ways in which you can improve your harvest year over year. This could include looking into new attachments for increased efficiency, as well as additional parts for better visibility when out in the field.
If you have any questions about John Deere corn harvesting equipment, such as the folding corn head, you can contact your local John Deere dealer.
If you enjoyed this post or want to read others, feel free to connect with us on Facebook, Pinterest, or Twitter!
You might also like: