When customers think of John Deere, Illinois might immediately come to mind, but many people are unaware that the company had a strong presence in Kansas – specifically Kansas City – around the time of its humble beginnings. From early on in John Deere's history, this city was recognized as playing an important role in the development of the company.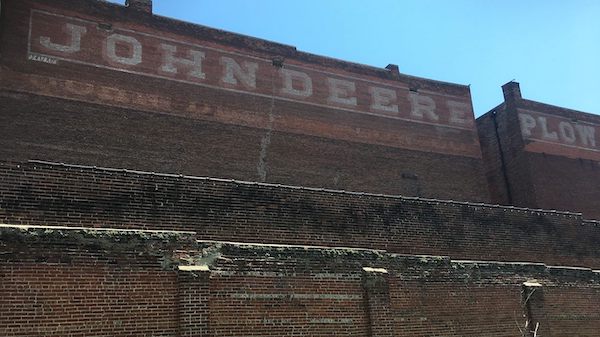 The Decision to Go West
John Deere always had his sights set on territories beyond Illinois. Before the turn of the 20th century, the company had employed a network of travelers, or salesmen, who trekked across the country to make arrangements with dealers to carry Deere products. As the company grew, so did its fleet of traveling salesmen. During this time, business had started to evolve, as well.
In 1868, Deere and Company created a position of "general agent," employing a man name George Vinton. His job was to manage the fleet of traveling salesmen, which grew in importance when Deere established its first branch house in Kansas City on July 15, 1869. The branch house, Deere, Mansur and Co., was a co-partnership with Alvah Mansur, who managed the branch. At the time of this development, Kansas City had a bustling population of 20,000 people, with the first bridge across the Missouri River opening in 1869. Times were changing, and new business opportunities were arising.
Struggle and Growth in Kansas City
In 1889, Deere, Mansur and Co. dissolved and reincorporated as the John Deere Plow Company. It also expanded beyond Kansas to include Colorado, Arizona, western Missouri, New Mexico, and parts of Texas.
By 1900, the branch had grown, adding a sub-branch in Denver and a distribution warehouse in Oklahoma. However, the dust bowls across the great plains and the Great Depression hit the Kansas City branch hard. To help struggling farmers, the company extended retail loans on machinery purchased and leased several buildings in its commitment to continue growing.
In 1951, a severe flood struck the Kansas City branch, engulfing many of its buildings. A new branch opened at 3210 E. 85th Street in Kansas City in 1953, built on higher ground. It marked the beginning of a new era for the Kansas-based branch.
John Deere Today
In the early 1990s, the Kansas City branch hit a significant milestone, with annual sales topping $1 billion. By 1997, the company was ready to open a new office in Lenexa, Kansas, to centralize all U.S. branch administration operations, such as training and dealer development.
By late 2009, Deere had decided to launch a global operating model that led to closing all branch operations and centralizing sales, marketing, and administrative functions into one center called The John Deere Agricultural Marketing Center in Lenexa. In 2011, the North American Ag & Turf Marketing Center also moved to Olathe, Kansas, highlighting the company's commitment to the state.
To learn more about John Deere history, check out this blog.
If you have any questions about John Deere machinery, you can contact your local John Deere dealer.
If you enjoyed this post or want to read others, feel free to connect with us on Facebook, Pinterest, or Twitter!
You might also like: