As the cold weather fades and the sun stays out longer each day, all most want to do is be outside. This includes home and landowners who have spent the previous months thinking about their next landscaping project. But while the warm weather can prove beneficial in several ways, it can also present several challenges that can lead these same homeowners who have been anticipating this climate to run through their list of tasks as quickly as possible. This is where having the right lawn care tools can play a crucial role, and can mean the difference between a job half done and a job done right.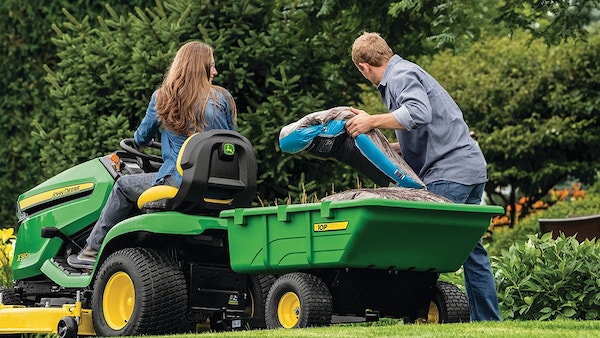 Get the Job Done Right With These Essential Lawn Care Tools
In addition to the usual basic lawn care tools, such as shovels, rakes, and leaf blowers, there are several other options that offer the power needed to boost efficiency and productivity. This post will explore these options and explain how they can make summer landscaping a breeze. 
Tractor Attachments for Yard Work
When it comes time to work through one's list of landscaping tasks, basic lawn care tools that require a bit of extra elbow grease are not always the best option. In these scenarios, homeowners need the power that comes from a machine, such as a John Deere tractor, and applicable implements. 
Box Blades 
A box blade can be used to level, grade, backfill, or spread materials like soil or gravel. This tractor implement resembles a 3-sided metal box and features front and rear scraping blades located on the bottom of the rear panel. Box blades also use angled metal teeth, also known as scarifiers, to dig into the ground and break up dirt or soil so that it can be shaped to the operator's liking. 
This type of tractor attachment can quickly prove its worth for any homeowner, especially when less than ideal weather conditions create muddy surfaces that result in unwanted tire tracks, ruts, and footprints. By leveraging this tool during the summer, operators can bump tasks off their lists in no time. 
Root Grapples
Root grapples can be added to equipment for the purposes of lifting, stacking, moving, pushing, loading, or unloading heavy-duty materials. In addition to these applications, root grapples can prove particularly useful for jobs that require moving large piles of brush scattered across a property. 
Root Rakes
Root rakes offer an easy way to pick up large or abnormally shaped materials while leaving soil and small rocks behind. Once the bulk of the material has been moved, these tools can also be used to pull up roots and other debris that lies beneath the soil. When it comes to summer lawn care tasks, root rakes can become essential tools for maximizing efficiency and saving time that can be spent elsewhere, whether it be on another item on the chore list or simply relaxing. 
Compact Track Loader Attachments 
John Deere's range of compact track loaders is designed for versatility thanks to several attachments that can knock out any task in little to no time. When a compact track loader is involved, whether operated by a professional or a landowner, the possibilities are endless.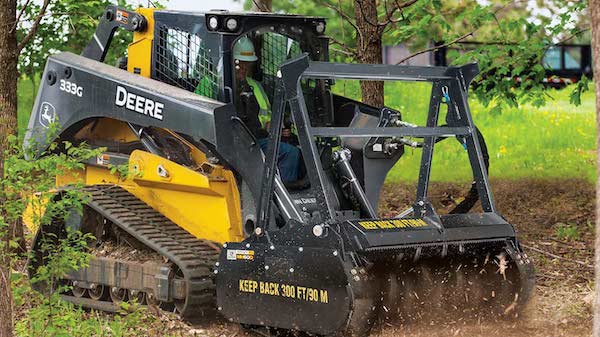 Mulching Heads
Thanks to a 60-inch-wide rotor and 36 double carbide-tipped teeth, these tools ensure maximum shredding ability, allowing landowners to create their own mulch in a matter of minutes. 
Vibratory Rollers and Roller Levels
For those with bumpy ground across their land, rollers can help flatten out the terrain – this can be especially useful after reseeding or installing sod. Before using these tools for their lawn care needs, however, landowners should evaluate whether the issue can be resolved simply by adding more soil around the bump to smooth it out. As these tools can be powerful, the use of rollers for lawn care needs should be carefully considered to reduce the chance of any damage being caused to the lawn. 
Buckets
Bucket attachments for compact track loaders can easily prove their value when it comes to moving material of any size. While they may not be considered for everyday use, these tools can help with lawn care tasks that require large cleanup jobs that just can't be done by hand. 
Power Rakes
Landowners working on seedbeds or other preparatory lawn care tasks will surely want this tool on hand. Power rakes from John Deere feature adjustable end plates that offer box scraper-like performance. Further, these attachments have exclusive forward and backward operation to ensure easy maneuverability around any piece of land. 
Lawn and Compact Utility Tractor Attachments
Lawn tractors and compact utility tractors play an essential role in summer landscaping. In addition to the obvious – cutting grass – these machines can take on other tasks with the help of attachments that can ensure a pristine piece of land. 
Backhoes
Backhoes are excellent tools that are designed to take on a range of jobs, including landscaping. Whether operators are dealing with hard-packed ground or loose soil, backhoes can become essential tools when working through one's list of lawn care tasks, including digging and grading.   
Steel Wheel Barrow
Constructed of heavy-duty material, this lawn care tool is great for clearing all types of yard debris or moving landscaping materials from one location to another. 
Sprayer
With the help of a sprayer attachment, homeowners can quickly apply solutions like liquid fertilizer or weed killer while on the go. 
Deck Front Roller Kit
This John Deere lawn tractor attachment is designed to prevent scalping of the lawn and ensure an even mowing job. While it may seem simple or basic, this lawn care tool can prove essential as mowing becomes more frequent throughout the sunny summer months. 
Lawn Striping Kit 
When it comes to landscaping, appearance really is everything. With the help of a lawn striping kit from John Deere, homeowners can achieve the perfect lawn aesthetic. Built with durability and flexibility in mind, this kit is the perfect option for achieving that pristine striping pattern with ease. 
Rear Hitches and Utility Carts 
Rear hitches and utility carts can be bolted onto the frame of a lawn tractor to enable towing capabilities, something that can be extremely useful when it comes time to haul heavy yard materials (i.e., soil and mulch). 
Lawn Sweeper
This John Deere lawn tractor attachment has the ability to hold 17 bushels of material that is collected via rotating brushes. For homeowners wanting to clean up their yard as quickly as possible, this seemingly basic lawn care tool can become an essential part of any landscaping strategy at the first use. 
Finding the Right Lawn Care Tools for Your Summer Landscaping Needs
As temperatures continue to rise and the sun stays out longer each day, homeowners across the country are eager to spend their days outside. And while landscaping can be an enjoyable, somewhat relaxing task, it can also be tedious at times. With the right set of lawn care tools, however, home and landowners will find themselves spending less time working through their list of chores, and more time enjoying their outdoor spaces.
If you have any questions about tools to leverage for summer landscaping and lawn care tasks, you can contact your local John Deere dealer.
If you enjoyed this post or want to read others, feel free to connect with us on Facebook, Pinterest, Twitter, or Instagram!
You might also like: