The changing of the seasons is a very exciting time for gardeners, farmers, and those alike. It also poses many different challenges that may require the implementation of a variety of yard maintenance tips. These tips can also range, depending on the season you are in, due to changes in temperature, soil conditions, and the amount of debris on your lawn. Here are some yard maintenance tips, as well as riding lawn mower attachments to help you through the changing seasons.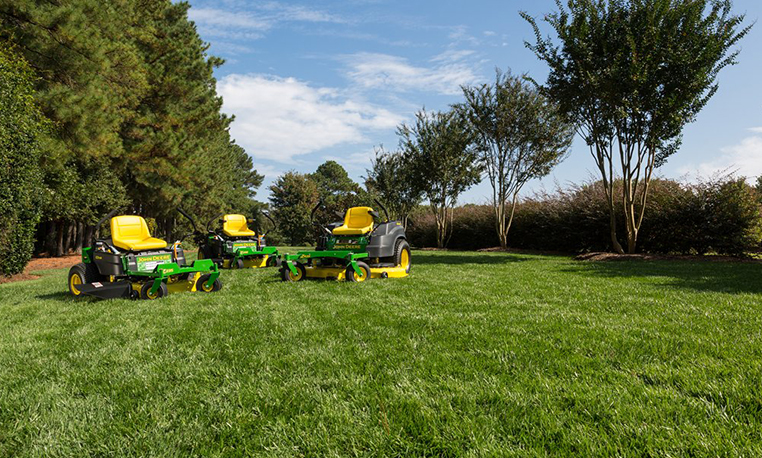 Soak Up The Sun In Your Yard with Summer Lawn Care Attachments
The summer is meant for soaking up the sun, and being outside in your yard is a large part of that. Let's take a look at how you can keep your yard looking great during the season of the sun with riding lawn mower attachments and maintenance tips.
Taking Care of Your Lawn in Summer
There are a few different tips and tricks for preparing your lawn for summer, such as fertilizing the soil and mowing regularly.
Cut High to Encourage Growth:

Cut your grass using the highest setting when the summer begins, and reduce it as the summer continues on. This helps to decrease the number of weeds in your yard, as well as enhance the water retention of your grass.

Fertilize:

Fertilize warm-season grasses in the spring so that they grow evenly in the summer.

Mow Your Lawn Regularly:

Depending on how high you want your grass, as well as how much growth you want, mowing your lawn could range from 1-2 times per week. In addition, grass cuttings can be helpful in dry months. Be careful though, because moss can form if you don't regularly mow your lawn in the summer.

Water your Lawn:

Water your lawn so that the roots are moistened a bit. This helps during times of drought and also helps to prevent diseases on your lawn.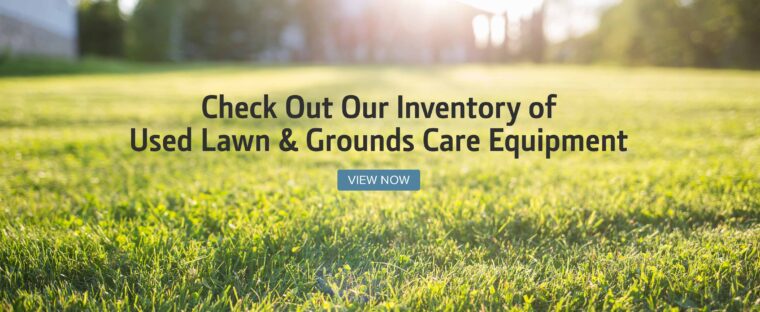 Summer Riding Lawn Mower Attachments
Cutting, watering, and fertilizing your lawn regularly can involve a lot of hard, manual work. That hard work can be streamlined and made easier with many of the different mower attachments that are available. Let's take a look at some of these attachments and how they can help you this summer.
Steel Wheel Barrow:

This piece of equipment is great for all tasks you may need to take on around the house and yard. It's constructed of heavy-duty material, meaning it's perfect for clearing debris from spring or moving gardening materials from point A to point B.

The 15-Gallon Sprayer:

This

15-gallon sprayer attachment

can be used to apply a variety of liquids, such as liquid fertilizer, weed killer, de-icer, and tree spray.

Dual Headlight Kit:

For those that mow their lawn early in the morning or later at night, the dual light kit is a great option. It focuses light in multiple directions to brighten your mowing area.

Floor Mat:

The

EZtrak floor mat

protects the foot deck with a non-slip, washable material – ideal for rainy summer days when you need to mow the lawn. The mat is resistant to chemicals, so it is safe from anything used during landscaping jobs.

Deck Front Roller Kit:

The front roller kit helps to prevent scalping of the lawn and improves the smoothness of the job. This is especially helpful for the summer when mowing becomes more frequent.

The 6.5-Bushel Hopper and Chute Assembly:

The design of this machine provides landscapers with an easy way to collect grass clippings, leaves, and small pieces of debris.

Lawn Striping Kit:

A lawn with a neat striping pattern is the

perfect lawn aesthetic

, especially in the summer when you are likely spending more time in the backyard. This kit is built with flexibility and durability in mind thanks to its non-weight bearing design, making it the best option for pattern mowing.

Foot Rest Extensions:

When spending more time on your mower this summer, you may take interest in the bolt-on footrest extensions that help make mowing an even more comfortable experience.

Rear Bumper:

With a

rear bumper attachment

, mower accident damage can be significantly reduced.

Rear Hitch:

Rear hitches

bolt securely onto the frame of your mower, which provides a solid amount of towing capability. This can be helpful for moving heavy items, such as landscaping supplies.

Utility Cart:

Want to haul a multitude of heavy yard materials, such as mulch, soil, and more, with your EZtrak mower? A utility cart may be the perfect option for you.

Foot Lift Kit:

The foot lift kit allows EZtrak mower operators to raise or lower the mower deck with ease when unexpected obstacles like tree roots or rocks appear within their mowing path.

Lawn Sweeper:

A

lawn mower sweeper attachment

has the ability to hold 17 bushels of material. It also includes a brush-height adjuster with eight positions.
Clearing Leaves & Debris: Fall Lawn Mower Attachments
As summer comes to an end, you may hear the sound of lawn mowers slowly begin to fade, but that doesn't necessarily mean you should also stop mowing your lawn. Unless there is snow covering and freezing your yard from below, there will still be many benefits to mowing the lawn.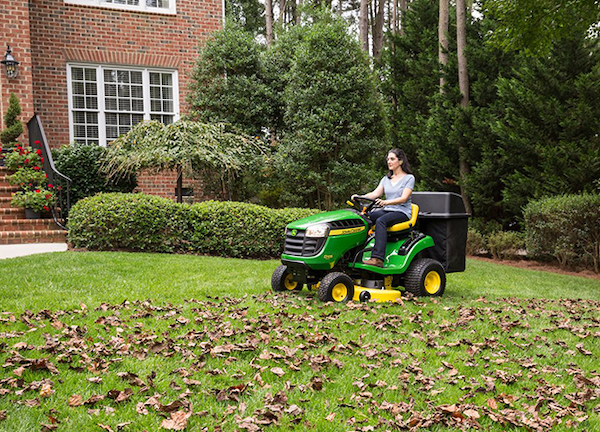 Taking Care of Your Lawn in Fall
While summer is about keeping your lawn looking aesthetically pleasing, fall is mostly about taking preventative action for the winter. Here are some tips for maintaining your lawn in fall.
Checking for Signs of Damage:

A tell-tale sign of damaged grass is the way it feels when you're walking on it. If the grass feels spongy, it means it is likely damaged. If the grass does not take water well, this could mean the lawn is also damaged.

Preparation before Seeding:

When compiling considerations to prepare for seeding and planting in the fall, you should keep your mind on pH levels. Understanding the pH of your soil can help inform decisions about what nutrients you need to add to get the most out of your lawn.

Fertilize the Lawn:

Fertilizers need to be spread evenly throughout damaged areas to quicken the growth rate on your lawn.

Seed the Lawn:

Once the lawn is fertilized, you will want to divide the area into sections. From there, you will want to seed within these sections to ensure the soil is being hit from multiple angles.

Mowing:

You will want to mow the grass regularly by removing the

top ⅓ of the length

off of the top.

Pruning:

Prune and cut off dead parts of your plants to allow for new blossoms to grow.

Aerate If Needed:

Check the thatch level often and aerate the grass if necessary. After this, you will want to apply a thin layer of soil or compost which will continue to feed plants throughout the winter.

Remove Debris:

Rake and remove leaves or debris from grass/garden beds so that your plants are not smothered.
Best Fall Mower Attachments
Mower attachments can be especially helpful in the fall due to their ability to remove and carry debris away from your yard. Let's take a look at some of these attachments, as well as their capabilities in the fall.
Striping Kit:

Many riding mower owners want to keep their lawn looking great until winter arrives. With this in mind, a flexible, long-lasting, and non-weight bearing lawn striping kit helps to do the job. This improves the consistency and visible texture of your grass all season long.

Material Collection System:

This

attachment

serves as an extremely helpful aid when picking up that layer of leaves come fall.

Lawn Sweeper:

The winds of fall can blow all kinds of debris around the neighborhood and then onto your lawn. To help combat this problem, lawn sweeper attachments help to provide more force and easily lift small objects off the ground and into the bagging system.

Front Brush Guard:

Front brush guards

not only protect your equipment from dings and bumps, but they also give your riding mower a distinctive look. This is particularly helpful in the fall when there is extra debris on the ground.

Sun Canopy:

The sun can still be fairly strong in the fall, especially in some parts of the country. To stay protected from the rays, a sun canopy can be very helpful.

Front Blades:

Adding a

front blade

allows you to push materials, such as gravel, with ease. The blade surfaces are curved, which helps them to easily roll along the ground.

Riding Mower Covers

: Placing a

riding mower cover

over your machine helps to keep your vehicle dry. It also has vents, which helps to prevent the cover from inflating with air when the wind blows heavily.

Mulch and Leaf Bagging Kits:

Mulching and leaf bagging kits

help to decrease stress and improve productivity. This is especially helpful in the fall when there are leaves and debris consistently falling onto your lawn.
Winter Lawn Care Attachments: How to Handle the Snow & Cold Weather
In areas that experience snowfall during the winter months, your lawn and plants will most likely spend the season in a relatively dormant state. Since you will have limited access to your yard's lawn and plants, it's essential that you make the recommended preparations in the warmer months.
Taking Care of Your Lawn in Winter
Taking care of your lawn in the wintertime typically does not involve too much additional work, based solely on the fact that the lawn is likely covered in snow. While this is not always the case, you will still want to follow a few of the steps below to ensure that the chilly, windy weather doesn't negatively affect your lawn.
Avoid Foot Traffic:

Try to keep foot or vehicle traffic on your lawn to a minimum in winter months. Heavily walked-upon or compacted grass areas will be slower to reach full recovery in the spring.

Cover Plants and Garden Area:

These small shelters help to protect your plants from the weight of snow.

Bring Decorations Indoors:

Bringing in all pots and lawn furniture helps to prevent rusting and cracking of the items.

Brush Off Snow

: If your geographical location receives heavy snowfall, we suggest brushing off branches or bushes to keep the snow from dragging them down.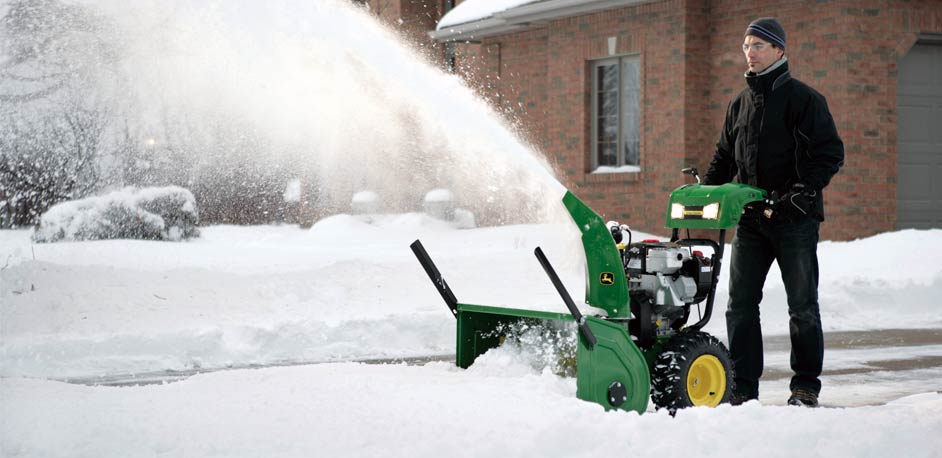 Winter Mower Attachments
While there is typically not much yard work to do in the wintertime, there are a few attachments you can use to counteract the cold weather and snow. Let's take a look at these attachments.
Snow Blowers:

A

snowblower

can make quick work of snow removal jobs, even in those times when you need to clear out a large area.

Front Blades: Front blades do more than just clear snow. They also clear dirt and gravel, while also angling left and right in order to make your job easier.
Bagging:

At the beginning and end of the winter,

bagging

can help the appearance of your lawn when leaves and debris are all over the place. It can also help you maintain the health of your lawn over time.
Give Your Lawn Care a Boost with Lawn Tractor Attachments for Spring
With spring, we begin to see flowers bloom and plants grow at higher rates. For those that live in areas that are snowy during winter, spring is also a time where there is a lot of debris and the soil becomes excessively moist, meaning your yard may need a bit of care to get it looking good as new.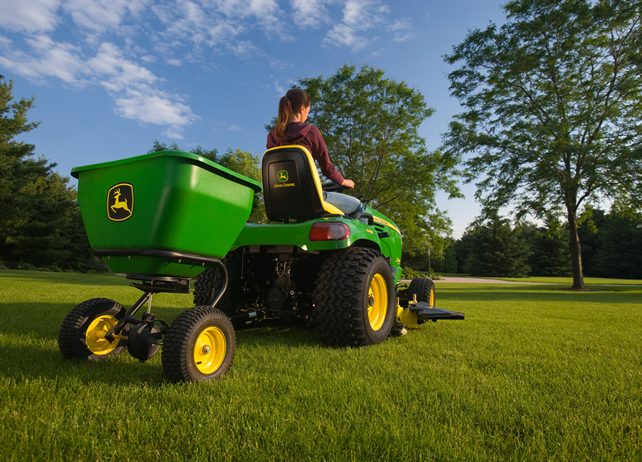 Taking Care of Your Lawn in Spring
Below are some tips to ensure your yard is looking its best each spring, even when extra debris and excessive water are factors.
Check Your Soil's pH Level:

Depending on your lawn's soil and geographic location, you will need to determine which conditions are best for creating a hospitable growing environment for your plants.

Check the Thatch Level:

Underneath every lawn lives a layer of decomposed material called thatch. A small layer of thatch can be helpful, but too much of it can harbor disease and insects, harming the overall health of your lawn. If your lawn needs to be de-thatched, an aerator will be the best bet. This will allow the soil to have better access to oxygen as well as water.

Have a Healthy Serving of Fertilizer

: Once an aerator opens up the path for oxygen, water, and nutrients, you will want to feed the lawn with fertilizer. Fertilization helps to replenish the reserves used by soil during the winter.

Take a Little Off the Top:

Before you fire up your lawn mower for the first cut of the season, make sure your grass is dry to the touch, as well as at least 3-4 inches in height. Once you begin the lawn mower, make sure to not cut any more than 1/3 inch of the grass length.

Upcycle grass clippings:

Grass clippings left on the lawn will eventually break down and act as a fertilizer/manure supplement. This process is referred to as upcycling as it cuts down on the amount of waste filling up landfills.

Check Thatch Levels

: For spring lawn care, check the thatch level and make sure it is not deeper than 1 in. If it is deeper than this, aerate the lawn to open the soil to air, water, and nutrients.

Start Weeding:

Eliminate as many weeds as you can at the root in your lawn and garden.

Water Your Lawn:

Water your grass and plants for extended periods of time infrequently, as opposed to short times frequently. This allows the roots to absorb the moisture.
Spring Mower Attachments
Spring mower attachments can help to reduce debris, prepare your lawn for the warmer months, and help you remove any additional snow from the months prior. Let's take a look at some of these attachments.
Final Thoughts
It is very important to not only take care of your lawn in the summer months but during the entire year, as well. Winter, summer, spring, and fall are all equally important when it comes to lawn care because taking a proactive approach will only help make your work easier in future months.
If you have any questions about John Deere equipment, you can contact your local John Deere dealer.
If you enjoyed this post or want to read others, feel free to connect with us on Facebook, Pinterest, or Twitter!
You might also like: