A good cotton harvester that stands the test of time can be hard to come by, but John Deere has rolled out the CP770 Cotton Picker and CS770 Stripper to meet the demands of all of its customers. These John Deere cotton harvesters are ideal for taking care of more seed cotton in a short period. Whether operators are looking to boost their productivity or simply refine their line of cotton harvesters, the CP770 or CS770 from John Deere are worth learning more about.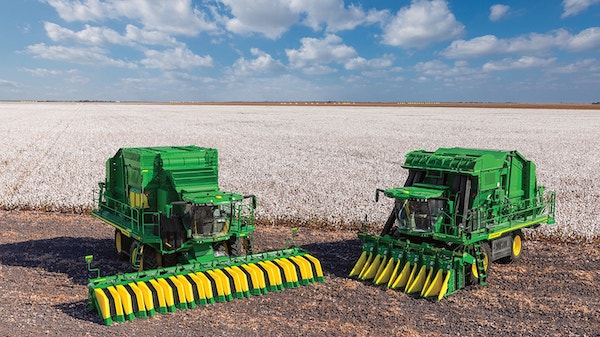 "These cotton harvesters are mostly all-new from the ground-up and represent a strong platform John Deere should be able to utilize for many years," Christopher Murray, John Deere product marketing manager said. "An all-new mainframe provides a solid foundation for each machine and includes an all-new cab and power module. John Deere also increased the size of the new round module builders on the picker and stripper, making it possible to harvest more acres per hour."
Let's take a look at some of the features of these John Deere cotton harvesters that can potentially help you with daily tasks out in the field.
Round Module Builder 
The CP770 Cotton Picker features a new round module builder that is capable of making modules 2% larger and 5% denser. After the cotton has been collected, the CP770 wraps and ejects the module in approximately 30 seconds, meaning less downtime for operators.
Cab Comforts
The CP770's best-in-class cab is larger and more comfortable than ever before. It has extensive visibility with its strategically placed cameras, mirrors, and lighting.
JDLink™ Connectivity
Both the CP770 and CS770 have a Generation 4 Display, as well as JDLink Connectivity at no extra charge. This means that operators can connect to their machines and reap the benefits of having real-time data at their fingertips.
Engine Power
The CP770 and CS770 have John Deere 13.6 L PowerTech™ engines and hydraulic power modules. In the CP770, this means fuel efficiency is increased by up to 20%, while fuel efficiency is boosted up to 15% in the CS770. Additionally, the power from this engine model allows operators to harvest more pounds of cotton per hour at faster speeds than previous models.
If you have any questions about these John Deere cotton harvesters, you can contact your local John Deere dealer.
If you enjoyed this post or want to read others, feel free to connect with us on Facebook, Pinterest, Twitter, or Instagram!
You might also like: