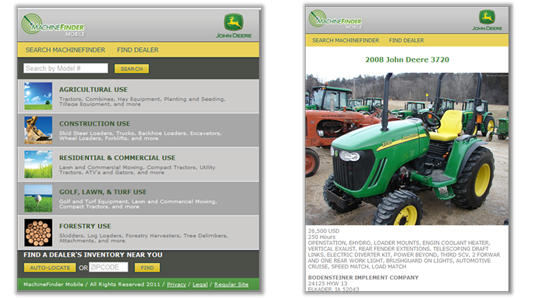 On the go and have your smart phone or tablet?  John Deere MachineFinder is now your one-stop source for finding used equipment made by John Deere and other manufacturers through your mobile device as well!
Launching today, John Deere MachineFinder Mobile enables John Deere Ag and Turf Dealers, and Construction and Forestry Dealers in North America visibility for their public used equipment listings readily and easily available for customers' viewing on mobile devices.
"As mobile device adoption increases on the farm and worksite, and in agricultural, construction, turf, and forestry markets, it made sense to expand the accessibility of MachineFinder equipment inventory. MachineFinder Mobile provides a much more effective and user friendly experience for smart phones and tablets", said Bill Weber, Division Manager, Ag and Turf Remarketing.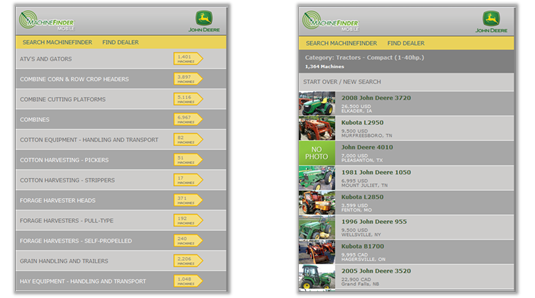 Specific John Deere MachineFinder Mobile features include:
Specific equipment model search from the home page
Category search by market type (agriculture, construction, residential farming, etc)
Filtering results by Make, Model, Year, Engine Hours (where applicable) and Price
Call or email listing John Deere dealer from equipment detail page
View listing John Deere dealer location's inventory from equipment detail page
John Deere Dealer Inventory Search – displays subscribing dealers' inventory
Auto-Locating user's mobile device for John Deere Dealer Inventory Search
"We are excited about the continued evolution in how John Deere MachineFinder provides as much access and convenience as possible for finding the right used machines from John Deere dealers", said Graham Hinch, Manager, Equipment Remarketing Services, for John Deere Construction & Forestry.
So the next time you're out and looking for something to do, pull out your smartphone or tablet and head to MachineFinder Mobile to do some quick searching for used equipment!
You might also like: