John Deere Dealer Locator
MachineFinder.com is excited to announce the addition of a John Deere Dealer Locator tool to MachineFinder which will allow customers to search for dealer locations on MachineFinder in North America. MachineFinder will list Agricultural & Turf and Construction & Forestry dealer locations that participate with MachineFinder. Customers can navigate to the Dealer Locator by clicking on the 'Dealers' tab located on the MachineFinder.com pages.

Map Location Search
Customers can search for dealers by Agricultural & Turf and/or Construction & Forestry dealer types (placing a check in the check box next to the dealer types) and entering their desired search location in the search box. The search box allows customers to enter location by city and/or state and province, postal code or point of interest which will then display locations on the map. Ag and Turf locations will display with a green icon and C&F locations with a yellow icon.
Next, a customer can click on the icon to view the dealership's contact information and link to the dealer's used inventory available for sale.
State / Province Search
Customers can also search for dealer locations by state or province. By clicking on a state/province, a customer will have all subscribing MachineFinder dealer locations displayed for their selection in alphabetical order by town and link to each dealer's used equipment inventory available for sale.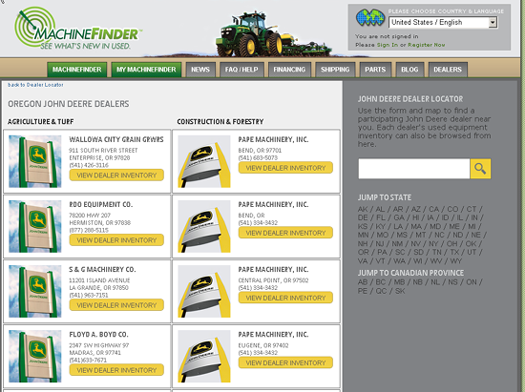 This new feature on MachineFinder will allow customers to more easily locate dealers and their used farm equipment inventory while providing additional opportunity for dealer location information to appear in search engines (Google, Yahoo, Bing, etc.) when customers are searching for John Deere dealer locations.
View the John Deere Dealer Locator.
You might also like: