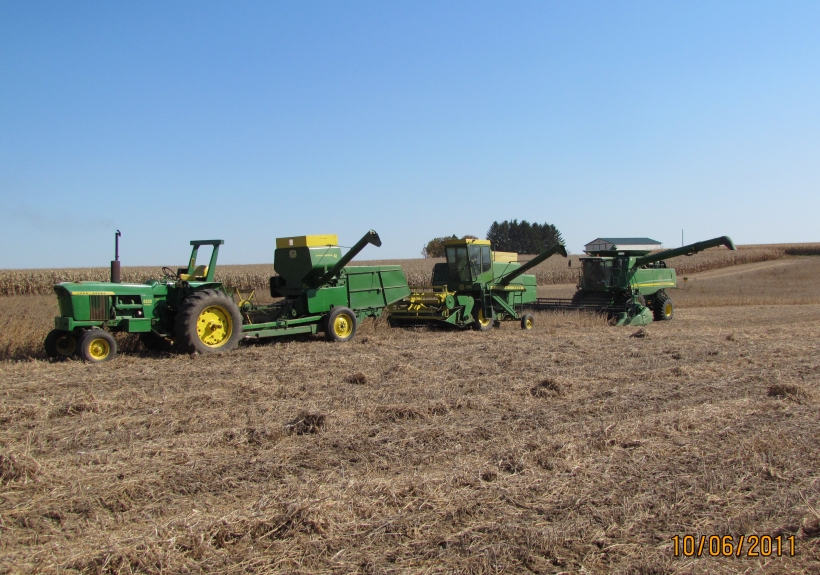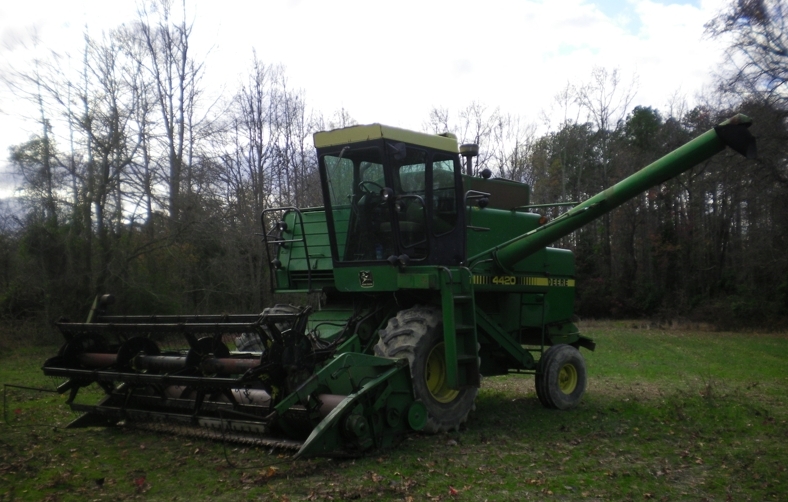 Richard Vaughan of Rich and Rich Auctioneers said he fielded a phone call from a group of Liberian farmers interested in this 1984
Deere 4420 combine
on a January 28, 2012 auction in Stoney Creek, VA.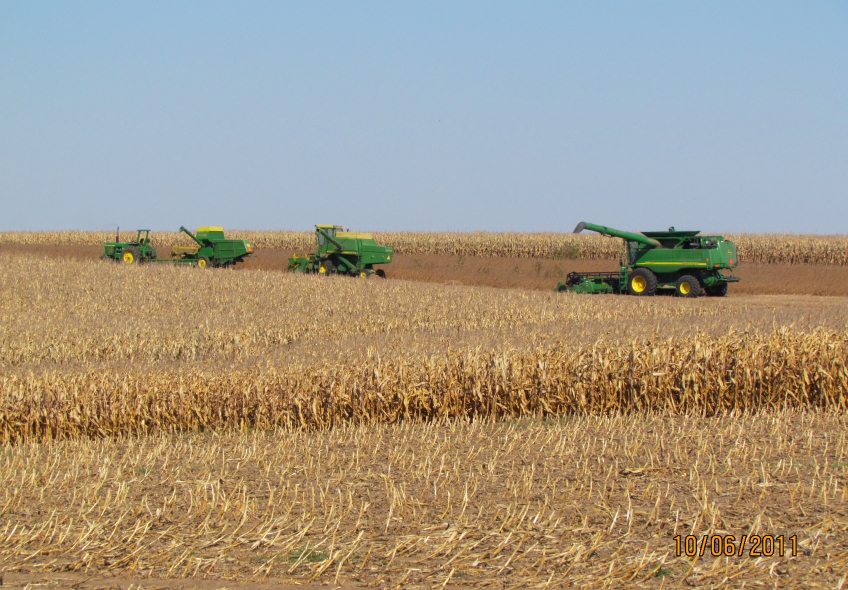 Another view of the Deere combine collection of Bob Cooper of South Wayne, WI.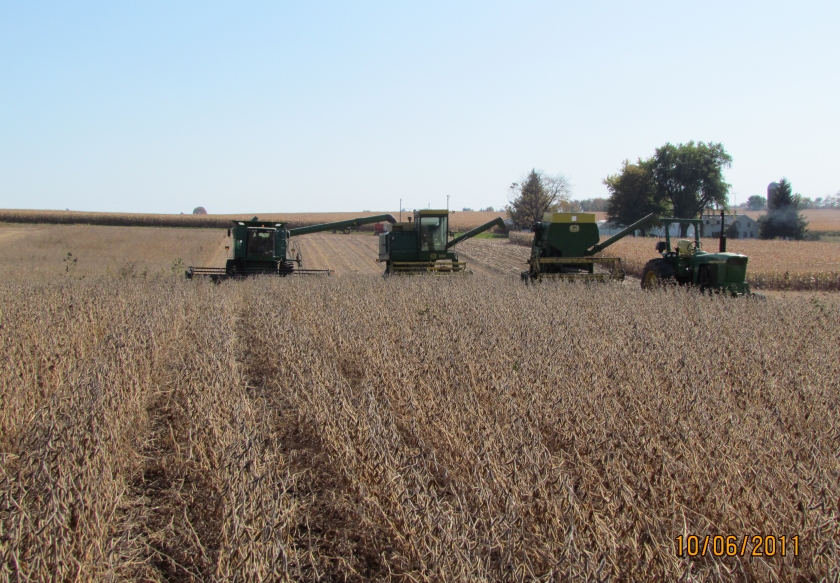 (3) generations of used Deere combines owned by Bob Cooper of South Wayne, WI captured last Fall in the field together. From L-R,
Deere 9660 STS
,
Deere 3300
, Deere 42 pull type.
The Deere combine collection of Bob Cooper of South Wayne, WI. From L-R, Deere 42 pull type, Deere 3300 and Deere 9660 STS.
Couple interesting items regarding old Deere combines came across my desk this week.
First came a package in the mail from Bob Cooper, President of the Wiota John Deere Collectors Club in southern Wisconsin. Bob is from South Wayne, WI. I met Bob at a farm retirement auction November 12th that we were shooting for the "Machinery Show" on RFD-TV (Thursday 8PM CST, Sunday 9PM CST). Bob mentioned his collection of antique Deere combines. I asked him to send me some pics. He sent some beauties, see the (3) pics above showing his old Deere 42 pull type combine in the field at the same time with his Deere 3300 and newer Deere 9660 STS combines.
Bob also has an extensive collection of Deere pull type combines including a Model 25.
Now you might wonder how much the old to antique Deere combines are worth. More than you might imagine. I check our "auction results" database at www.Machinerypete.com and found some interesting data on Deere 42 pull type combines. Back on a March 13, 2003 auction in northwest Pennsylvania, a Deere 42 combine in "good" condition sold for $350. Zoom ahead to a May 26, 2010 auction in east-central South Dakota where a Deere 42, also in "good" condition, sold for $1,900.
Wow.
The same day I got Bob's old Deere combine pics in the mail I happened to be talking with Richard Vaughan with Rich and Rich Auctioneers in Rich Square, North Carolina. Richard mentioned he just got a phone call from a man representing a group of farmers from Liberia (west coast of Africa) regarding the 1984 JD 4420 combine on the January 28th farm auction Rich and Rich Auctioneers is having in Stoney Creek, VA.
Southern Virginia is a LONG way from Liberia.
Richard relayed that the caller from Liberia said his group of local farmers have pooled their money and are looking for good Deere 55, 3300, 4400 and 4420 combines. Light and easy to ship.
So who knows, maybe we'll see a run up in values on these old Deere combines with folks here at home beginning to think about collecting them and small farmers around the world coming here to acquire them.
About Machinery Pete: Greg "Machinery Pete" Peterson has been working in the agricultural industry for 21 years and details agricultural equipment prices and trends at his website, Machinerypete.com. Greg also writes columns for Successful Farming magazine, Implement & Tractor magazine, Agriculture.com web site and also appears on the Machinery Show on RFD-TV.