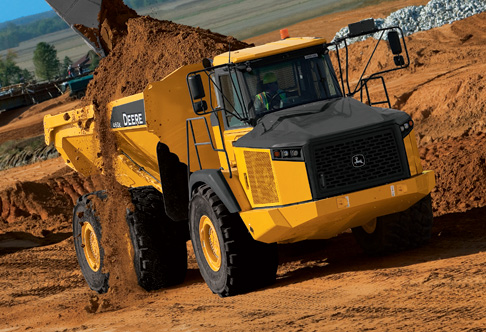 American companies have increasingly looked to their customers for advice on how to upgrade specific components of their offerings, or sometimes the entire product. No organization pays attention to the advice of its users more than John Deere, as the agricultural and construction firm has relied on this input to provide the most efficient machinery it can possibly produce.
This has helped John Deere become a leading company in the construction sector, and its latest line of E-Series machines represents the best of what the firm's engineers and customers have to say about the previous line of models.
According to a release from the iconic company, the John Deere 460E ADT – initially showcased at the CONEXPO-CON/AGG 2011 – will join the 370E and 410E models as part of the cutting-edge E-Series of construction equipment.
The 460E is John Deere's largest, most operator friendly truck to date, as customer feedback was an important component of the design and development process.
The new model is 46 tons and is the largest articulated dump truck that has ever been available in the construction equipment market.
"The E-Series ADT is a customer driven, ground up design to meet and exceed the durability, productivity and uptime needs of contractors," said Mark Oliver, ADT product marketing manager, John Deere Construction & Forestry.
"We worked with road builders, site developers, and the mining, quarry and aggregate segments to develop three trucks that are purpose-built to reliably handle various payloads and move materials faster and more efficiently on any jobsite in the world."
The new model was designed and built in the company's Davenport, Iowa factory, and features a John Deere PowerTech™ 13.5L IT4 engine with three available power levels based on the model – 422 net hp (370E), 443 net hp (410E), and 481 net hp (460E).
Customer input was especially important in the design of the axles, as they are able to perform heavy-duty tasks and applications.
"This new truck design offers contractors some serious advantages in the market, including high power-to-weight ratios, gradability, and capacity," said Oliver.
"One of the biggest customer inspired enhancements are the on the fly differential locks that can be applied at any speed, manually or automatically, for improved performance in poor conditions."
You might also like: