Whether the grass is ready for a fresh cut, autumn leaves need to be cleaned up, or general fall lawn renovations need to be completed, the John Deere LA145 has a number of features that will allow the operator to comfortably and efficiently complete the task at hand. As part of John Deere's reliable lawn tractor lineup, the versatile LA145 can help you check off all your fall (and winter!) jobs with the greatest of ease.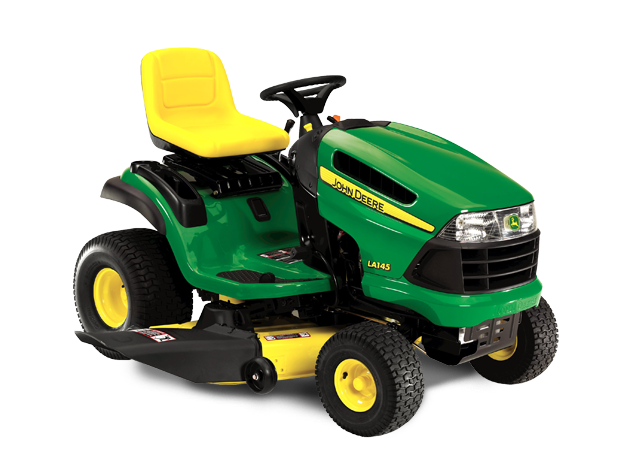 In this post, we will take a look at the various tasks a John Deere LA145 can accomplish for you this fall, as well as the key specs and features that separate it from other lawn tractors, or their cousins, compact utility tractors. From operator comfort to superior performance, the LA145 is sure to have just the right combination of features to make all your fall yardwork a breeze.
What Kind of Fall Tasks Can the John Deere LA145 Do?
The John Deere LA145 might look like just another garden tractor, but in reality, it's like an all-purpose multi-tool on wheels, helping you check fall and winter tasks off your to-do list with the greatest of ease. Here are just a few key fall chores the LA145 can make easier for you:
Mowing
Scraping
Leveling
Snowblowing
Key Features of the John Deere LA145
While the John Deere LA145 is a versatile garden tractor with many useful features, there are a handful of key items that make this machine a staple for every home. Let's take a look at 4 things that make the LA145 a great investment you'll use for years.
Comfortable Operator Station
The weekends are meant to be enjoyed, and the comfort features of the John Deere LA145 make cleaning up the yard a relaxing process. The LA145 has a three-spoke steering wheel for ease of handling and user comfort when steering. Foot vibrations are minimized thanks to wide footrest areas with non-slip, anti-vibration rubber footpads, and the comfortable high-back seat can be set to 10 different positions, allowing the operator to find the right setting for comfort.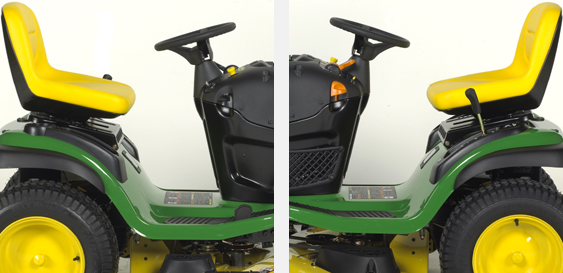 Durability and Visibility
Lawn tractors are built for working in tough and scratchy brush and foliage, and the John Deere LA145 is no exception. The LA145 comes with a UV-resistant JD Loy hood, which will not dent and is rust-resistant. This will allow the mower to maintain its fresh John Deere green coat of paint, keeping it looking new at all times. Two headlights at the front of the hood provide visibility for those that want to start or finish the job before sunrise or after sunset, giving you additional versatility and reliability.
Reverse Implement Option
One of the most unique features of the John Deere LA145 is the reverse implement option (RIO), which enables the operator to mow while moving backward if need be. The RIO button is easy to access while backing up, as the button can be pushed in if the operator wants to engage the blade while moving in reverse. Operators can also simply keep the button disengaged to proceed with regular reverse movement.
Superior Cutting Performance
The 48-in. Edge Cutting System on the John Deere LA145 gives the operator superior convenience, performance, and reliability. The deep-deck mower design lifts grass for a clean, even cut, while the smooth underside of the mower prevents grass buildup and evenly distributes clippings. The four mower wheels on the deck allow operators to smoothly cut grass even in rolling terrain.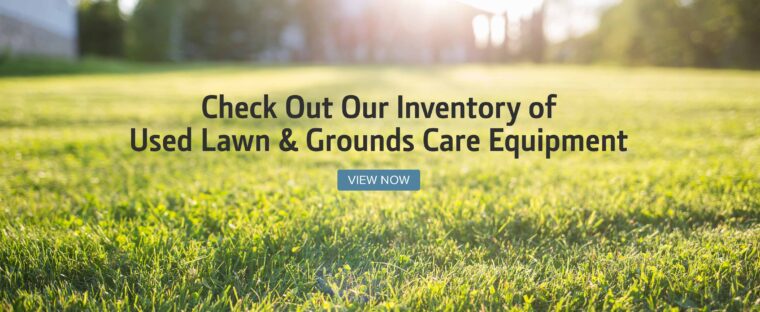 What Engine is in a John Deere LA145?
The John Deere LA145 features a Briggs & Stratton 2-cylinder gasoline engine with air cooling, perfect for long fall days working in the yard.
What Size Deck is on a John Deere LA145?
The mower deck for the John Deere LA145 is a robust, yet maneuverable, 48-inch size, making it easy to navigate tight turns and take care of all your mowing in a flash.
What Transmission is in a John Deere LA145?
The John Deere LA145 features a Tuff Torq T40 transmission, giving you years of reliable and dependable performance.
Final Thoughts
With the fall season in full swing, the John Deere LA145 has all the qualities needed to tackle all your fall tasks in a comfortable and efficient manner.
If you have any questions about John Deere's lawn tractors, or how to get your own, you can contact your local John Deere dealer.
If you enjoyed this post or want to read others, feel free to connect with us on Facebook, Pinterest, Twitter, or Instagram!
You might also like: