Earlier this year, John Deere revealed a wide range of new products at a two-week dealer event in Milwaukee, Wis., that included significant upgrades to its agricultural equipment. With the New Year upon us, we wanted to take some time to shed light on the new 2015 John Deere tractors that have hit the market and improve the way that the industry does business.
6D/6R Series Upgrades

The 6D and 6R Series tractors have received significant updates that are sure to make farming easier and more productive throughout the year. The four 6D Series tractors (6105D, 6115D, 6130D and 6140D) will now come with two new transmissions: a 12/12 PowrReverser or optional 24/12 PowrReverser Hi/Lo. These new transmission options will allow users to change gears on the fly to accommodate varying terrain.
The 2015 John Deere tractors of the 6D line will continue to incorporate a single fluid interim Tier 4 engine.
In addition to improving the 6D line, John Deere has enhanced its 6R line of tractors. The company has added five extra horsepower to current models 6170R, 6190R, and 6210R, creating three new higher horsepower models, 6175R, 6195R and 6215R. These machines will also include Tier 4-compliant engines with Intelligent Power Management, which provides up to a 40 horsepower boost when necessary.
Other enhancements to this line of 2015 John Deere tractors include a new hydraulic valve stack, improved visibility to selective control valves, and new remote rear couplers.
"We've given the 6Rs many of the same features and platforms as our larger tractors to make it easier when switching between different machines. That way operators don't have to relearn the controls or adjust implement hookups," said Brad Tolbert, marketing manager for 6 Family Tractors for John Deere. "With its full frame design and largest tires of any tractor in its class, the higher horsepower 6Rs deliver exceptional power and productivity in the field."
9R/9RT Series Upgrades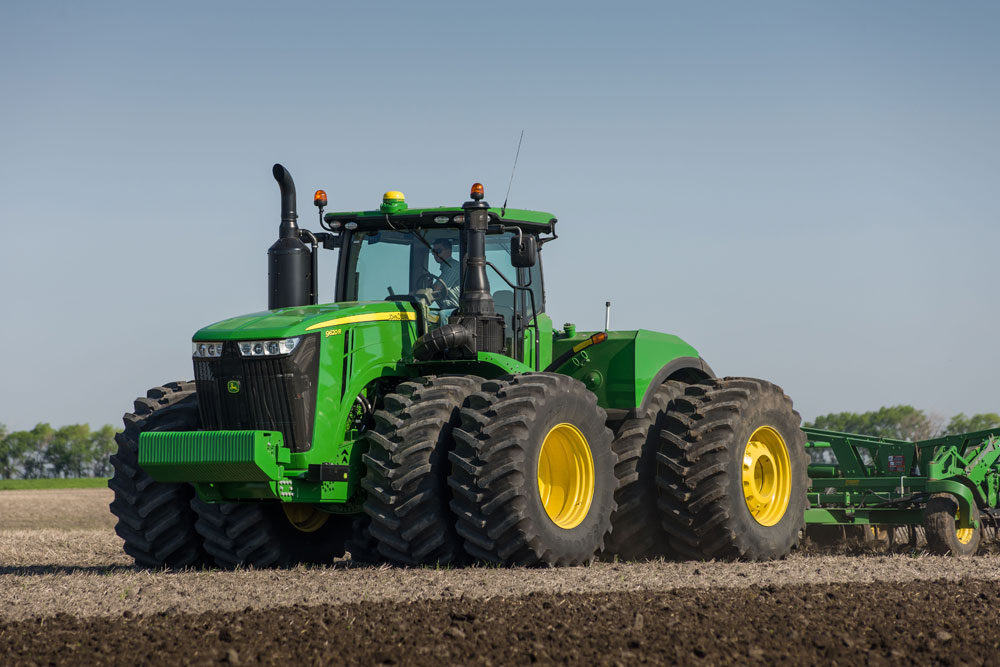 In addition to the upgrades made on the 6D and 6R Series, John Deere has adjusted its 9R/9RT Series to better accommodate customers in the New Year. The tractors in this line feature more horsepower and hydraulic capacity in four-wheel-drive and tract tractor platforms.
The 9R/9RT Series features five models with wheels and three tracked models for a wide variety of farming needs. In 2015, the tractors will have improved e18 PowerShift transmission with Efficiency Manager to increase machine fluid efficiency. Also, the hydraulic flow has been increased to 435L/min, giving the tractors more capacity to handle large implements.
The HydraCushionSuspension System on the 9520R, 9570R and 9620R models will help mitigate power hop and road lope for operators in the New Year. Additionally, the CommandView III Cab provides more comfort for users, in addition to ease of operation with a redesigned CommandARM.
As the cherry on top, the 9R/9RT Series tractors will all come with a premium LED lighting package for nighttime work illumination. Optional Active Command Steering will also help operators reduce steering efforts in the field.
Whether you want to improve your efficiency or simply invest in a new piece of machinery, the 2015 John Deere tractors have a little bit of something for everyone. If you enjoyed this post or want to read others, feel free to connect with us on Facebook or Google+!
You might also like: