If you're looking for maximum productivity and uptime for your big jobs, John Deere construction equipment can help you through the process. No matter the job, there's a hardworking machine that's right for your jobsite. However, having the right machine and features can't guarantee a job will be completed safely and successfully, making it crucial for operators to be aware of all construction equipment safety features.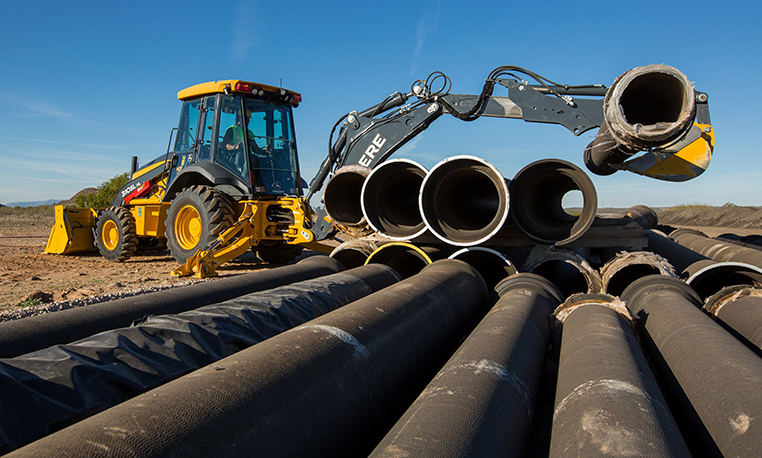 To keep your operations productive and successful, consider these construction equipment safety tips. Watch and learn the basic construction equipment safety tips that can help improve your operations. Enjoy!
The design of the John Deere 1050K Dozer reflects great consideration for safety. But, does this automatically ensure safety on the jobsite? Watch and learn how to leverage the 1050K's safety features for peace of mind during every use.
This video explains some of the most important safety features of the John Deere Backhoe Loader and how operators can use them to ensure safety. The John Deere K-Series Backhoe Loaders are equipped with many features and systems for construction safety, but it's up to the operator to use them efficiently.
The John Deere Compact Loader incorporates several key features to help operators work safely on the jobsite. It doesn't matter how much experience you have, it only takes one mistake to make the difference in your life and in the lives of others. This is why you have to think about every move you make before making it, and this video will get you thinking about safety.
Maximum safety requires a commitment from you, the operator. Watch this G Series Compact Excavators video to see the many features that this equipment provides operators to help them make smarter and safer decisions when on the job.
There are many pieces of safety equipment on the John Deere K Series Loader, but there is no guarantee that it will get the job done unless you use it. While you should always read and understand the operator's manual before operating a machine, this video should help you on your way to safer operations.
Are you using all of the safety equipment feature on your John Deere excavator? If you're unsure, this video will explain the important safety features to help clear the air.
Hopefully this video gallery gave you some valuable insight into taking advantage of all of the John Deere construction safety features available to you.
If you enjoyed this post or want to read others, feel free to connect with us on Facebook, Twitter or Google+!
You might also like: