For producers across the country, haying plays an important role in keeping farms up and running all year round. As with any task, having the right equipment is critical to meeting yield and baling goals. While the industry has changed over several decades, balers have continued to help producers meet these targets each year. It may come as no surprise that John Deere changed the game when it introduced the 14T Baler in 1957; this piece of equipment, which was the industry's first bale ejector, produced well-formed, twine-tied bales and made haying a one-person operation for the first time in history.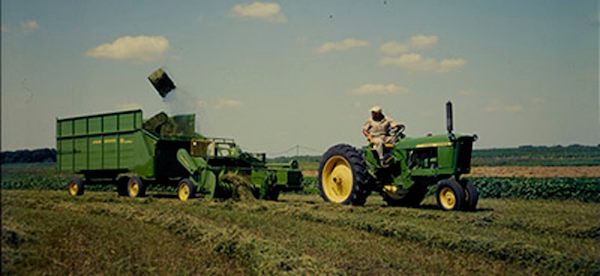 When it comes to haying, automation can make a substantial difference in the number of bales that are produced in a specified amount of time. The use of automation within round balers, specifically, should be considered an essential part of any operator's haying routine. By using a round baler, farmers will see bales that are less susceptible to weather and easier to unravel for feeding.
How Do Balers Work?
Round balers are designed to improve hay pickup and overall baling speed and productivity in the field. This is achieved in a few steps:
When hay enters the forming chambers from the pickup, belts instantly turn to form the hay into a tight, dense core.
Incoming hay feeds between the bale and the lower gate roll before getting compressed into smooth, dense layers once entering the bale itself.
The idler arm rises with bale growth, which then forces oil from the hydraulic cylinder through a pressure-relief valve to preserve consistent bale density throughout the formation process.
Watch the video below to see how John Deere round balers help reduce travel time, preserve yield on future cuttings, and cut pickup time.
Improving Efficiency with Automation
As previously stated, automation plays an important role in the efficiency of round balers, especially during hay season. Tractor baler automation reduces operator fatigue while delivering consistent bales. This is achieved through the communication of the tractor and baler which decides when the bale is large enough – once it is the appropriate size, the tractor will come to a controlled stop. Once the tractor has stopped, the baler will begin wrapping and will send the command for the tractor hydraulics to extend the gate cylinders. After the bale is ejected, the gate will close and operators are able to begin forming the next bale.
What to Consider When Buying a Round Baler
The main questions that people have before purchasing a round baler center around wrapping options, whether or not certain models can be used for silage, and how this equipment will perform in various conditions. While these may be considered basic questions, they are critical nonetheless as the answers will play a major role in the round baler that is eventually chosen.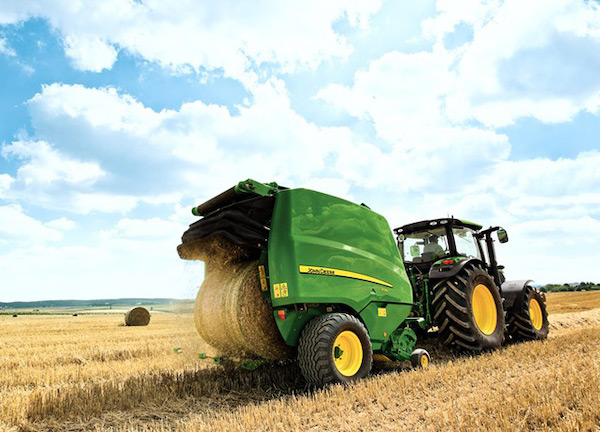 In addition to these primary concerns, potential operators should also consider other elements, including available resources, in order to get a better understanding of which round baler will be best for the task at hand.
PTO Horsepower
Before purchasing a round baler, customers must first understand the capabilities of the tractor that will be pulling this baler – this means selecting a model that the specific tractor can handle. If the baler is bought before the tractor, operators should keep horsepower requirements in mind when matching it with a tractor. The ideal PTO horsepower range for pulling John Deere round balers is 45-115+.
Bale Size
While many customers may want the largest bales possible, others may have limitations that will have an impact on this production. Applicable factors include wall space once bales are stacked, types of bales that are locally available, and climate.
Spec Level
Another consideration – one that may seem obvious yet is still critical – is the number of available features. By reviewing the capabilities of various models, customers can make an educated decision about whether they want a low-spec baler or a high-spec baler.
Types of Round Balers from John Deere
Once you have an idea of what you are looking for in a round baler, it is time to choose a specific model. John Deere offers a wide range of equipment that is designed to boost productivity and increase the quality of bale. Let's take a look at a few different series of John Deere round balers that are sure to meet your goals for the season.
Zero Series Round Balers
This series consists of several models that are designed to cut mixing times by 58 percent and increase tonnage per hour by 155 percent. Additionally, they include the MegaWide™HC2 feed system which delivers faster hay intake and processing to increase bale-making capacity. Available models include:
440E

and 450E – two economy models for dry hay baling

450M,

460M

, 550M, and 560M with dry hay, silage or precutter options

460R and 560R – two premium models with dry hay or precutter options.
9 Series Round Balers
The balers in this series were designed with features meant to reduce maintenance and downtime, thereby increasing overall productivity – this includes GreenStar 3 integration, monitoring control, and more powerful pickup than their predecessors. Available models include:
900 Series Balers
These pre-cutter-type round balers are perfect for producers who pre-process forage due to features that make it easier to mix or grind before feeding. These machines can handle both dry and high-moisture crops and can produce up to 52 bales per hour. Options for models include:
Making the Most Out of Your Bales
Once the haying process has been completed, producers can now use these bales for feeding and livestock bedding. Let's take a closer look at what goes into handling these bales once they are formed.
In this video, we first see the operator use a John Deere H260 loader and a Frontier bale spear to carry the bale to a livestock feeder. Once the bale is brought to the desired location, it is recommended that operators first remove the bale wrap before setting the bale on the ground – it is then that operators can lift the livestock feeder over the top of the bale by hand.
Next, using a Frontier 1060 Bale Unroller with a John Deere 5115M utility tractor, the operator brings the bale out to the pasture to be unrolled. This bale unroller uses a single hydraulic cylinder to squeeze two clamp arms, each of which has a spike on the end to hold the round bale that will be unrolled. Once the wrap is removed, the bale is lowered to the ground and after setting the three-point hitch to float position, the operator begins to unroll by moving forward.
Whether the haying season is right on time or off to a late start, round balers can ensure that farmers are able to make the most out of these few short months. When choosing a piece of equipment, customers should carefully consider their current resources, such as hay and the tractor that will be pulling the baler, in order to fully achieve their goal.
If you have any questions about John Deere hay equipment including round balers, you can contact your local John Deere dealer.
If you enjoyed this post or want to read others, feel free to connect with us on Facebook, Pinterest, or Twitter!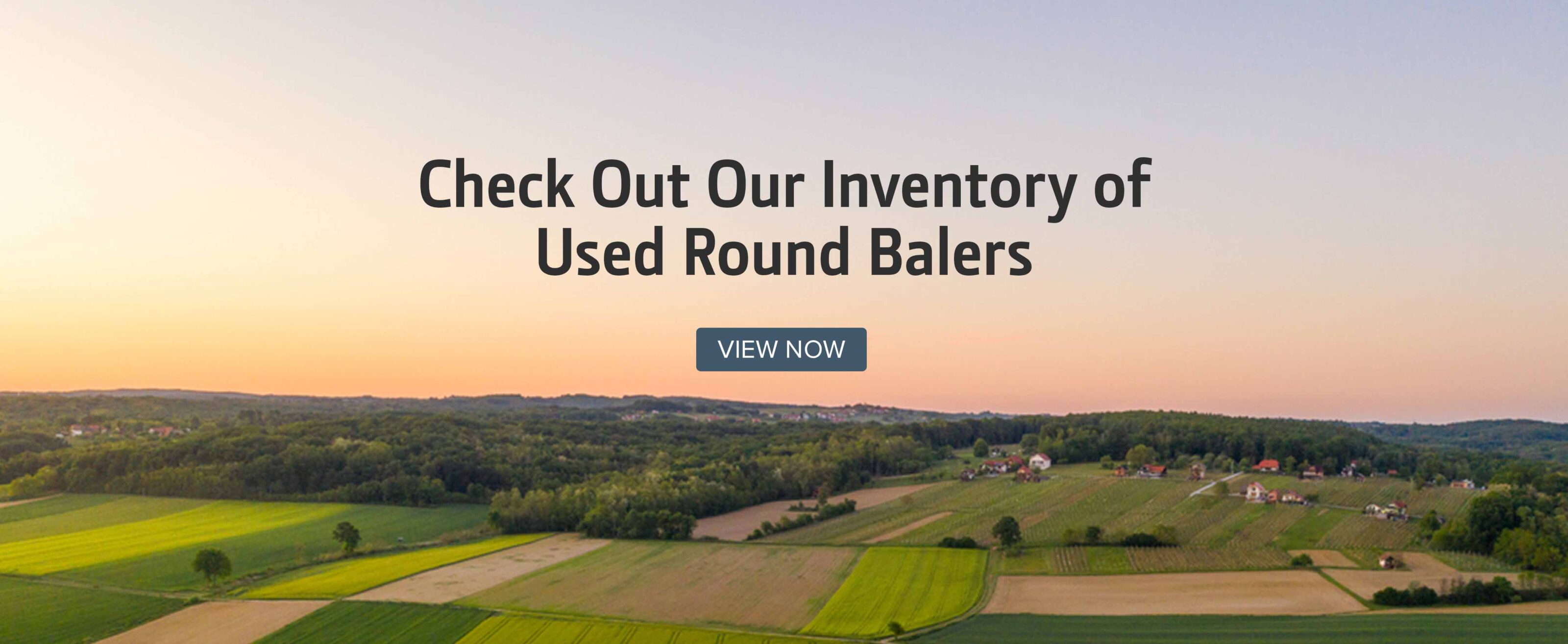 You might also like: