Dealing with winter elements can be a difficult feat. Fortunately, there are several things that landowners can do in order to get ahead of the game. Having the right equipment and taking the right precautions can allow these individuals to face winter head-on. Let's take a look at all of the snow equipment you may need to succeed this winter.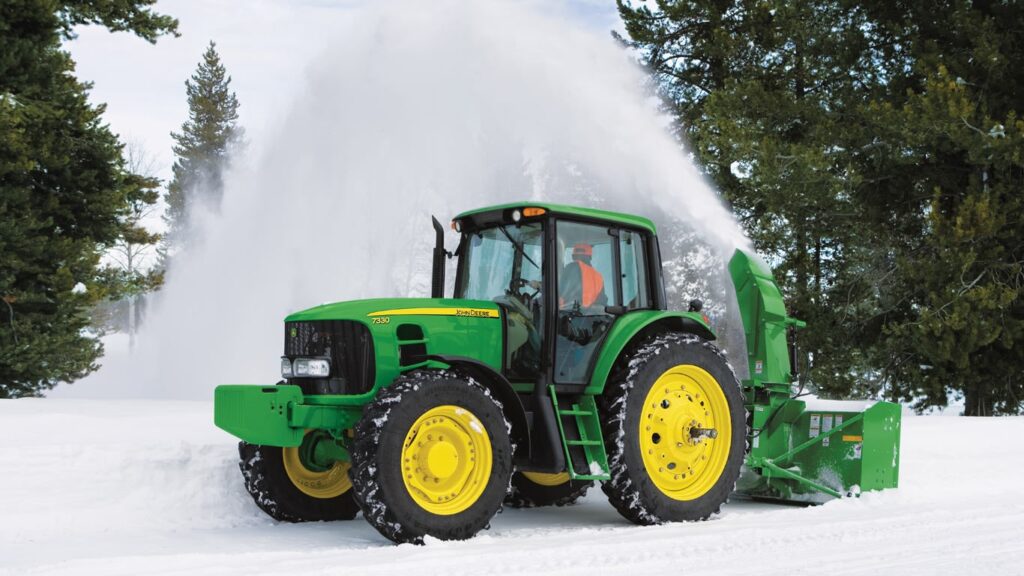 Snow Removal Tips
Snow, rain, and sleet can all have a significant impact on how to tackle the elements. While there are snow-specific pieces of machinery, John Deere also offers attachments that you can use with your existing equipment to take on the snow.  Here are a few additional snow removal tips so that you can prepare for snow cleanup with your front snow blades, as well as your rear blades.
Securely Fasten the Attachment:

Sec

urely fastening the attachment ensures that you will not lose the attachment while you are working. It also ensures the attachment is being used to its peak performance capabilities. To do this,

 

insert the loader carrier into the top hangers (located on the front blade). From here, lift and roll back the carrier so that the front blade falls into place. Then, insert locking pins so you can securely fasten the attachment.

Adjust the Pin-and-Clip System:

Your front blade offers five angled positions in order to move snow and it can easily be adjusted with a pin-and-clip system. This feature protects your blade, the loader, and the tractor if the blade edge comes into contact with an obstacle.

Pay Attention to Plow Guides:

Be mindful of any plow guides you may have on your attachment. These allow you to know where the outside edges of your blade have met the snow.

Skid Shoes:

Using skid shoes helps to protect the blade's reversible cutting edge, especially if you are working on a gravel surface.

Offset Blades:

Offsetting the blade about 12 inches to the left or right side helps quite a bit if you are clearing soft shoulders of snow.

Tackling Ice:

Your spreader can be used to lay ice melt and sand over more slick, icy areas. Since it's made of polyethylene and stainless steel, it is durable enough to handle those materials, as well as any additional elements.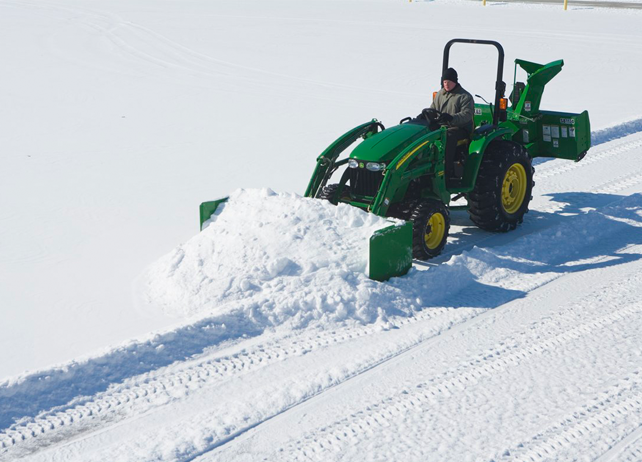 With front blades, rear blades, and additional materials buckets, moving snow is made simple. The combination of John Deere snow equipment and attachments can revolutionize the way you handle snowfall, ultimately improving productivity on the job.
Lawn Tractor Attachments for Winter
Lawn tractor snow attachments can work on any John Deere vehicle, including the 100 Series, John Deere S240, X300 Select Series and more. To get more granular, the mentioned series include some of the most popular models, such as the E100, E110, E120, E130, X330, X350R, X354, and X370. John Deere E100 attachments, as well as those for other series, can vary. Let's take a look at some of the most popular attachments that work hand in hand with those popular series vehicles.
Snow Blades for Lawn Mowers
Snow blades are perfect for moving snow and other loose materials, whether it be forward, to the left, or to the right. The curve of the blade also helps roll materials, as opposed to simply pushing it forward. This requires less power and increases overall blade capacities.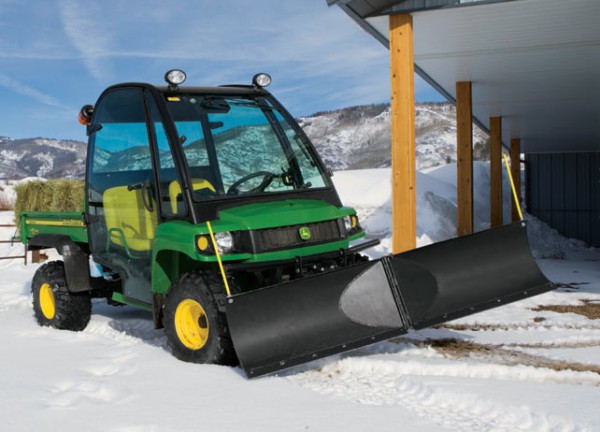 Rubber Blade Squeegee
A rubber blade squeegee is designed to attach to your blade in order to clear wet or slushy snow without causing damage, such as scratches, to the driveway surface. 
Lawn Tractor Snow Blower
John Deere snow blower attachments can handle some of the largest jobs, due to their durability. They are perfect for home and landowners in all regions where snow may be a problem.
Quick-Hitch Snow Blowers
While this is similar to the 44 in. and 47 in. snow blowers, the Quick-hitch snow blower attachment is a perfect solution for homeowners. It is also ideal for those jobs where snow needs to be moved across long distances.  
Brooms
Another snow removal attachment that Deere equipment owners can try out is a broom. All snow brooms from Deere utilize 50/50 poly wire brush segments, making bristle replacement a breeze. The drive motor also separates from the brush core easily – without disconnecting any hydraulic hoses. This eliminates the possibility of any hydraulic-fluid spillage. Heavy-duty, high-torque drive motors are attached to the brush core via a one-inch splined shaft.
Weather Enclosures
With the winter elements constantly looming this time of year, John Deere riding mower owners and operators will likely want to think about ways they can transform their equipment into winter workhorses. Adding different forms of equipment to mowers is an easy way to remain productive every day of the year. 
How are operators able to better protect themselves from the elements? Weather enclosures. Let's explore the many different kinds of weather enclosures and which ones will work best for your vehicle.
Hard-Sided Cabs
Hard-sided weather enclosures can be attached to X-Series Tractors and come standard with seat belts in order to provide operators with even more safety. When attached to your vehicle, this specific enclosure looks as though it is a part of the machine due to its molded body panels. The windows and doors are also sealed to keep the cab quiet and warm. If needed, they can be removed in less than 10 minutes.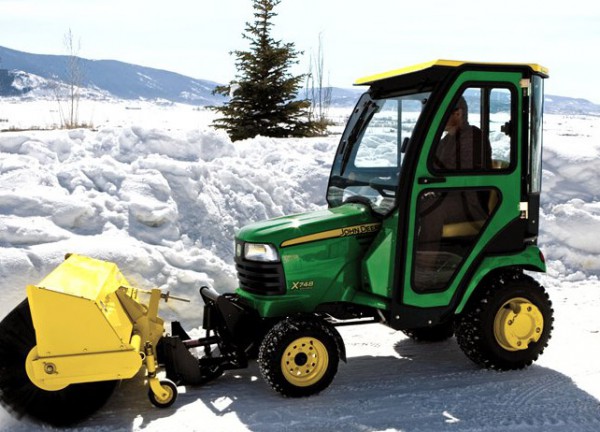 Soft-Sided Cabs
Soft-sided cabs include a certified ROPS and come standard with seat belts. This type of enclosure is also compatible with X-Series Tractors. The doors are made from steel and windows of vinyl. The handles on the doors can also be key locked, ensuring operators have peace of mind when leaving their cab.
Soft Weather Enclosure
A soft weather enclosure is also available for X Series Tractors. In addition to being built for quick installment, the frame of this enclosure is made from steel and the roof is constructed from plastic, allowing it to protect operators from the harshest winter elements.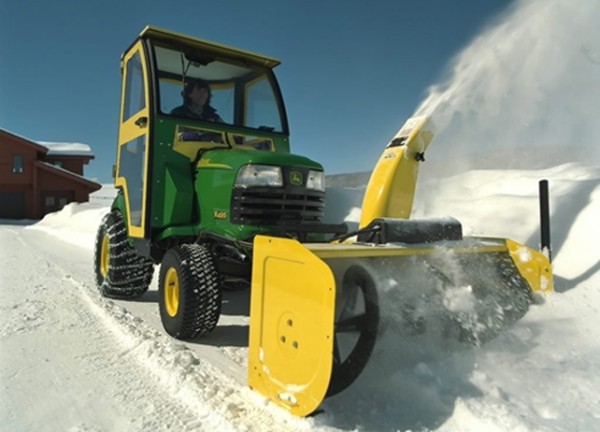 Snow Cab 100 Series
Snow cabs are compatible with 100 Series Lawn Tractors. This weather enclosure can be added to your vehicle with basic hand tools. This snow cab has a double-zippered access hole, as well as mesh pockets for holding personal items, and vinyl windows.
Construction Snow Removal Attachments
As the winter season prepares to enter its peak, construction equipment owners need to make sure their tractors are in top shape. While construction can slow down during winter, you will want to be prepared and be able to remove any snow that could halt a job. Here are some of the attachments you can add to your construction equipment so you can keep operations moving all year round.
Snow Blowers
Many snow blowers work with John Deere Skid Steer Loaders, Compact Track Loaders, and Compact Wheel Loaders for convenience. John Deere has many different snow blower models available to customers, such as:
SB11: The SB11 Series Snow Blower is ideal for farmsteads and larger properties. This equipment works with compact and smaller utility tractors.
SB12:

the SB12 Series is perfect for commercial properties, and possesses a 74 to 80-inch working width. In addition, it has enough power to move heavy, wet snow.

SB13: The SB13 Series is perfect for heavy-duty snow removal. This model is specifically ideal for utility and small row-crop tractors because of its large 88-104 inch working width.
SB21:

the SB21 is hydraulically driven and loader-mounted, making it compatible with the

John Deere 300 Series Loaders

. Snow removal is made easy with the 64-inch working width.
Snow Pushers
When the sidewalks freeze and are caked in with sand and salt, it may not be ideal to use a snowblower. John Deere offers snow pushers as an alternative to said snowblowers. These implements are capable of pushing large snow accumulations off messy sidewalks, parking lots, driveways, and more.
SP8C & SP10C: The SP8C and SP10C Snow Pushers are extremely efficient at removing large amounts of snow from sidewalks, parking lots, and more. They have rubber cutting edges that are easily replaced. They also have a pullback edge to open up confined areas and maneuver around obstructions.
AS10H: These snow pushers enable John Deere tractor owners to get rid of snow from buildings, fences, and other places in a quick manner. They are also perfect for small to mid-sized snow removal projects.
AS11E: The AS11E is a snow pusher for large snow removal tasks which can be handled with the AS10H.

Snow Blades for Lawn Mowers
Snow blade attachments are similar to truck plows but are also perfect to clear away medium amounts of snowfall. Here are some of the more popular types of blades to help you through the snow.
Standard V-Shape Blade
This blade is 72-inches and its angle can be controlled manually. It can be used in an inverse scoop or even in a straight-blade position, whichever the operator prefers. It can attach quickly to Gators and has two adjustable skid shoes.
The standard V-Shape blade can be used on the following models:
HD POWERtach™ Blade
HD POWERtach Blades offer about 1,000 pounds of pressure that can be angled 25 degrees – either to the left or to the right. The inclusion of a joystick makes it possible for operators to angle or lift the blade without leaving the Gator's seat. Since it's made of reinforced moldboard, this piece of equipment is long-lasting.
The blades can be added to the following models:
XUV855D

XUV825i

XUV625i

HPX 4×4

Standard Straight Blades
This standard straight blade's three-position manual angling, as well as its power lift capabilities, makes it simple to install. They can also be a workhorse when it comes to taking on snow. It's available in a 66-in. and 72-in. variation, where it comes with skid shoes and replaceable cutting edges.
The 66-in. blade works with the following models:
The 72-in. blade works with the following models:
XUV625i

XUV825i

XUV855D

HPX 4×4

TS 4×2

TX 4×2

TH 6×4

Snow/Utility Blades
Adjustable skid shoes are typically the standard. These blades also oscillate five degrees to the left and the right. Each blade works with John Deere D-Series skid steers, as well as compact track loaders, the 244J loader, and the 110 tractor loader backhoe.
John Deere offers the following snow and utility blades: 
Additional Snow Blade Attachments
Snow blades for John Deere Gators can be made more operator-friendly with the addition of any of the following attachments.
Markers:

The heaviest snow can make it difficult to see edges of your blade. Adding markers to your blade will make it significantly easier to see the edges and remain in control of your blade.

Deflector Shield:

Without deflector shields, it is possible that snow can climb up over the plow and into the windshield. Operators dealing with a lot of snow should consider using this attachment to keep their view more clear.

Poly Wear Bars:

Attaching this wear bar to the blade allows operators to push snow with confidence so they will not damage their equipment when it comes to road or land obstacles.

Rubber Squeegees:

Adding squeegees to Gator blades make it easier to remove snow from more fragile surfaces which could be damaged from the composition of a metal blade.

Skid Shoes:

Cast-iron shoes allow operators to operate with three times the wear resistance that standard steel shoes provide.
Final Thoughts
Cold weather shouldn't keep you doing your job. Whether it be construction equipment, riding lawn mowers, or any other piece of equipment, you will want to make sure you are ready for the snow.
If you have any questions about John Deere snow equipment, you can contact your local John Deere dealer.
If you enjoyed this post or want to read others, feel free to connect with us on Facebook, Pinterest, or Twitter!
You might also like: