As the needs of agricultural producers continue to shift, John Deere is evolving to cater to emerging demands. A new configuration for the 1725C 16R30 planter has been developed as a result, and Deere is also enhancing the frame design for the 1725C 12R36/38 and 12R38/40 planters. The goal is to make workdays a little easier for farmers out in the field as they put Deere machinery to work.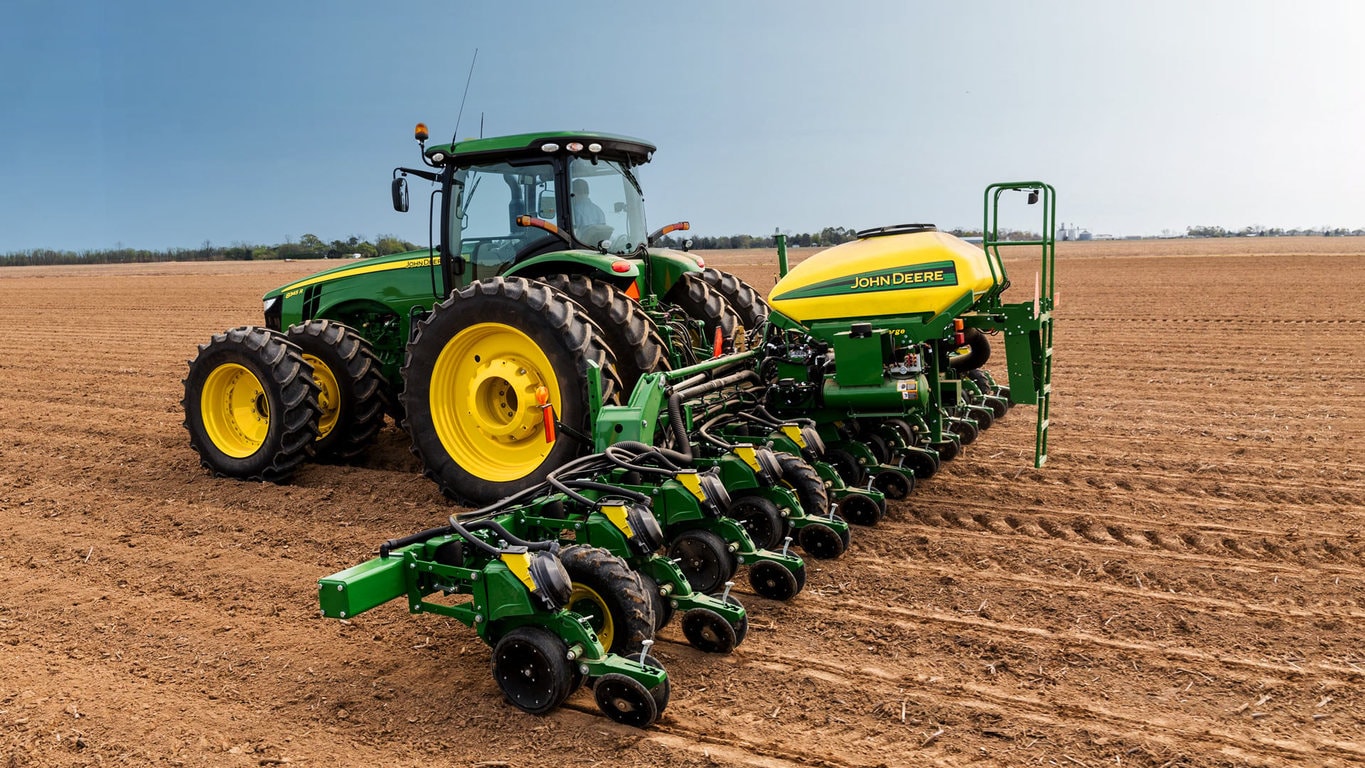 1725C Replaces the 1725CCS Planter
John Deere will be replacing the 1725CCS planter with the 1725C, but it will still be offered until the end of Model Year 2023. The enhancements being made to the planter are designed to ultimately add value for corn and cotton producers. With individual row hydraulic downforce and better frame weight distribution, the 1725C planter is designed to go above and beyond expectations.
Improvements of John Deere MY23 1725C Planter
There have been several improvements made to the 1725C planter that will ultimately make agricultural producers' jobs less stressful each day. Everything from no-lift assist wheels to color-coded hydraulic handles is designed to streamline operation and boost productivity out in the field.
New Configuration
The 1725C planter has an entirely new configuration with a 55-bushel Central Commodity System (CCS), a relocated blower, and a full agronomic suite.
Enhanced Frame Design
The newly enhanced frame design comes in a stack-folding configuration. It has the flexibility needed to move upward up to 10 degrees and downward up to 7 degrees. There is also improved frame weight distribution, which enhances maneuverability out in the field without the need for lift-assist wheels.
Improved Value for Corn and Cotton Producers
Corn and cotton producers, in particular, will benefit from the new 1725C planter enhancements. Farmers will be able to plan more acres between refills with the new 55-bushel CCS. The planter can also be ordered with the ExactRate fertilizer system to make it quicker and easier to tend to crops.
Easy Access Ladder
The new easy access ladder of the 1725C planter helps prevent damage from field obstacles. Operators can access the platform without any difficulty as needed.
ExactEmerge BrushBelt or MaxEmerge 5e Seed Tube
Customers can choose either an ExactEmerge BrushBelt or MaxEmerge 5e seed tube for their 1725C planter. With ExactEmerge, operators can maintain accurate speed placement while working at higher speeds. This gives them the opportunity to maximize their crop yield every season. The BrushBelt trench delivery system ensures that spacing in the trench does not change according to the terrain. With the MaxEmerge 5e Seed Tube, operators can boost population accuracy while traveling over curves.
Pneumatic Row Cleaners
The pneumatic row cleaners of the 1725C planter allow operators to make on-the-go adjustments right from the cab. Three presets can be saved to account for varying ground engagement depending on field conditions. Overall, the row cleaners help maximize yields by reducing row-unit bounce and maintaining proper depth.
Individual Row Hydraulic Downforce
With individual row hydraulic downforce, operators can tackle a wide range of field conditions with ease. The system works quickly based on an individual row basis, catering to changing soil conditions. It ultimately increases ground contact to improve seed depth consistency. Adjustments can be made in seconds to ensure that no productivity is lost.
ExactRate Liquid Fertilizer System
The ExactRate Liquid Fertilizer System helps operators precisely monitor and control the application of liquid fertilizer while planting. It can be utilized at maximum speeds up to 10 miles per hour, allowing users to plant more than five additional acres per hour. Overall, the system reduces fertilizer costs by making sure that the right amount of chemicals is applied every time.
If you enjoyed this post or want to read others, feel free to connect with us on Facebook, Pinterest, Twitter, or Instagram!
You might also like: