The John Deere 9660 STS combine was first made in 2004 and has a 340 horsepower PowerTech™ engine that is suitable for all field conditions. This unique combine model is known through the farming equipment industry for its exceptional ability to unload while on the go. The John Deere 9660 combine can maintain a programmed speed during harvesting while simultaneously unloading into a partner vehicle.
Interested in learning more? Shop our inventory of used John Deere equipment!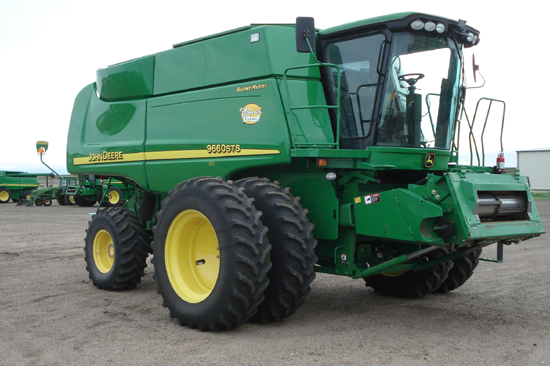 This smart machine gives the operator an exceptional and unobstructed view of the work being performed.With wider spacing of the front cylinder bars, the JD 9660 promotes better and faster grain separation. This is especially important for vehicles operating in crops that have higher moisture levels.
Rolling hills and soft terrain are no match for JD 9660. This combine will automatically adjust its ground speed regardless of the conditions. The technology equipped on the 9660 will cut work time to a minimum as there is no need to make double passes.
The introduction of the single Tine Separation (STS) system from John Deere continues to be a revolutionary tool that has impacted the farming industry. The STS system is still the benchmark for high capacity threshing and separating.
The 3-step design of the JD 9660 STS allows the crop space to expand as it travels through the module, reducing the chance of roping and lowering the power requirements.
With John Deere combines, operators are guaranteed to get the most from their crops in the shortest time. With unmatched engineering, farmers will be able to reduce double passes which in-turn reduce fuel costs and hours of equipment use.
STS  & HarvestForm™ Technology
What is equally important to the STS system is the quality of materials being used. The 9660 combine is made with HarvestForm™ grain-based composite which is simple to clean, and is guaranteed not to rust.  HarvestForm™ is a patented John Deere technology which exemplifies another reason John Deere is a leader in the farming industry.
More John Deere Combines
Search for used Ccombines on MachineFinder
If you enjoyed this post or want to read others, feel free to connect with us on Facebook, Twitter or Google+!