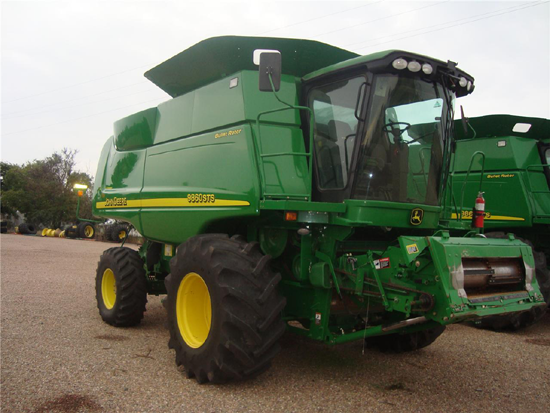 The John Deere 9860 combine comes from a long line of legendary John Deere harvesting equipment. With over 100 years of engineering, the John Deere STS combines have forever improved the agricultural industry.
The John Deere 9860 has a 375 horsepower, PowerTech™ engine that can handle all of your harvesting requirements. This tough model of combines is your ultimate harvesting machine that has plenty of upgradable options.
When it's time to harvest your crops you can be sure the John Deere 9860 will be ready to pull its own weight. This combine is tough enough to concur the toughest hills without loosing speed. All you have to do is set your desired speed and the 9860 with do the rest. This Deere combine is great at working in the most difficult conditions.
The JD 9860 is an excellent companion for difficult low-lands and marshy terrain. With built in sensors, JD combines have the ability to recognize the height of your corn or grain. With this equipment, your John Deere combine with automatically adjust its harvesting height to extract the most from your field.
The JD 9860 also has a comfortable cab that encourages operators to multitask when when harvesting. John Deere takes pride in creating farming vehicles that make the most of a days work. When the John Deere AutoTrac™ System is being used, the vehicle operator can focus on office tasks while monitoring the harvesting process. With a clear view of the job at hand, farmers can feel confident they are getting the most out of there farming equipment.
When purchasing John Deere combines you can be sure you are getting revolutionary products that lead the farming industry. Patented materials like Harvest Form™ ensure that John Deere combines will last generations and are friendly toward the environment. This is just another way John Deere has remained ahead of the competition.
More John Deere Combines
Search for Used Combines on MachineFinder