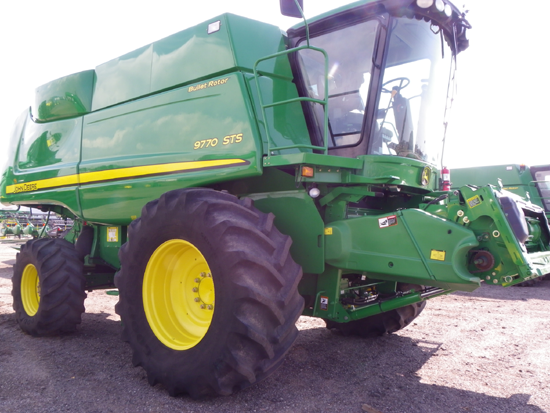 The John Deere 9770 STS combine has a 360 horse power, Power Tech engine with brains to match. The John Deere 9770 combine is perfect for harvesting small grain, rice, and corn. The strength of this Deere combine makes it easy for the operator to maneuver through difficult field conditions while remaining on course.
The John Deere 9770 combine was engineered to make the farmer's job simpler and less time consuming. Whether you are harvesting uphill or down a slope, the JD 9770 has the ability to remain at a programmed speed. Even when faced with tough sloping side hills, the John Deere 9770 STS won't slide or loose traction. The improved engineering from John Deere eliminates the need for excessive double passes. This in turn will reduce your hours in the field and the hours logged onto your combine. These engineering improvement help operators save on fuel costs, and assist in getting the job done in a fraction of the time.
The JD 9770 combine model is known for having exceptional cab space as well. This ergonomic workspace can be easily managed by the operator with room to spare. The cab space gives the operator an excellent view of the work that is being performed. The operator can monitor the ground conditions easily, and observe harvesting  up close and personal.
John Deere continues its legendary production of farming combines that continue to support the agriculture industry. With JD Harvest Form™ you can be sure that your combine is well protected from the elements. This Patented John Deere technology is created by processing petroleum products such as soybeans and corn to create composite side panels for the vehicle. These materials make JD combines lighter, easier to clean, and contribute to a cleaner environment.
The engineering in the JD 9770 offers unmatched turning abilities that shave time off long work days. You can count on John Deere to design combines that allow you to get the most out of your crop while making your day as efficient as possible. This is another reason why John Deere continues to be an innovator in the farming industry.
More John Deere Combines
Search for Used Combines on MachineFinder