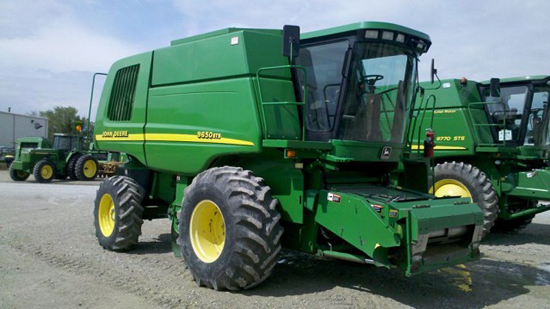 The John Deere 9650 STS combine from John Deere is a versatile harvesting combine that comes equipped with legendary John Deere engineering. The 9650 STS model is great for harvesting barley, canola, canary, coriander, corn, flaxseed, lentils, oats, peas, rice soy beans and  more!
This remarkable piece of farming equipment is built with a 290 horsepower PowerTech™ engine and a 250-bushel grain tank.  The 9650 STS combine accompanies a long line of John Deere combines that have transformed the farming industry over the last century.
The JD 9650 combine is durable and ensures the most efficient harvesting of your crops. With easy and adjustable settings, anyone can improve their crop production. Year after year new, John Deere farming techniques are improved and the JD 9650 STS is a prime example of JD excellence.
Access the top performing equipment on the market. Explore our inventory of John Deere machinery!
Performance
With the John Deere 9650 in your fleet you can be sure that you are getting the most out of your crop. With minimal grain loss you will have the ability to harvest more crops with less time wasted on double passes. With fewer passes and more materials collected you will spend less time on labor, reduce equipment usage, reduce fuel costs, and shorten your overall time in the field.
This 9650 line of John Deere combines are extremely user friendly and will become a great companion to any operator.  The 9650 maneuvers well and has enough power to muscle through long days of labor. With exceptional engineering, the 9650 combine will harvest up and down hills with exceptional control.
Whether you are on a slope or on flat ground, the JD 9650 will maintain its programmed speed. By creating efficient farming equipment, farmers are guaranteed to reduce crop loss during the extraction process. With unmatched materials, farmers can feel confident that their farming equipment won't rust or break down.
More John Deere Combines
Search for Used Combines on MachineFinder