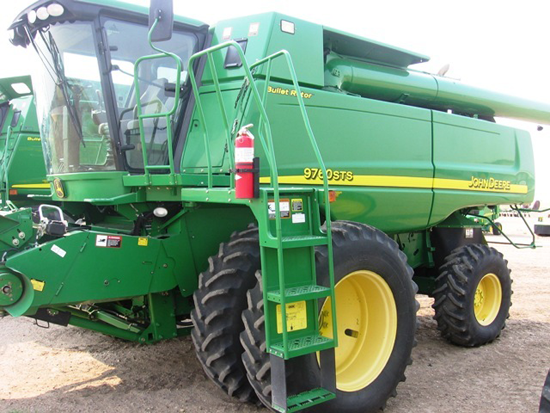 John Deere continues to produce the hardest working harvesting combines on the market today. With advanced engineering and new technologies, John Deere machines continue to help farmers across the world productively and efficiently harvest their crops.
The John Deere 9760 STS combine is part of an elite fleet of John Deere combines that have revolutionized the farming and agriculture industry.  The JD 9760 is perfect for strenuous tasks on the farm that require sufficient horsepower and enough low end torque for rolling hills.
The JD 9760 combine gives the operator a front row seat to the job at hand and can be personalized with different attachment options.
John Deere combines are known for their exceptional maneuverability in the field and can be upgraded to fit each individual operator's needs.
These combines come equipped with everything you might need for the farm. Combine options include a small grain fixed speed feederhouse, harvest monitor with a display, premium header controls, field office training seat, touchset concave adjust, small wire concave, general purpose chaffer, wide spread fine cut chopper/chaff spreader, adjustable rear axle, service lights, and high intensity lighting.
With the john Deere 9760 you can be sure you are getting one of the finest quality harvesting machines available. With high quality parts and plenty of room for upgrades, your JD 9760 will be able to handle anything thrown in its way. No matter the terrain, John Deere combines were designed to get the job, no questions asked.
The goal of  John Deere combines is to make farming more enjoyable. John Deere has been able to accomplish this by creating efficient vehicles that eliminate the need for excessive double passes. By creating smart and efficient machines, users can feel comfortable knowing they are extracting the most from there crops.
When purchasing the John Deere brand you are guaranteed the most advanced farming equipment on the market. John Deere continues its excellence by manufactures rust resistant parts and durable engines that last generations. It's no surprise that John Deere is the most trusted name in Farming.
More John Deere Combines
Search for Used Combines on MachineFinder