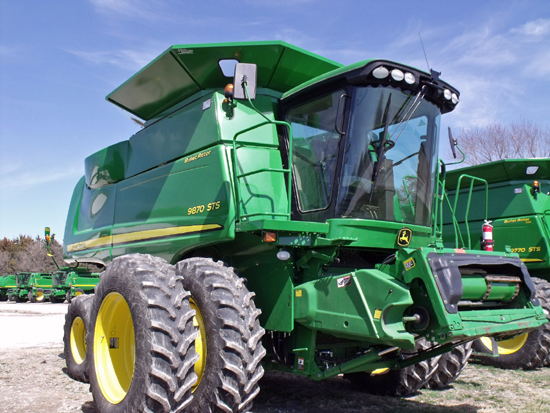 The John Deere 9870 STS combine is one of the finest harvesting combines on the market today. With a 440 horsepower Power Tech™ engine, this combine offers exceptional torque enabling it to handle the harshest of conditions.
This series of John Deere combines comes equipped with some of the latest John Deere technologies available. The JD 9870 STS combine is a master at concurring rugged terrain and sloping hills. This machine truly makes the hardest jobs seem easy.
As an innovator in farming equipment industry, John Deere continues to find ways to improve the efficiency of heavy machines. JD combines are continually upgraded with the goal of creating the finest and most efficient equipment on the planet. The results are durable machines that harvest more crops, in less time.
With legendary engineering,  John Deere has created a precise threshing tool that will automatically adjust itself to find the height of your crop.  The John Deere 9870 combine can also harvest side hills at a slope 14% without scraping or damaging equipment.
The JD 9870 combine cab is large and highly functional. With well labeled controls the vehicle operator can feel comfortable finding every tool they might need when harvesting. John Deere has also created a cab that is conducive to multitasking by allowing operators to accomplish office work. This spacious work environment helps farmers get the most out of their working hours.
With over 100 years of engineering experience, John Deere continues to create farming equipment built to last. With products like Harvest Form™ that contribute to the durable exteriors of John Deere combines, owners can feel confident that their equipment will be able to handle heavy moisture without rusting.
The John Deere combines are continually improved to become more precise and efficient. John Deere combines are known for accurate harvesting which in turn reduces fuel costs, and time spent in the field. By creating efficient equipment, farmers also spend less time making double passes, and save money on labor expenses.
More John Deere Combines
Search for Used Combines on MachineFinder