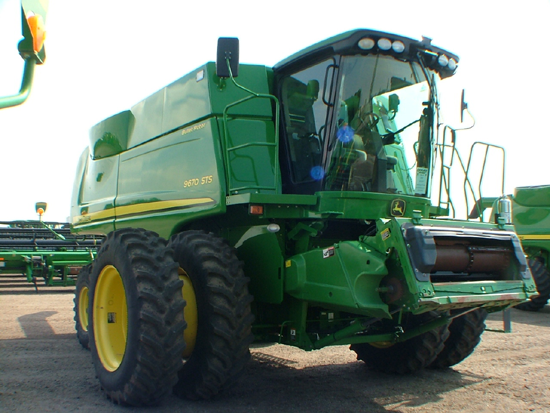 John Deere combines simplify harvesting tasks like no other equipment on the market. The John Deere 9670 combine model is known for its Single Tine Separation system (STS). This powerful combine also uses the compatible John Deere Bullet Rotor™ System which has revolutionized the way farmers harvest their crops. Since the inception of the Bullet Rotor™ in 1999, John Deere continues to improve its harvesting technologies to help farmers get the most from their crops.
This Deere 9670 combine exemplifies power and precision as it picks, and efficiently filters your crop.
"What we're doing is reducing the force it takes to move crop through the combine," says Chris Savener, senior sales and service representative, John Deere Harvester Works. "By doing that, we've decreased the amount of engine power required to drive the rotor by as much as 20 percent in tough small grains conditions."
The John Deere 9670 Combine boasts a 305 Horsepower, six cylinder engine, making it a powerhouse in the field. The engine improvements to JD 9670 have enabled this series of combines to move faster through the field, resulting is fewer hours of machine use.
Its remarkable to the witness this combine at work. The 9670 tractor combine carves a perfect path making it easier to get the most out of your crop. Patented John Deere Mapping, and AutoTrac™ is available on this model, giving the operator more freedom behind the wheel. The cab space is spacious and more ergonomic than ever. After you have entered the field dimensions into the AutoTrac™ system you can feel comfortable enough to get office work done with an exceptional view from your moving office.
You can be sure that Machinefinder.com will provide you with the largest selection of used John Deere combines to help you with your agricultural equipment needs. This is yet another way John Deere is committed to the agricultural industry.
More John Deere Combines
Search for Used Combines on MachineFinder