Your yard is more than just a plot of land – it's a place to build memories. Used lawn mowers can help you tackle any job on your piece of turf, whether that be a gardening project or snow removal, to get it looking just the way you want it to. With attachments for every season, you can remove snow, mulch, haul, garden, bag, plow, and more. Let's take a look at all the different kinds of John Deere used lawn mower models so you can determine which model will be the best option for you to buy.
Interested in learning more? Shop our inventory of used John Deere equipment!
The 100 Series John Deere lawn mower is manufactured in Greeneville, TN to make your yard work quicker and easier. With their more affordable price point, as well as a full warranty and comfortable design, this series allows you to focus on why you have a lawn in the first place – to make and share memories with friends and family.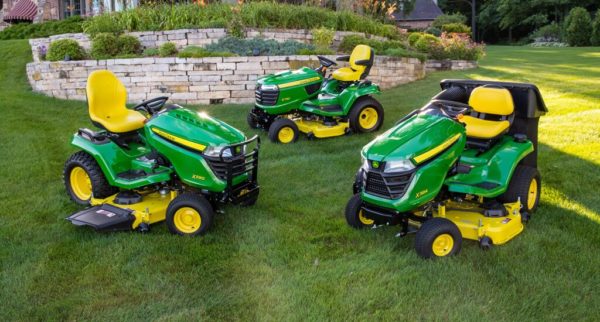 E100 Models
Within the John Deere E100 lineup, there are a number of models that you can choose from. Check out details for each model below to help determine which model is right for you.
E100
This model is the baseline lawn tractor in the E100 series. It's equipped with a 42-in-Edge™ Cutting System, 1/4″ height of cut increments, as well as a comfortable operator station.
E110
This model is similar to the E100 with the addition of a two-pedal hydrostatic transmission with 19 hp – giving operators a wide range of ground speeds to choose from.
E120
The John Deere E120 has a 20 hp V-Twin engine, as well as a Easy Change™ 30-Second Oil Change System.
E130
The E130 model has 22 hp, as well as an adjustable seatback.
E140
The John Deere E140 model can mow more land in less time with its 48″ cutting width.
E150
The E150 model combines comfort and durability. It has large rear wheels and a V-Twin engine to help handle even the toughest jobs.
E160
Premium features are what the E160 is all about – this includes a premium steering wheel and a 24 HP V-Twin Extended Life Series Engine.
E170
The John Deere E170 has a high back, adjustable seat for added lumbar support, as well as a 25 hp engine.
E180
The E180 features a 54″ mower deck and a heavy-duty, two-pedal hydrostatic transmission.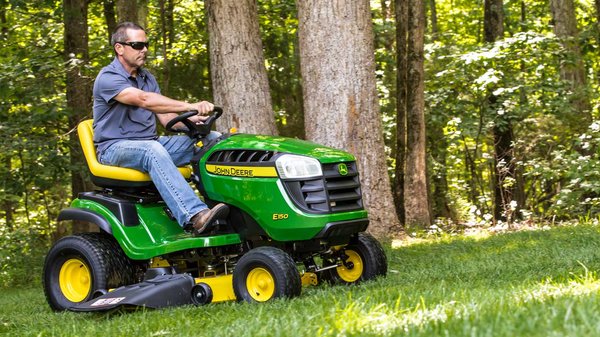 S100 Models
John Deere S100 Series lawn tractors are designed to provide the utmost comfort at an affordable cost. This lawn tractor was derived from the E100 models, redesigned to create the perfect experience for users. Below is a list of the various S100 models:
D100 Models
Out of all 100 Series options, the D100 is the smallest riding lawn mower model – offering an easy way to maneuver in smaller areas. The D100 Series also features some larger models, including the John Deere D120 and the John Deere D110, but due to the cost and size of the D100, most people consider it to be the best option for beginners.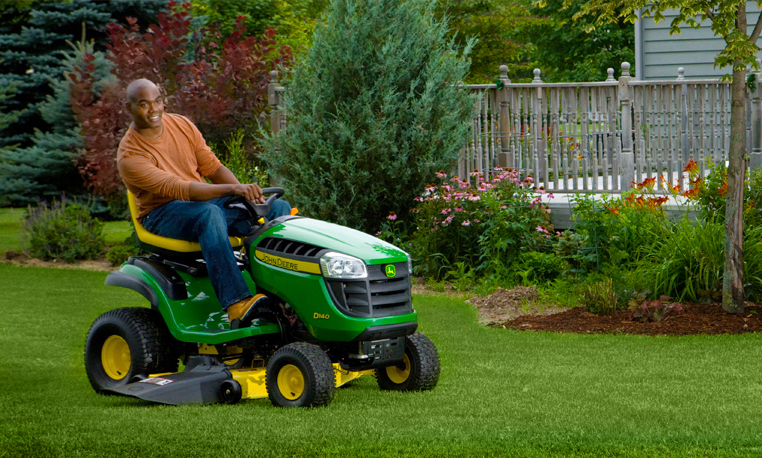 John Deere 200 Series
Real memories create the best yards, and the John Deere 200 Series allows you to spend fewer hours working on your lawn so you can spend more time enjoying it. It was purposely built with more horsepower, the goal of increased speed, and bumper-to-bumper warranties to offer operators peace of mind so they can enjoy their backyards.
S220
The John Deere S220 utilizes the same platform as the S240 model, however, it offers a different engine. Additionally, this model has a 43" Deck variant and a lighter-duty transmission.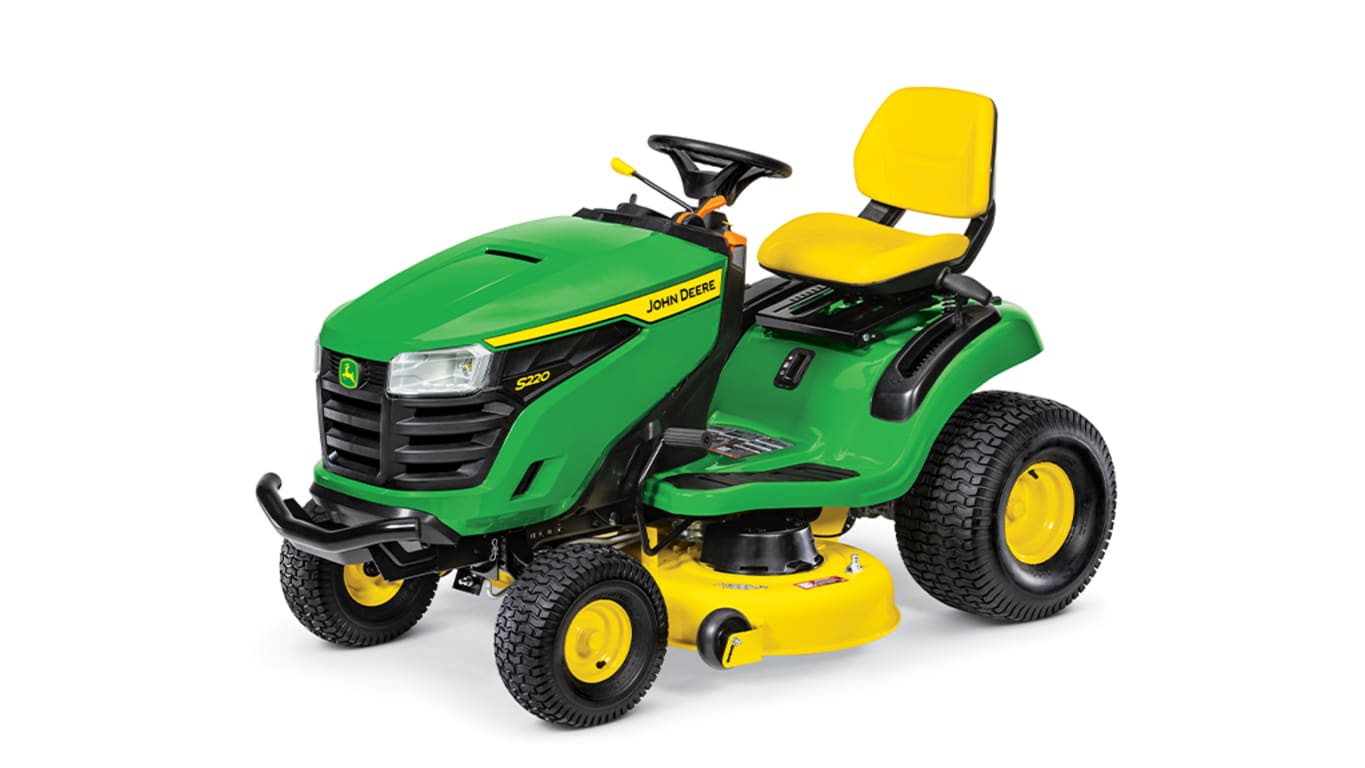 S240
This John Deere lawn tractor has a 42-inch deck with a 2-cylinder engine. It also has an automatic drive system, a washout port, an electric PTO, and comfortable high-back seating.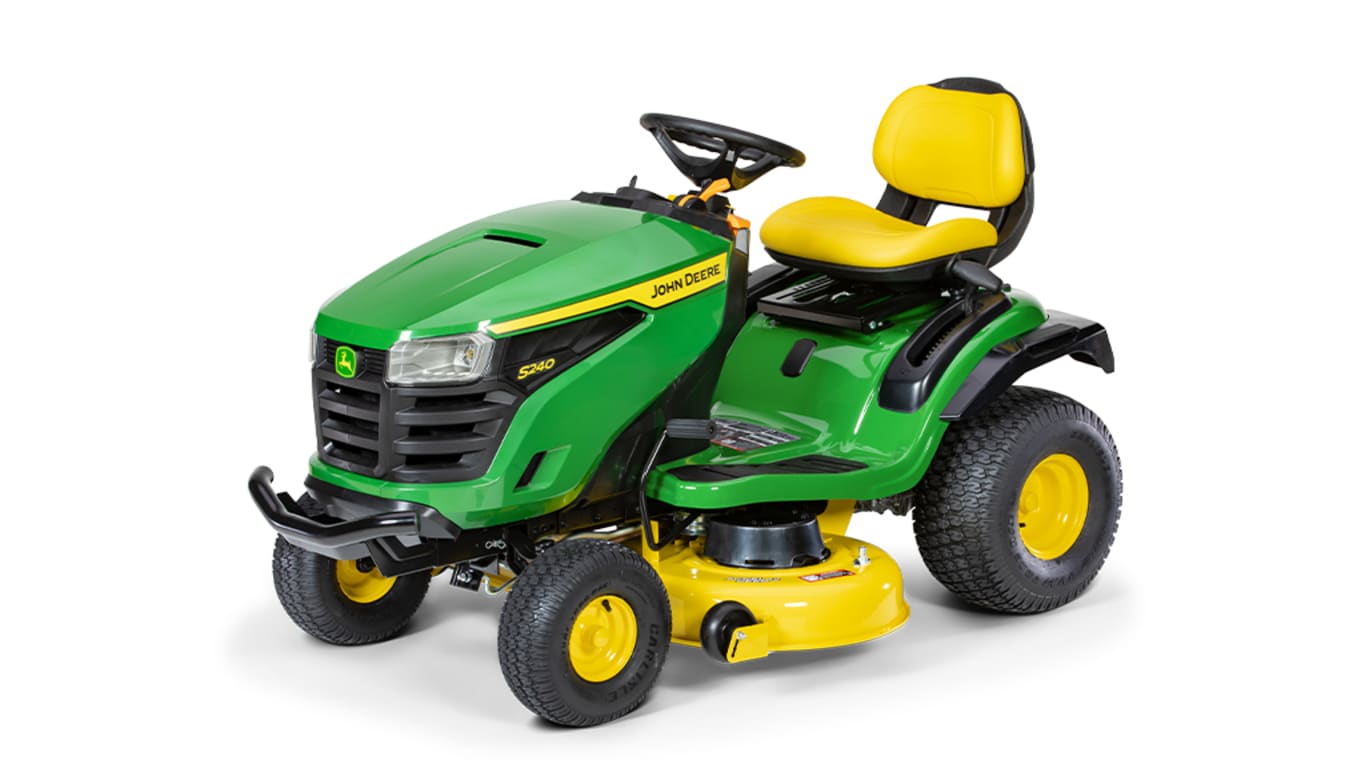 The John Deere X300 Select Series will completely change your mindset when it comes to the way you work. It is built with an exclusive one-touch MulchControl™ technology and is compatible with three different Accel Deep™ Mower Deck sizes. There is also a wide range of attachments available for every season to ensure you can keep your yard looking its best, no matter the time of year. Let's take a look at some of the different model options available.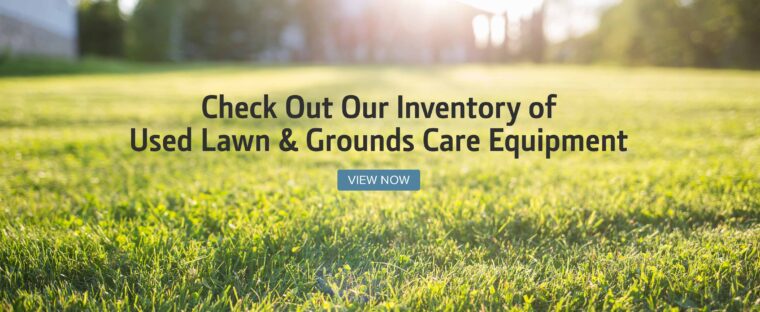 X304
The John Deere X304 mower utilizes a 18.5-hp V-twin engine with 603 cc displacement and a John Deere iTorque™ power system. The ensures the tractor has a smooth and quiet power, as well as an easy start.
X320
The X320 is a great tractor if you are looking for a machine that is extremely versatile and able to handle a variety of jobs around your property. Offering a 48-inch or 54-inch deck, the X320 tractor has the ability to suit all of your needs. It also features a heavy-duty transmission to ensure you can handle your yard jobs with ease.
X330
With its 42-inch mower deck, the John Deere X330 allows you to improve the efficiency of your mowing. It also features a 20 horsepower engine, meaning this riding lawn tractor is essentially designed to help you get the job done faster.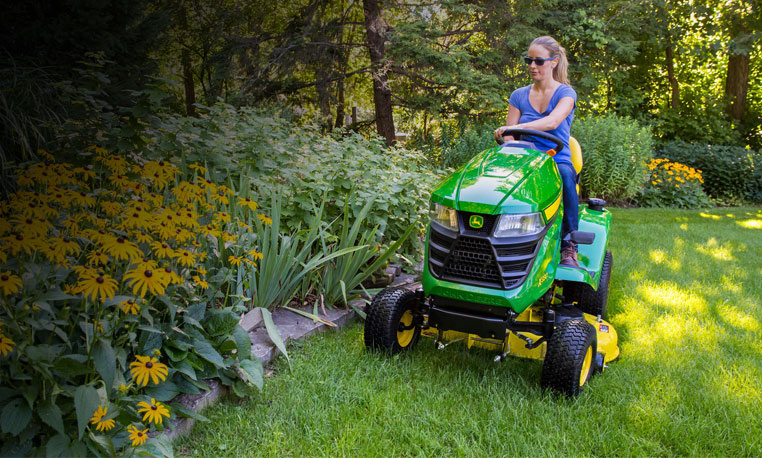 X324
The X324 is similar to the X304 but what helps it stand out is its 22 horsepower engine and a 726 cc displacement.
X350
The power of the John Deere X350 comes mainly from its 18.5-hp (13.8-kW) iTorque™ power system. The iTorque system combines premier engine features with enhanced hood design to provide operators with ample ability to lift, while also providing even cooling and added toughness. The X350 engine also features an impressive 603-cc displacement.
X350R
​​The X350R Series is built with exclusive one-touch MulchControl™ technology, in addition to several other important features, so you can make the most of your yard. Having the ability to use many different attachments is where the magic truly happens.
X354
The X354 uses a 42-inch mower deck to offer unmatched quality, as well as high performance, comfort, and even versatility in a massive range of weather conditions. The X354 lawn tractor also has the ability to handle any and all mulching needs with the help of a MulchControl™ Kit attachment.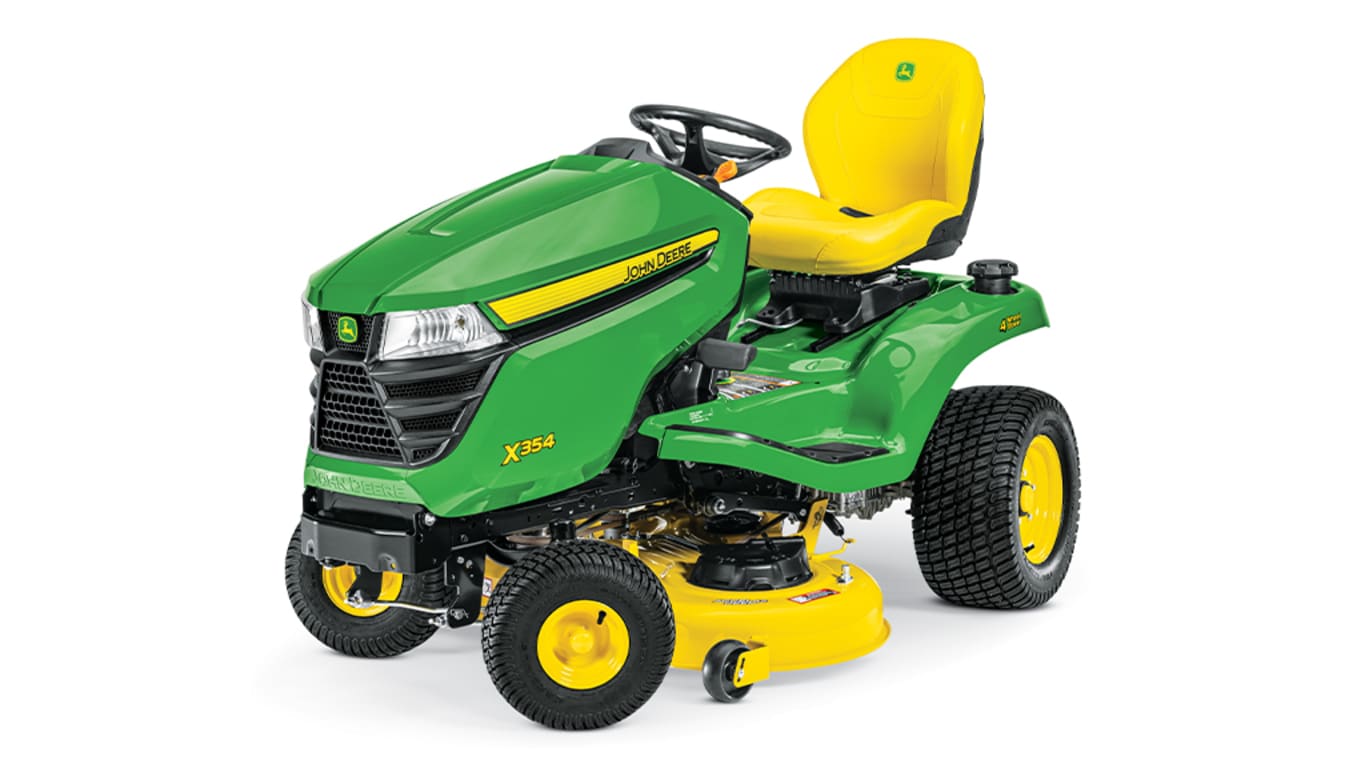 X360
Similar to other X300 series models, the X360 is great if you are looking for a more heavy-duty vehicle. Thanks to its hydraulic lift system, this lawn tractor model stands out from the rest!
X370
The John Deere X370 is the perfect mowing solution for when you need a machine to deliver large amounts of power in any type of landscape. This mower has a 42-inch Accel Deep™ Mower Deck and automotive-style power steering so it is easily maneuverable. It also has an 18.5-horsepower iTorque™ Power System.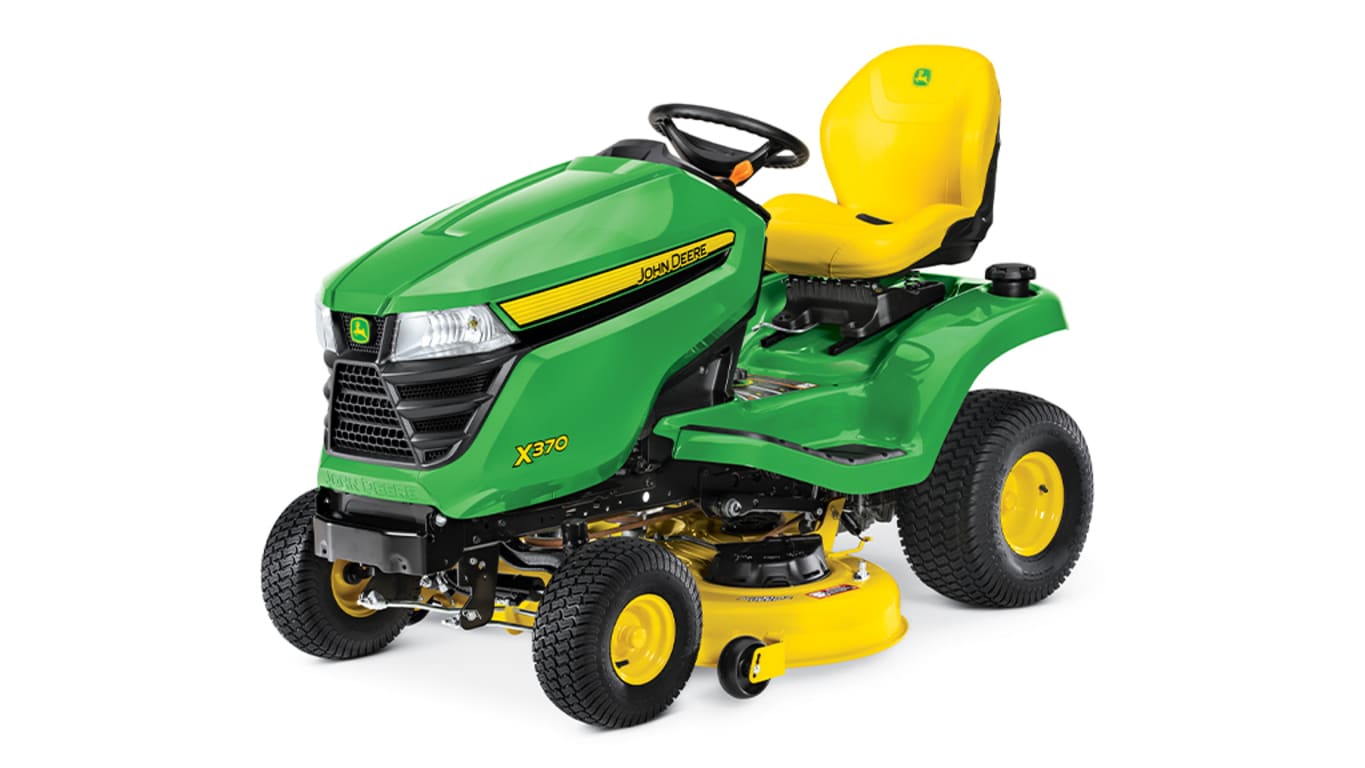 X380
The John Deere X380 tractors were built for improved maneuverability and homeowners who need to mow up to 3.5 acres with uneven terrain. This machine is perfect for those with light- to moderate-duty yard tasks. The X380 also has the advantage of being great for snow removal.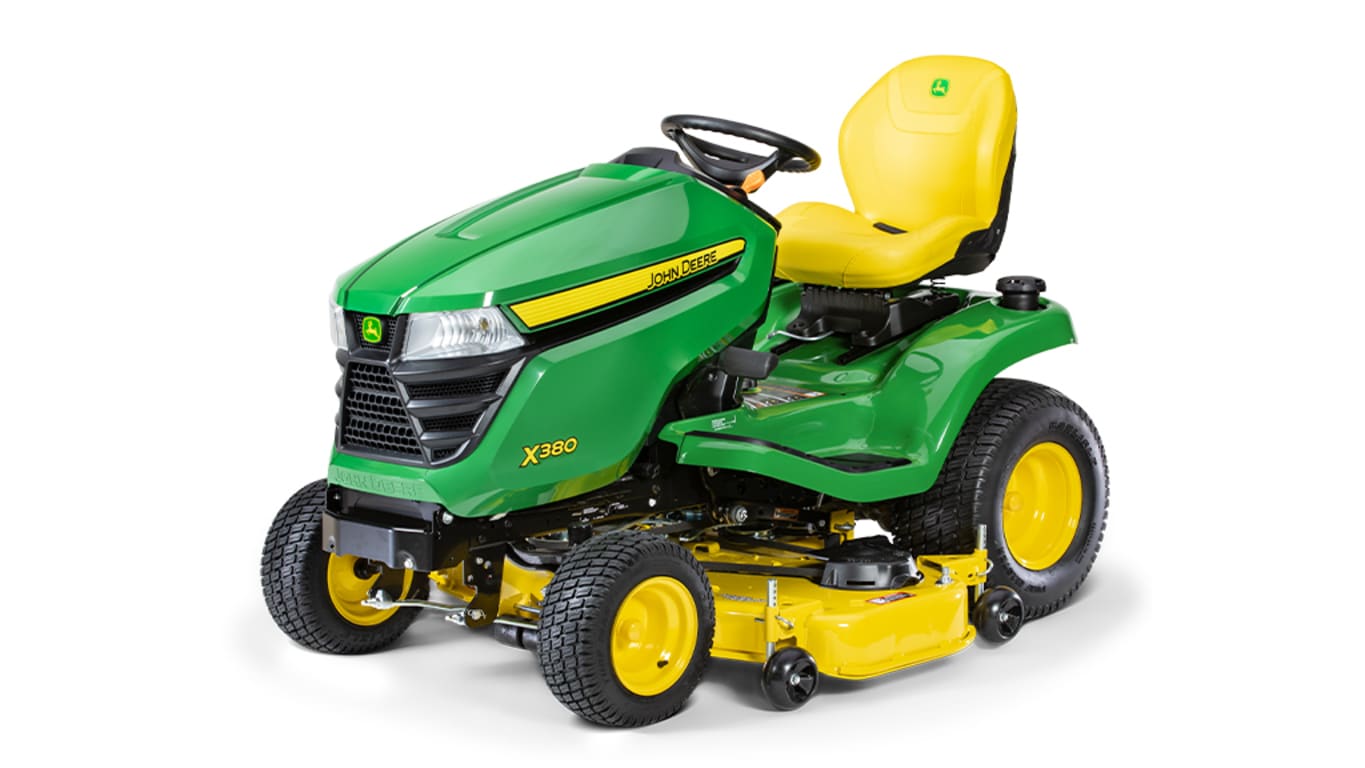 X384
John Deere's X384 model has a 4 wheel steer platform, enabling tight turns and better trim capacity. It is also equipped with a 22hp engine and has a 48″ mower deck. This makes it perfect for side discharge, mulching, or bagging after cutting. The X384 is durable with a high-quality build and great components so it can be used year-round for removing leaves, mowing, and even snow removal.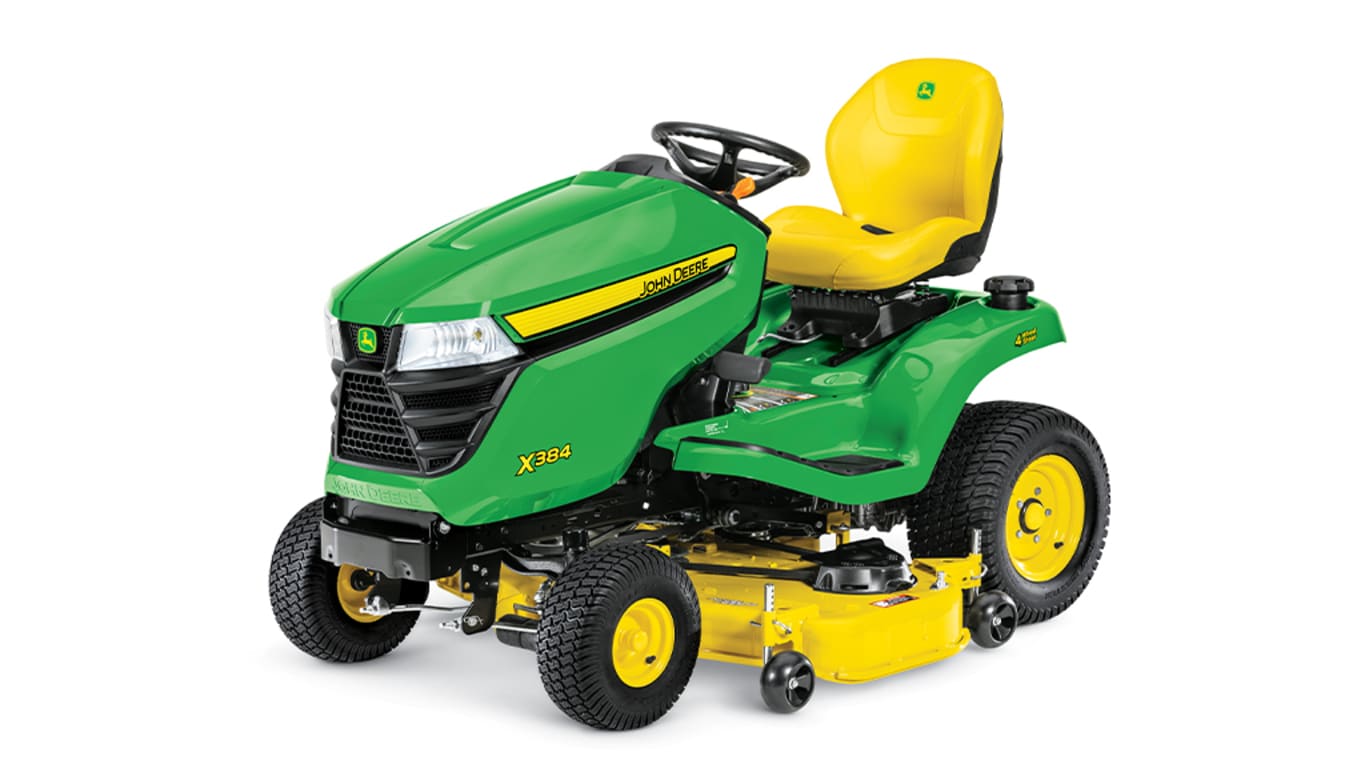 X390
​​The X390 features a powerful 22hp engine and the option of a 48-inch or 54-inch mower deck that uses on-the-go deck leveling. John Deere's X390 also uses a hydraulic lift for its front attachments, which may include front blades, snowblowers, and more – making work easier all year round.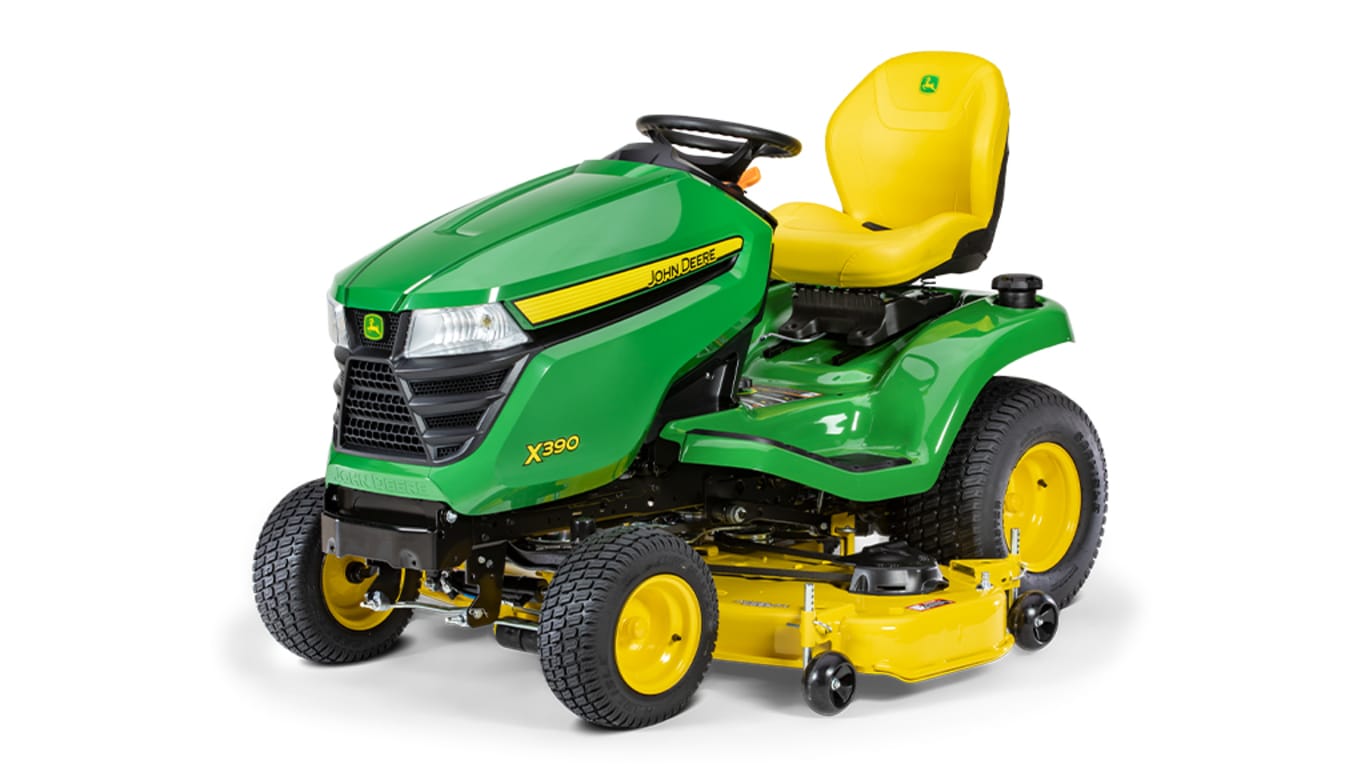 X394
The X394 Tractor from John Deere utilizes maneuverability to its advantage so that homeowners can mow almost 4 acres of varied terrain while doing light to moderate-duty yard tasks.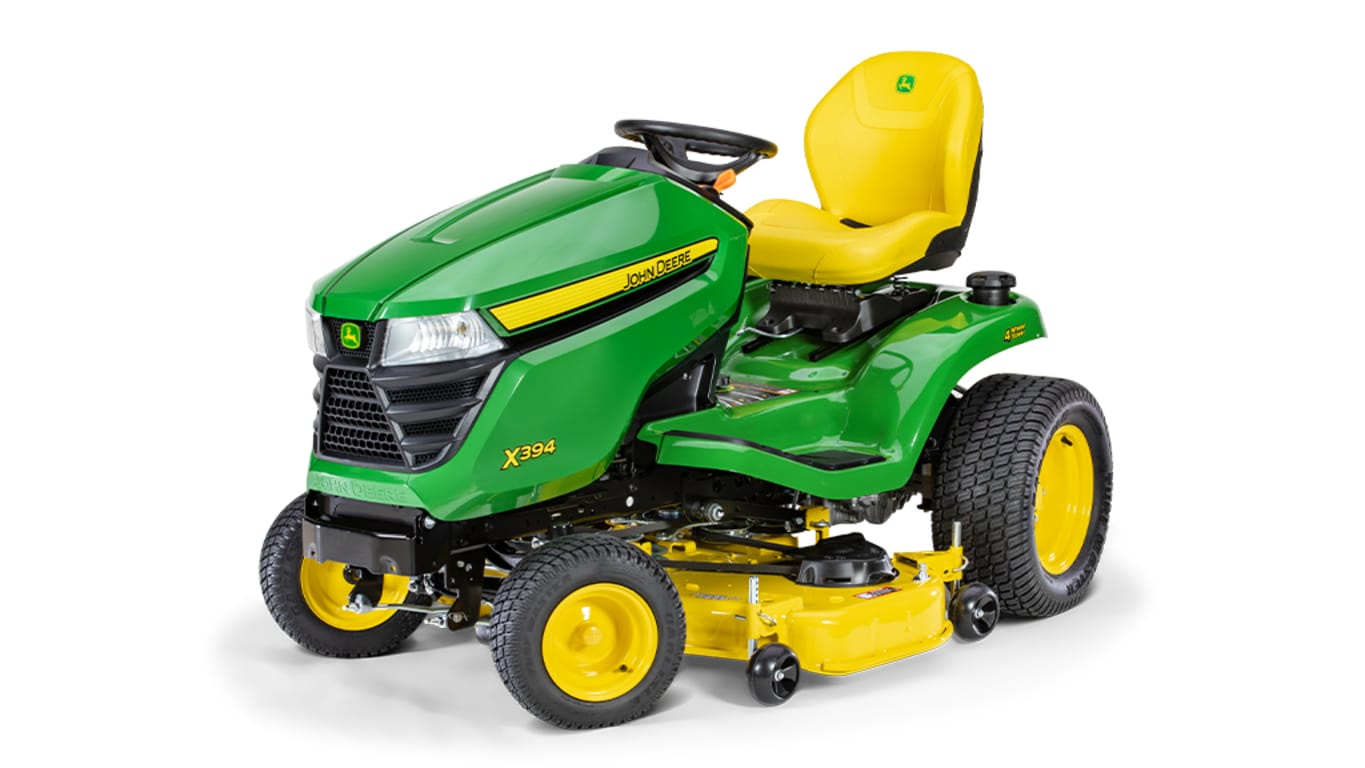 The John Deere X500 Series utilizes two sizes of Accel Deep™ Mower decks. It also has multiple features to help you power through any weather conditions, because the best memories are made in well-kept lawns.
X570
The John Deere X570 tractor cuts your lawn cleanly by using the latest three-spindle mowing technology in order to raise your performance to new levels. The 24 horsepower engine runs smoothly, providing superior capabilities.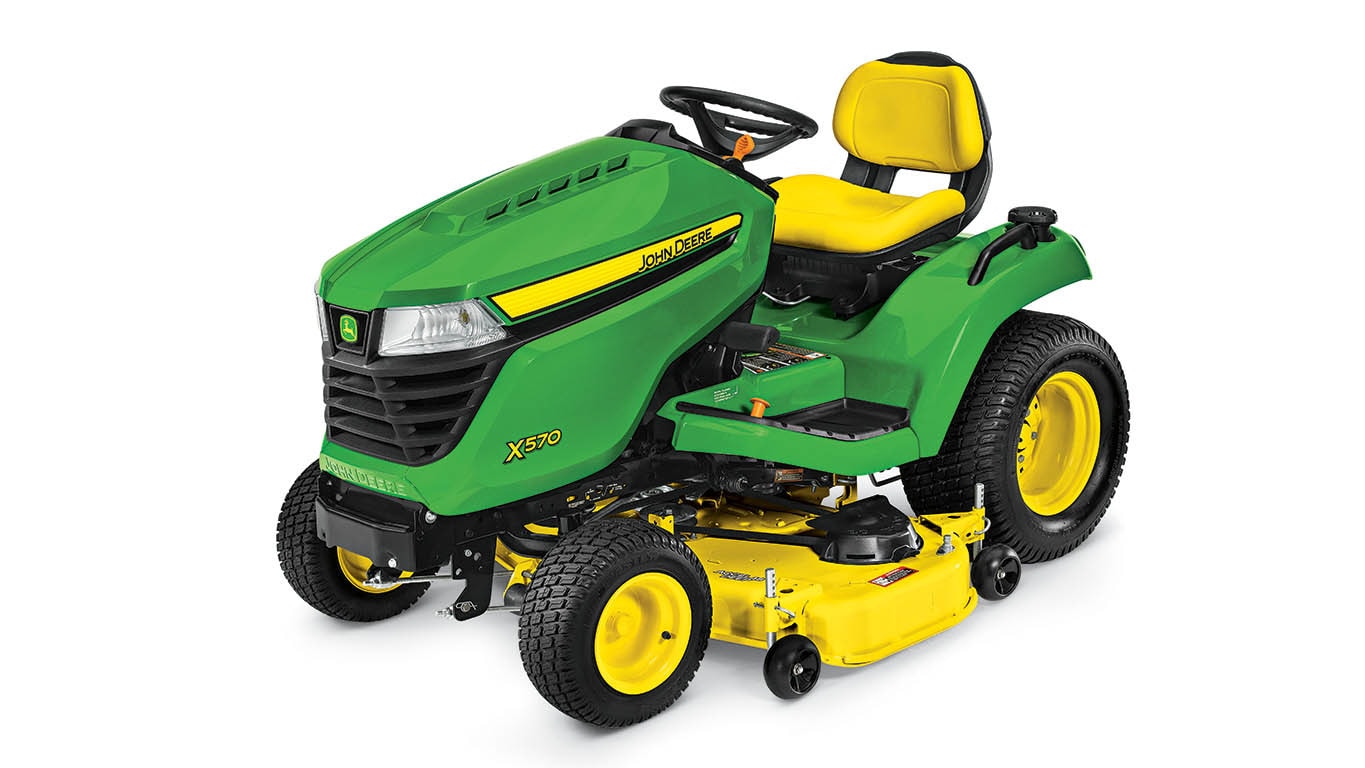 X580
The John Deere X580 has a 48″ mower deck with a smooth-running 24 HP engine. This lawn tractor has powerful steering abilities and a hydraulic lift for easy operation.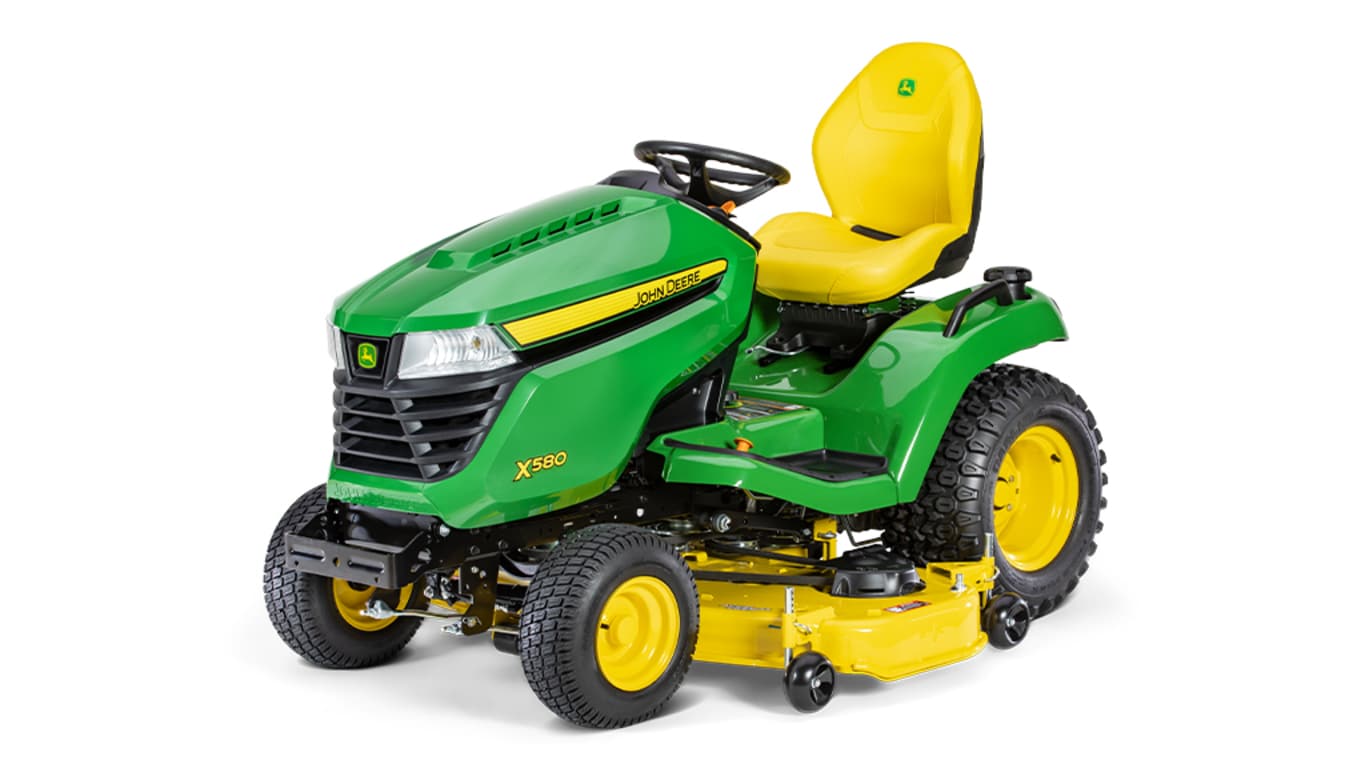 X584
The X584 Series is a multi-terrain tractor from John Deere. It offers unmatched quality, performance, comfort, and versatility.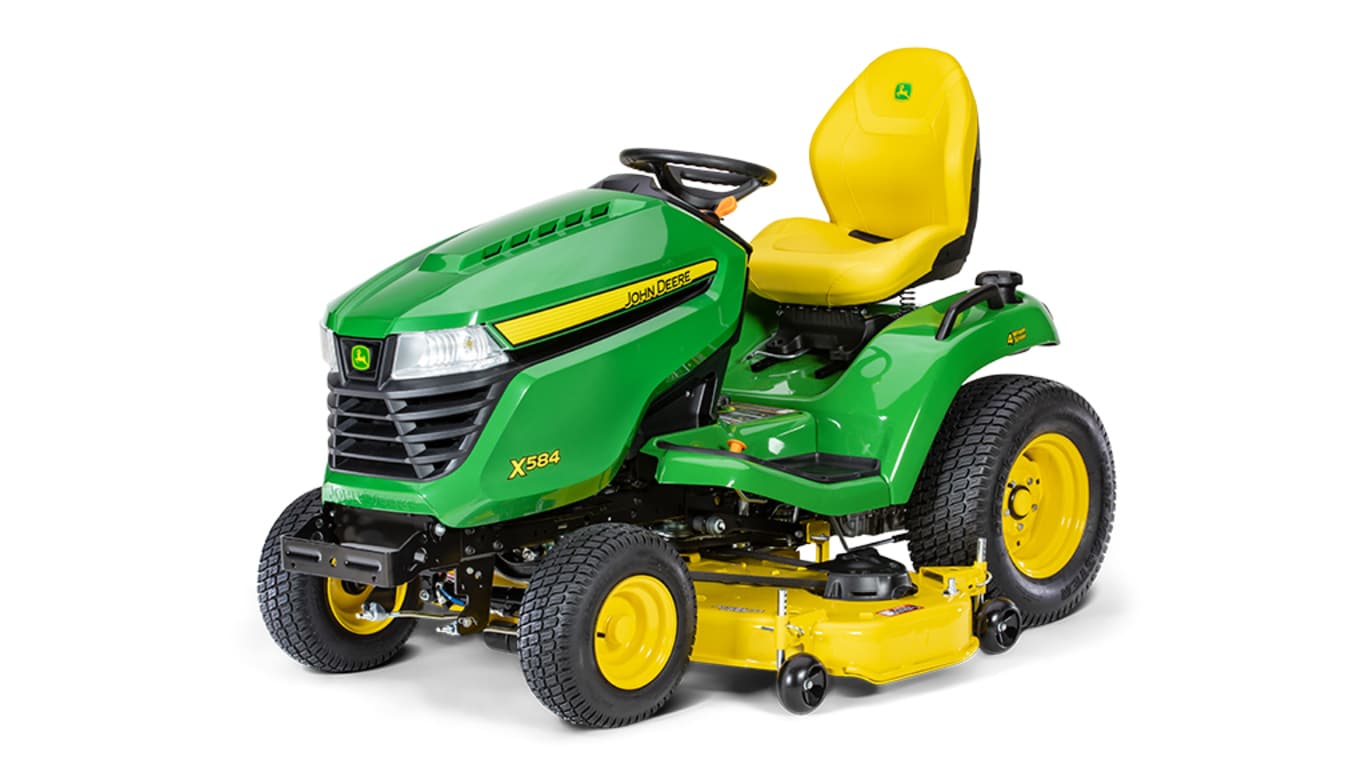 X590
The John Deere X590 Lawn Tractor has a 54-inch mower deck, which is perfect for those in need of a mower that can take on steep hills and bumpy, uneven terrain. Power steering, fuel injection, and larger aggressive rear tires let this mower start quickly for superior performance.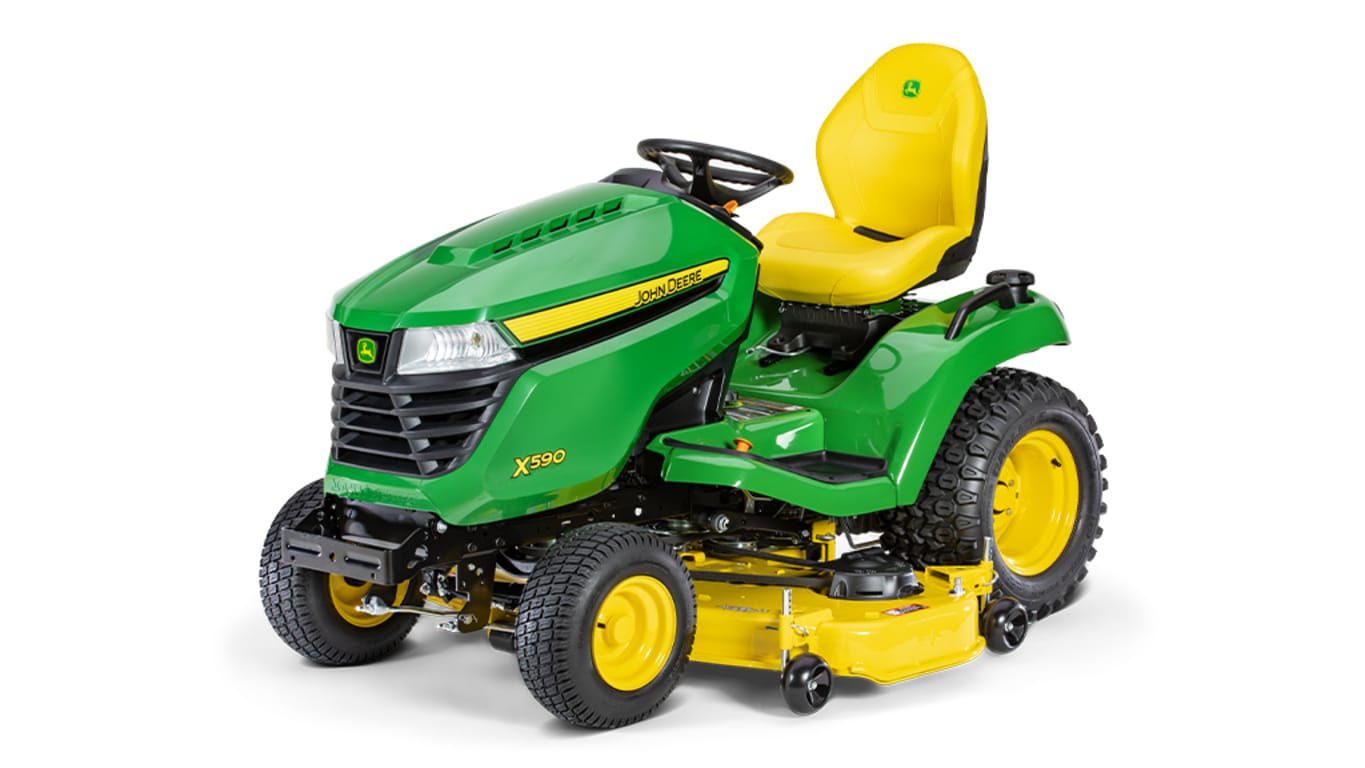 John Deere X700 Series Models
The toughness and durability of an X700 Signature Series are unmatched. With its Accel Deep™ mower decks and its high-capacity mower decks, connecting heavy-duty attachments is done with ease. This means it can take care of any lawn at any time!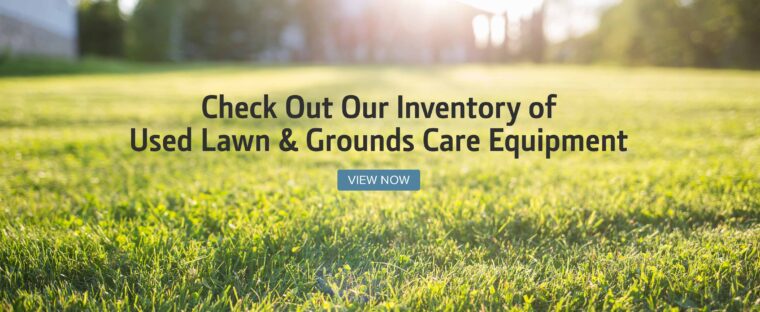 X710
The John Deere X710 is an important lawn and garden tractor that comes from the John Deere X Series. This lawn tractor uses a very powerful engine to keep your yard looking its best.
X730
John Deere's X730 Riding Lawn Mower has a 25.5 Horsepower engine – helping you to power through the most difficult jobs. With electronic fuel injection, twin touch pedals, and power steering capabilities, the X730 has incredible precision control and has the ability to maximize efficiency.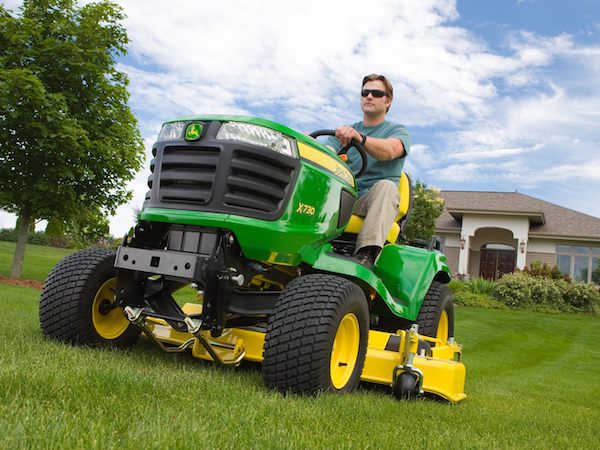 X734
With its four-wheel steering system, 25.5 Horsepower engine, and a 60-inch drive-over Auto-Connect mower deck, the John Deere X734 provides powerful and precise cuts each and every time.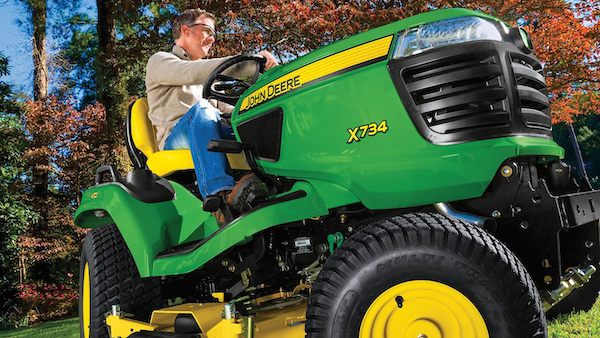 X738
Similar to other X700 models, the X738 has a 25.5 Horsepower, v-twin engine. Combined with the four-wheel-drive capabilities and a 60-inch drive-over Auto-Connect deck, the X738 provides precision cuts and holds the power and control to handle any and all projects.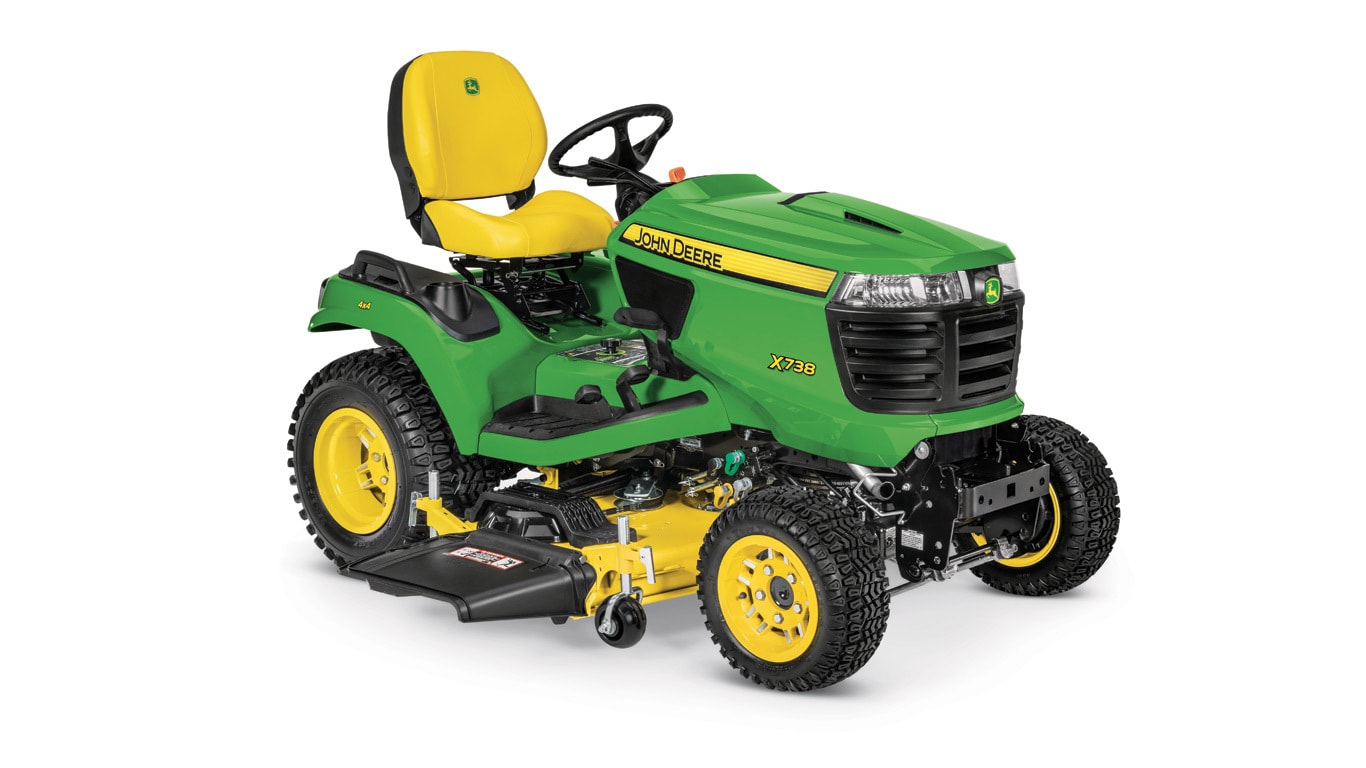 X739
The X739 has a 21-inch premium seat, heavy-duty transmission, sturdy frame, and easy-to-use attachments to ensure you dig into any project with ease. The precision-cut of the Mower Deck for this model can help you turn your yard into an incredible backdrop for family memories. Owners of the X739 by John Deere also have the option of a drive-over Auto-Connect 60″ mower deck to ensure maximum efficiency.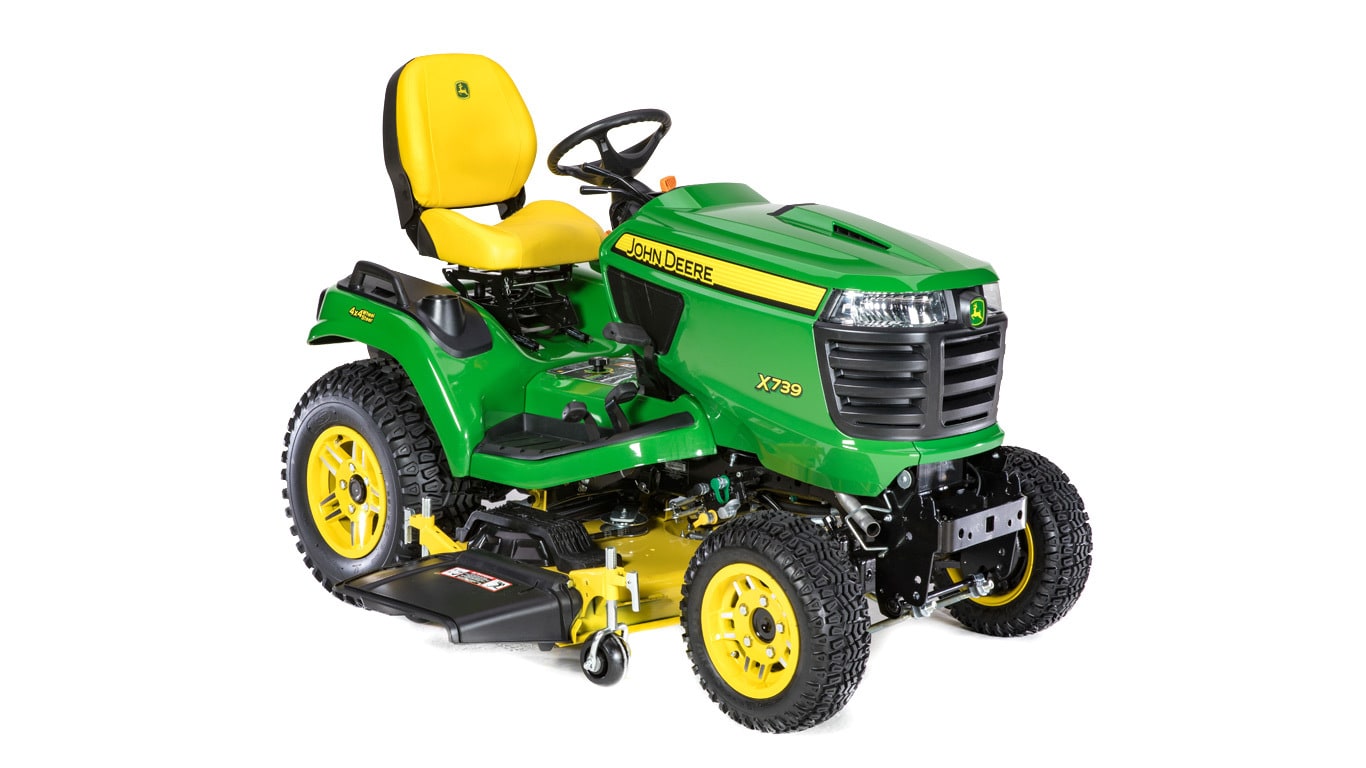 X750
The X750 has a liquid-cooled diesel engine, which helps to provide exceptional power, as well as fuel economy, performance, and overall durability. The X750 also has a comfortable, convenient operator's station to ensure any commercial job can be handled with ease.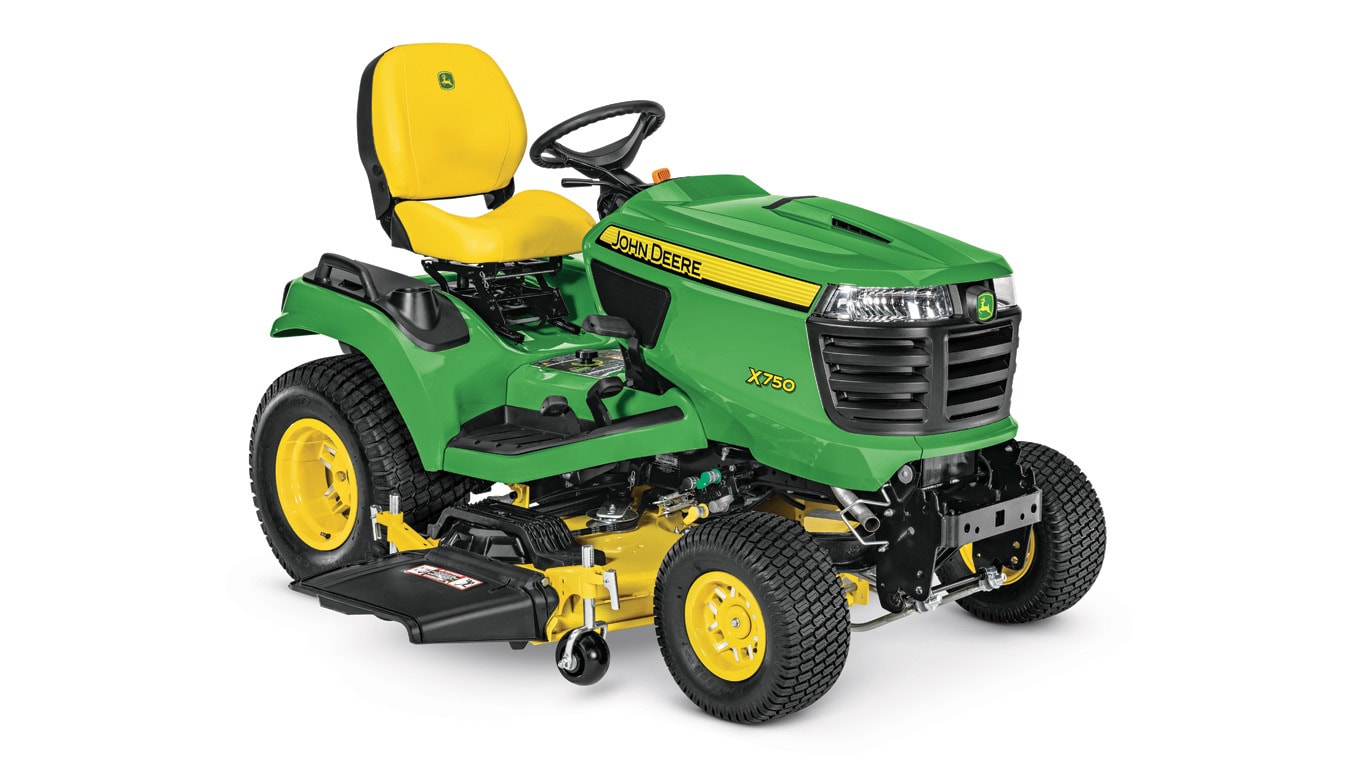 X754
This model is very similar to the X739 due to its heavy-duty transmissions, easy-to-use attachments, and precision-cut mower deck.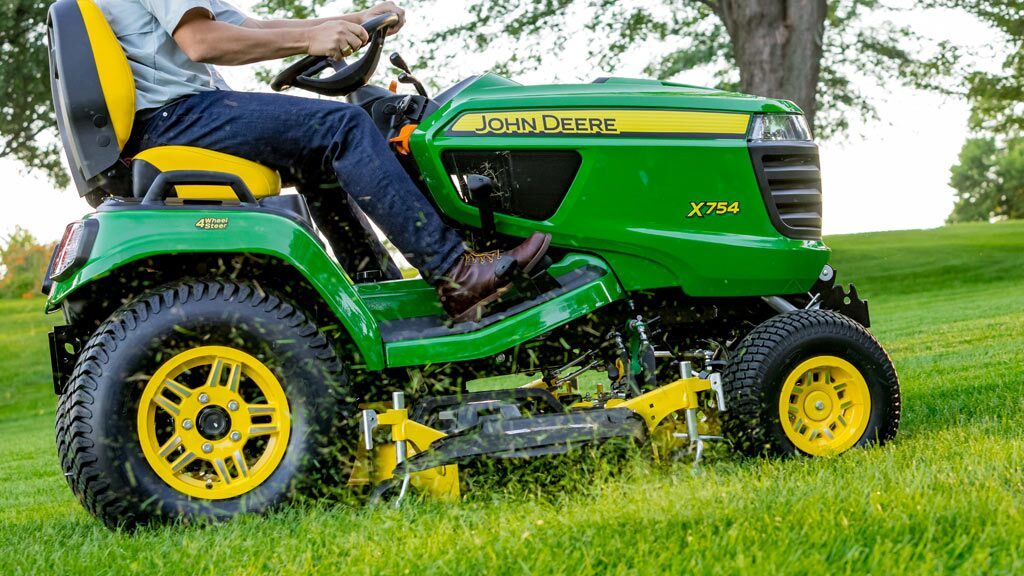 X758
The John Deere X758 utilizes a 3-cylinder, 24 horsepower diesel engine. It's built to make sure you can handle the toughest jobs. It also features four-wheel drive, as well as hydraulic power steering and twin touch pedals to help give operators the confidence they need to mow even the trickiest terrain.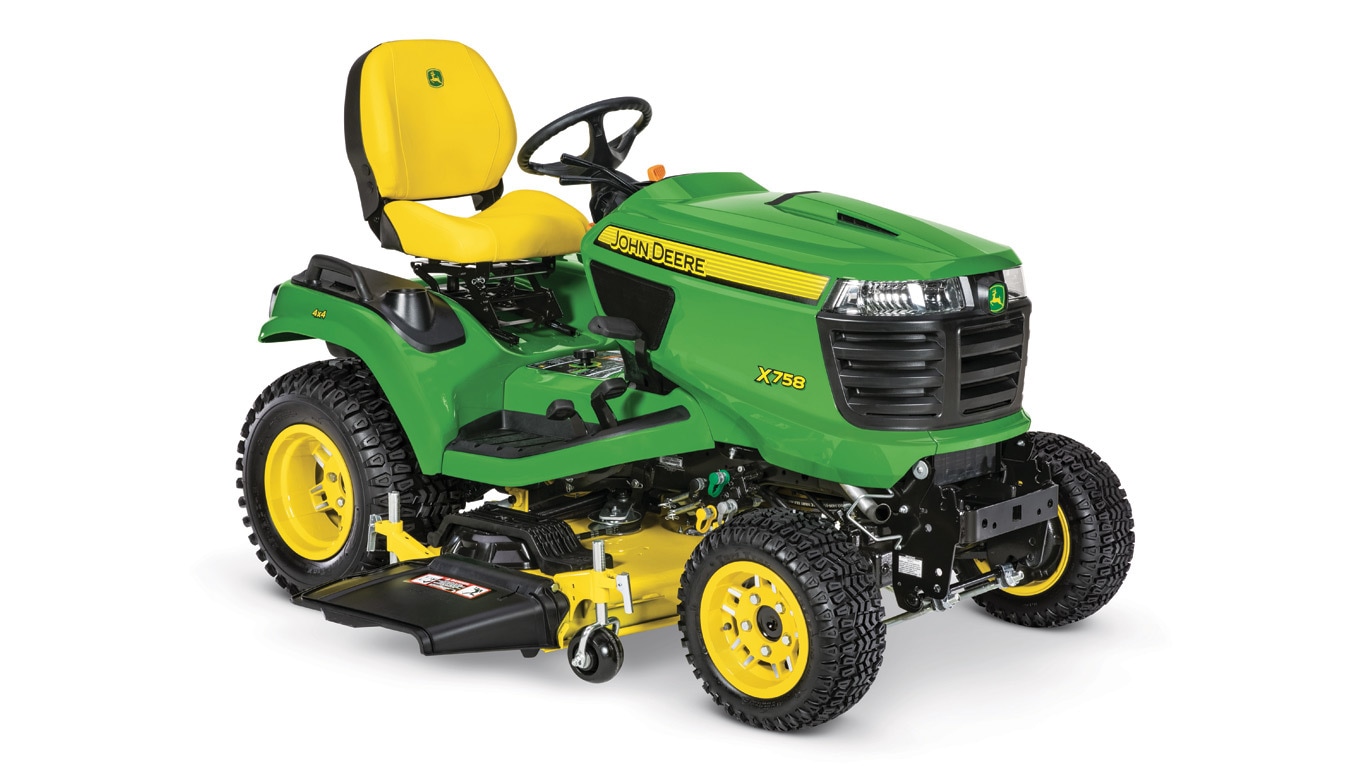 John Deere QuikTrak Mowers
John Deere's QuikTrak mowers aim to deliver the best of both worlds. They combine industry-exclusive stand-on technology with the level of quality, durability, and support John Deere customers have come to expect. These models range from hillside-specific machines to standard commercial vehicles.
John Deere 652E
When you use the 652E QuikTrak™ Stand-On commercial mower, you can save time and space when mowing large areas, while also having a compact design for easy hauling and precision mowing. It also features excellent slope control so that you can use it on difficult terrains.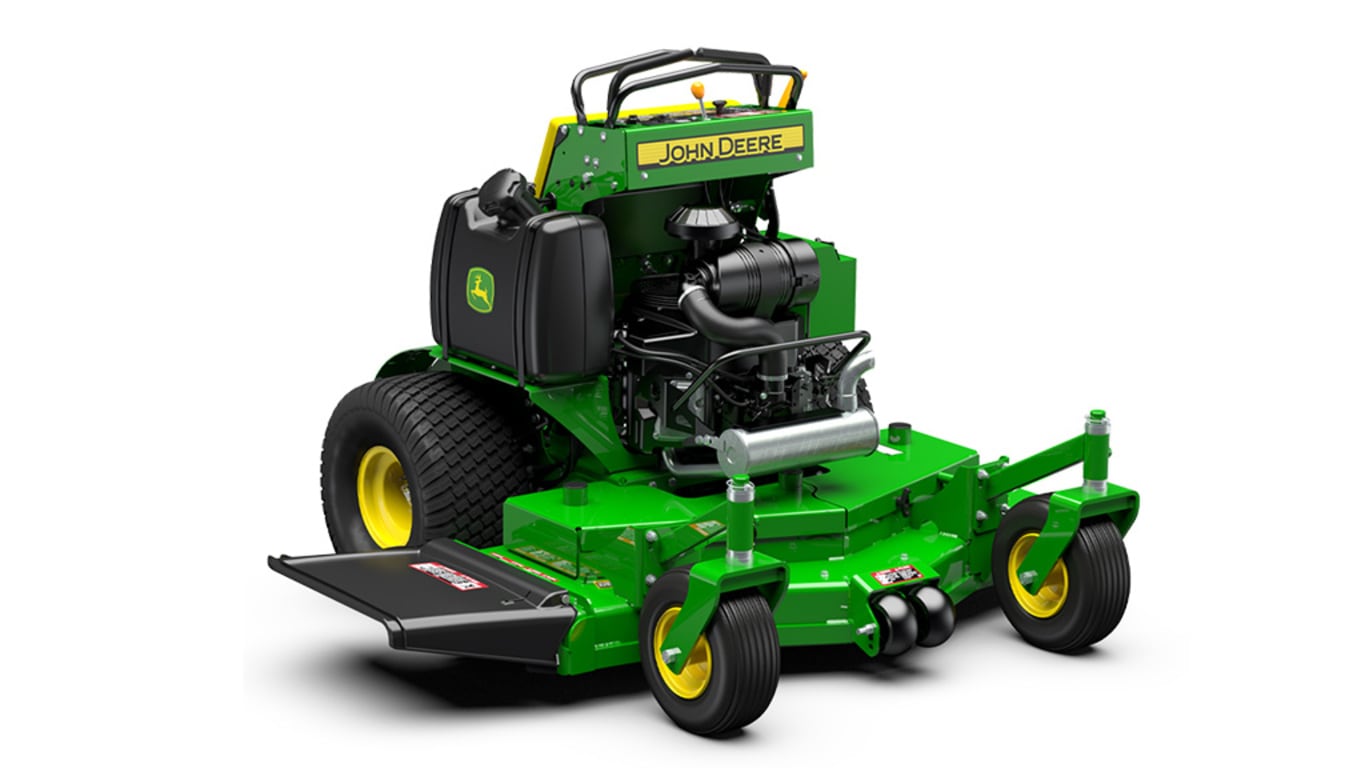 John Deere 636M
The QuikTrak 636M Mowers have best-in-class hillside stability so your safety is ensured no matter what terrain you need to drive over. It also has a comfortable operator positioning, as well as a compact size which allows for superior maneuverability, visibility, and trimming capabilities.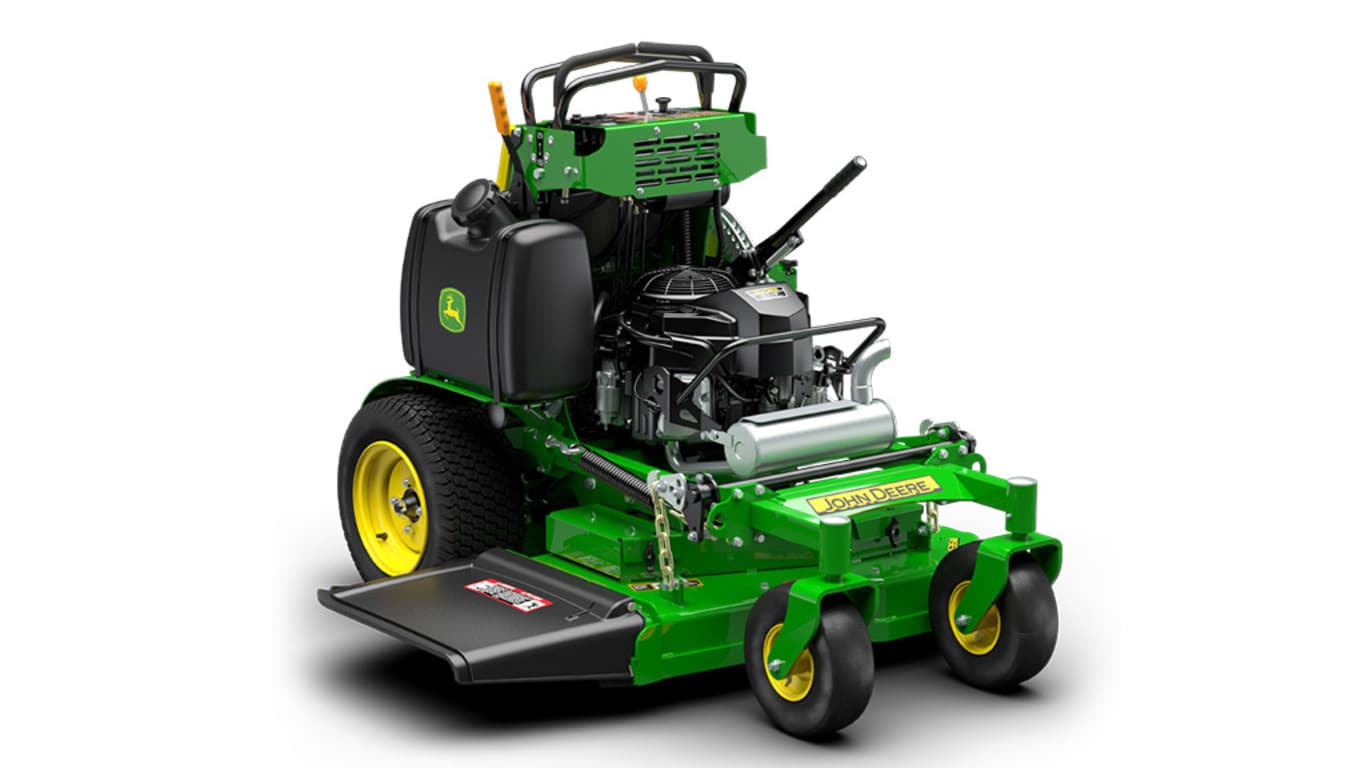 John Deere 648M
The John Deere 648M QuikTrak stand-on mower allows you to mow more land in less time by providing faster ground speeds than a traditional walk-behind.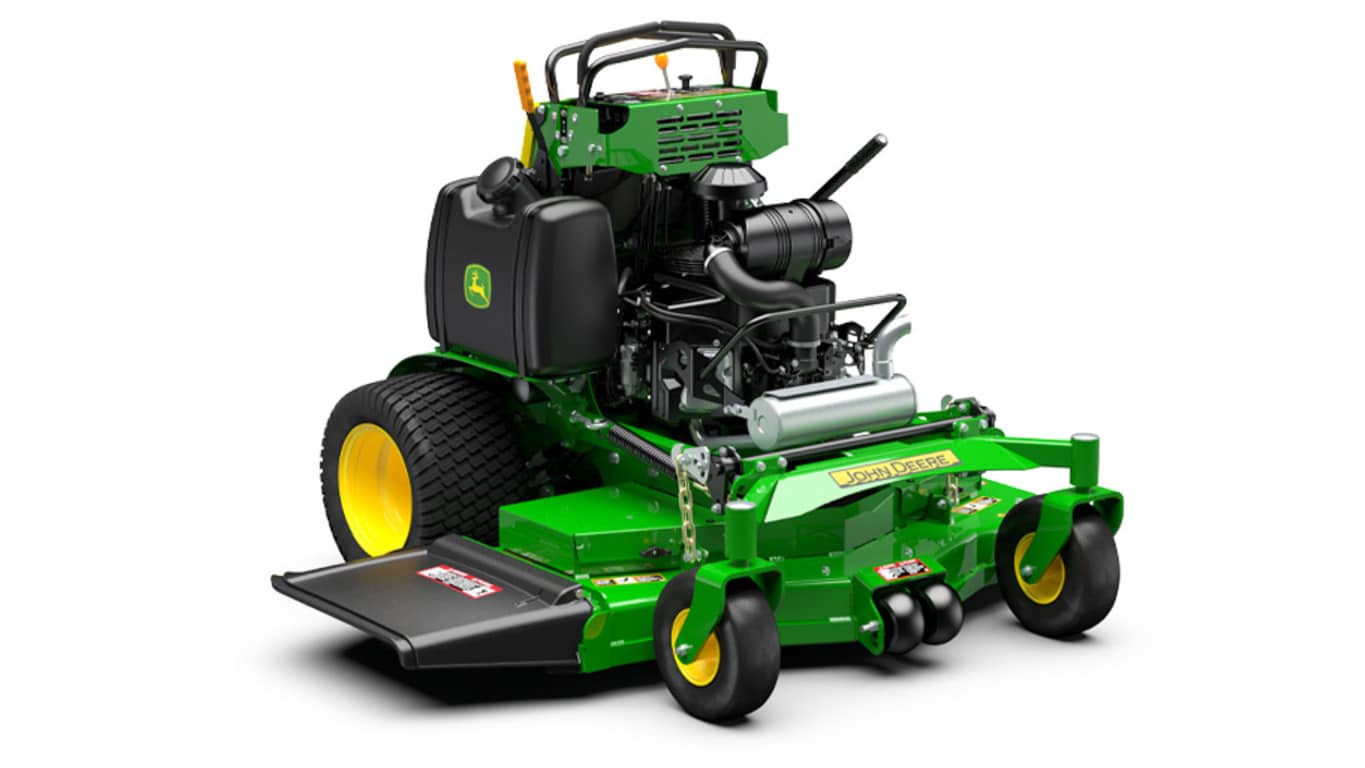 John Deere 661R EFI QuikTrak Stand-On Mower
The QuikTrak 661R EFI utilizes a commercial-quality electronic fuel-injected, V-twin, air-cooled engine so that it can start faster. This also allows for smoother operation and greater efficiency. It is also coupled with easy-to-use hydrostatic transmission processes that save time.
John Deere 652R EFI QuikTrak Stand-On Mower
The QuikTrak 652R EFI has a similar engine to the 661R. This helps it operate more smoothly, while also saving the operator's time with better efficiency.
John Deere 648R QuikTrak Stand-On Mower
648R QuikTrak Mowers deliver industry-exclusive stand-on technology along with the quality, durability, and support that can be expected with a John Deere mower.
John Deere 652M
John Deere 652M models are designed compactly so that hauling is made easy. It also has a hydrostatic drive system and a commercial-quality engine.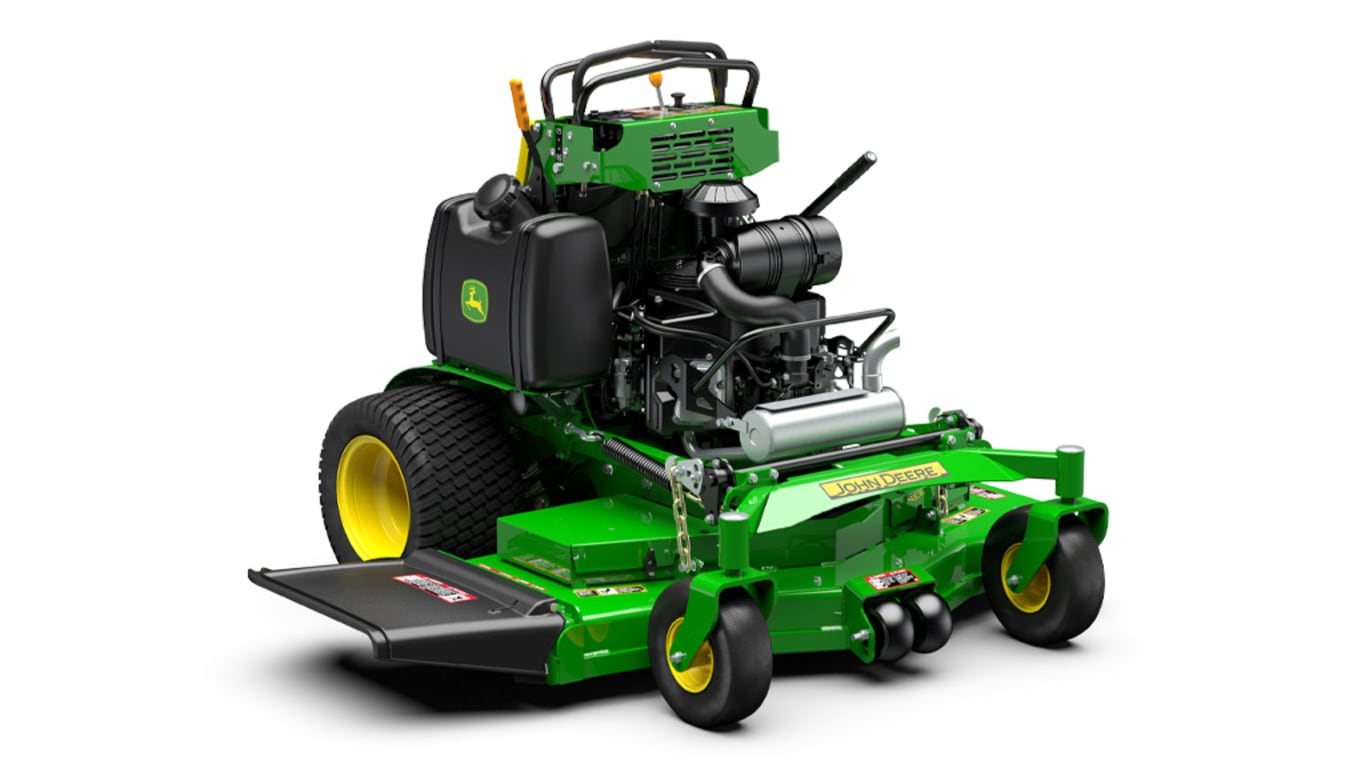 John Deere Commercial Walk Behind Mowers
John Deere W36M
The John Deere W36M features ergonomic hand controls, a self-propelled hydrostatic drive system, and a 36-inch floating mower deck.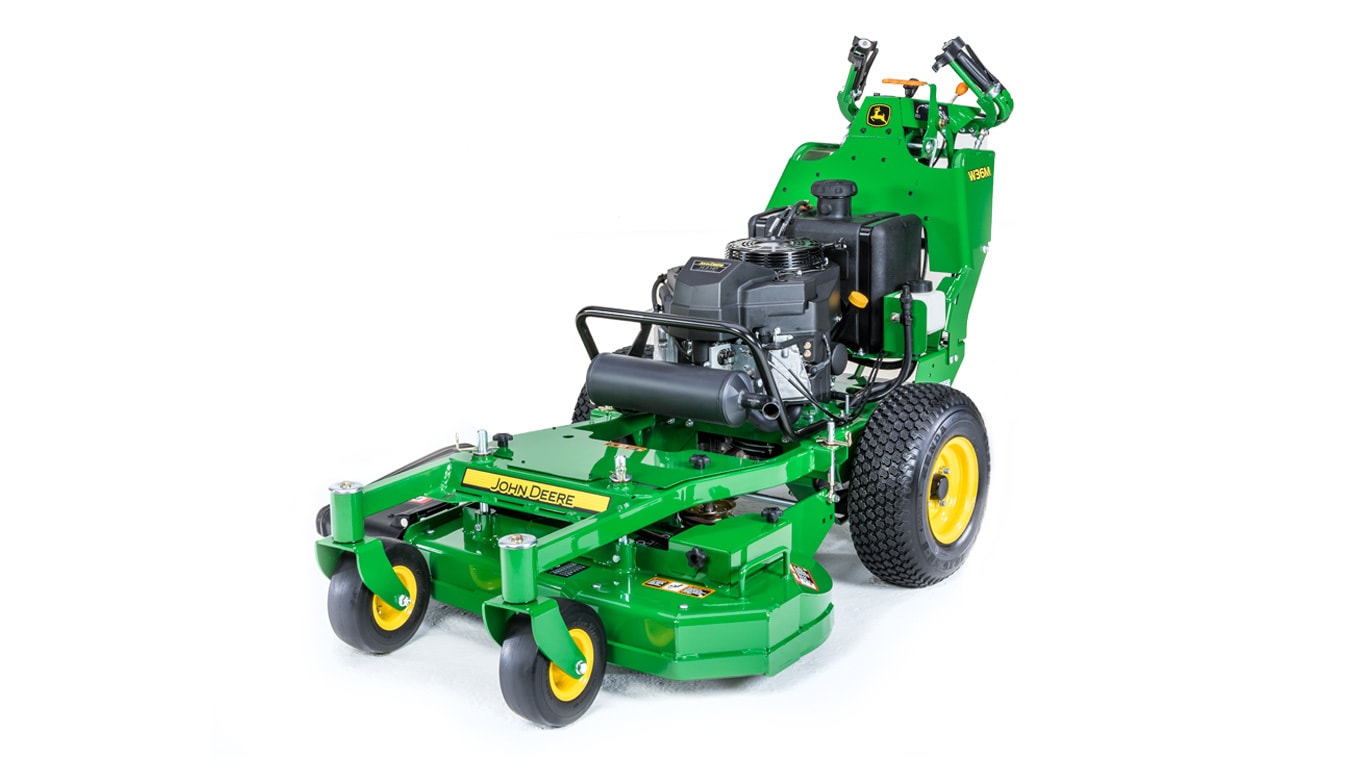 John Deere W48M
The John Deere W48M commercial walk-behind mower features a 48-inch floating mower deck. It also has a self-propelled hydrostatic drive system and an easy-to-use control panel for added operator comfort and convenience.
John Deere W36R
The commercial John Deere W36R walk-behind mower has a powerful engine, making it efficient for large yards. It also works great in small areas due to its compact design, as it provides access to operate in tight spaces where a larger ride-on machine could not fit.
John Deere W48R
The commercial John Deere W48R walk-behind mower has similar features to the W48R, showcasing a 48-inch (122-cm) floating mower deck and a powerful 13.8 kW (18.5 hp) V-twin engine.
Buying a Used Lawn Mower
Buying a used lawn mower can be a lengthy process. This is because there are so many different kinds of mowers that it can be difficult to find the one best suited for your list of tasks. Let's take a look at some of the steps you can take to find the right mower for you.
Choose a Long-Lasting Machine
Buying a lawn mower and buying a car are two very different experiences. That is mostly because buying a car is a much shorter investment than a lawn mower, which could last much longer. While a reliable car may last a decade or so, a lawn mower can last several decades.
Choose the Perfect Mower To Fit Your Needs
Before you make any decisions on a machine, you will want to consider all the different kinds of mowers available. This could mean choosing between a commercial and residential lawn mower, or choosing between a walk-behind mower or a stand-on lawn mower.
Final Thoughts
The thought of buying a used lawn mower can seem daunting, but with the guide above, you can find the machine you need with ease. Equipment like used John Deere used lawn mowers can help lessen the physical strain of landscaping, commercially and residentially, while also improving your efficiency.
If you have any questions about John Deere used lawn mowers, you can contact your local John Deere dealer.
If you enjoyed this post or want to read others, feel free to connect with us on Facebook, Pinterest, Twitter, or Instagram!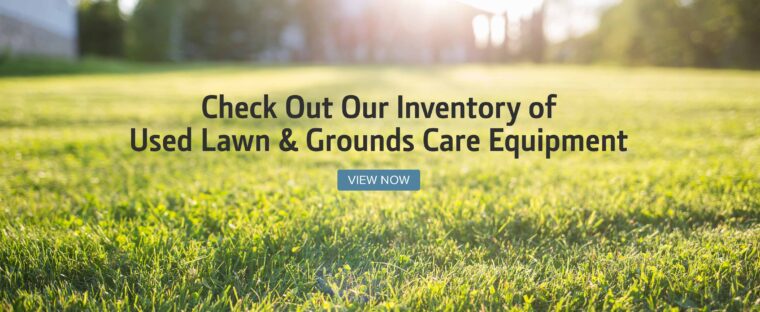 You might also like: