John Deere has a rich 175-year history of machinery production which covers a range of industries, including agriculture and construction, and serves both commercial and residential purposes. Let's dig deeper and explore details about the production of these industry-specific machines, as well as more details about the different product lines currently offered.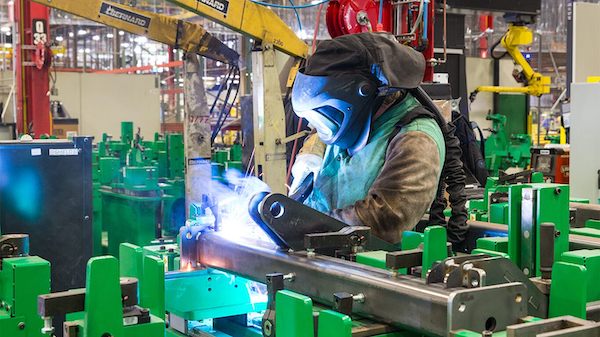 A Brief History of the John Deere Organization
Many critical moments in John Deere history date all the way back to 1837. In the beginning, John Deere was a blacksmith in Grand Detour, IL who wanted to make farmers' jobs easier. Fast forward over 180 years, and his company is still manufacturing all kinds of equipment with the same purpose in mind – to help customers, especially farmers, be as productive as possible. 
John Deere designed his first plow in 1837 in Grand Detour, IL.
John Deere Engine Machinery Production
John Deere has been creating top performing equipment for a long time. That said, behind every machine is a powerful engine. John Deere engines are created to stand the test of time and have proven that over the past 120 years. Let's take a look at the history behind the John Deere engine.
1900s:

John Deere entered the engine market with the Root and VanDervoort Engineering Company of Champaign, Illinois. During the early days of this partnership, R&V relocated its manufacturing facilities to East Moline, Illinois.

1910s

: Root & VanDervoort's engines were sold exclusively through John Deere's dealership network. John Deere then purchased the Waterloo Gasoline Engine Company in March, bringing its production dreams to fruition.

1920s

: John Deere began working on a new stationary engine in Waterloo. The new design included an enclosed crankcase so the engine could be self-oiled. John Deere also released its first "E" series of engines during this time – this was expanded from 1.5 and 3-horsepower versions to a larger 6-horsepower version.

1940s:

John Deere introduced the Model "R" diesel engine, which provided over 40 horsepower at the drawbar and the belt pulley.

1960s:

John Deere debuted its first 300 and 400 Series engines. These new four and six-cylinder sized units helped power new

agricultural equipment

.

1970s:

The company announced plans to

develop a new engine facility

in Waterloo. The first engines were assembled at the Waterloo facility and powered the company's tractors, industrial equipment combines, and forage harvesters.
John Deere Forestry & Construction Equipment
The evolution of construction machinery began for John Deere about six decades ago. From Deere's first industrial equipment investment back in the 1950s, the company has a rich history in construction equipment. 
1950s:

For more than 110 years, John Deere had been an agriculture-focused company. This all changed in 1956 when John Deere formed the Industrial Equipment Division (later becoming the Construction and Forestry Division). Manufacturing facilities were built and allowed Deere to separate the farm and construction machinery businesses. Shortly after, John Deere's Model "64" becomes the company's first all-hydraulic bulldozer, representing a milestone in design.

1960s:

The JD440 skidder and JD480 forklift, as well as the

JD350

and JD450 crawlers, were introduced. Deere then introduced the world to the first articulated-frame motor grader, the

JD570

. 

1970s: The company announced 28 models of crawlers, wheel tractors, loaders, scrapers, motor graders, and more.
1980s:

Deere's industrial product line grew to feature 22 construction machines, 29 utility machines, and 17 forestry machines. The company also began manufacturing hydraulic excavators during this time.

1990s:

Deere's construction line grows to 60 products. 

2000s: Deere Davenport Works manufactures its first articulated dump truck. In addition to welcoming the 764 HSD, Deere also introduces Total Machine Control (TMC) in their

310SJ

and

410J

Backhoes.

2010s:

Deere starts shipping the

744K Loader

, the first piece of construction equipment with more than 75 horsepower to meet EPA IT4/EU Stage IIIB regulations.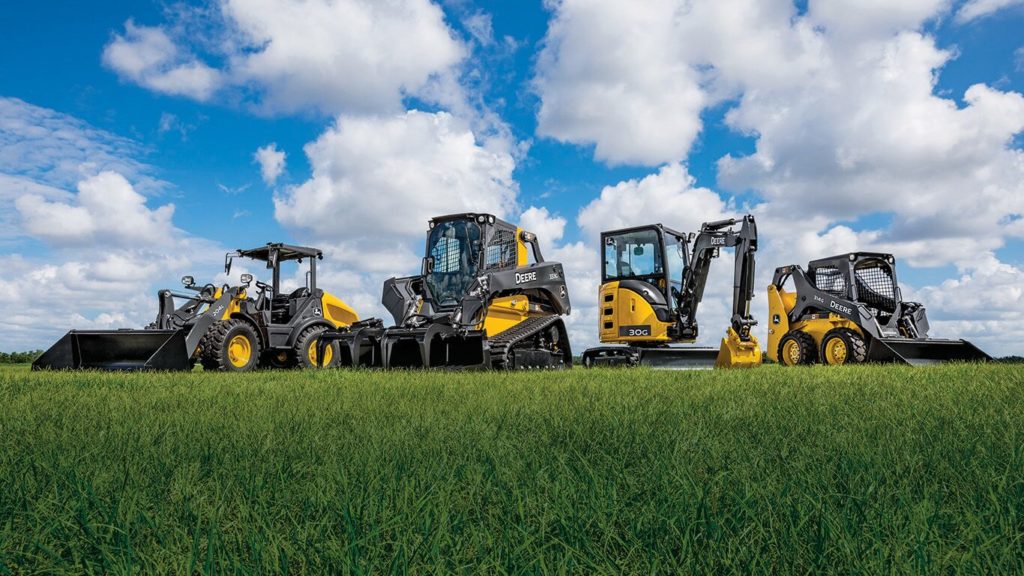 John Deere Agriculture Equipment
John Deere agriculture equipment goes back all the way to the steel plow, however, the company has evolved significantly since that time. Let's take a look at some of the biggest agricultural innovations from John Deere over the years.
Corn Heads
In 1954, when these machines were introduced, operators were able to automate the harvesting process by using a selection of these corn heads from John Deere. They feature knife stalk rolls for better stalk control, AutoTrac™ RowSense™, and more. Today, models include the 706C, 708C, 708FC, 712C, 712FC, 716C, and 718C.
Draper Platforms
When the draper platform was released alongside John Deere combines, operators were finally able to benefit from features such as timed dual knife drive and a cutterbar that is close to the ground for the lowest-possible cut height. These platforms are still used to this day – with different versions for various crops. For example, for crops like canola, operators should look into models such as the 725D, 730D, 735D, 740D, 730FD, 735FD, 740FD, or the 745FD. 
John Deere and Company began as a manufacturer of farm tractors.
Auger Platforms
John Deere 600 Series HydraFlex™ Platforms were designed to match the capabilities of the company's S-Series Combines while also equipping these machines with a range of performance-boosting features while harvesting. Available models include the 620F, 622F, 625F, 630F, and the 635F.
Belt Pickup Platform
This platform ensures smooth crop-gathering and feeding performance in windrowed grain.  
Cotton Harvesting
The first John Deere Four-Row Cotton Picker was introduced in 1979. Current models of this machine include the CP690 Cotton Picker, the CS690 Cotton Stripper, and the CM11 Cotton Module Handler.
Sugar Cane Harvester
This model featured an efficient front end for a smooth uniform feed, reducing cane losses and soil content, as well as technology designed to help sugarcane producers make smarter decisions and improve farming practices.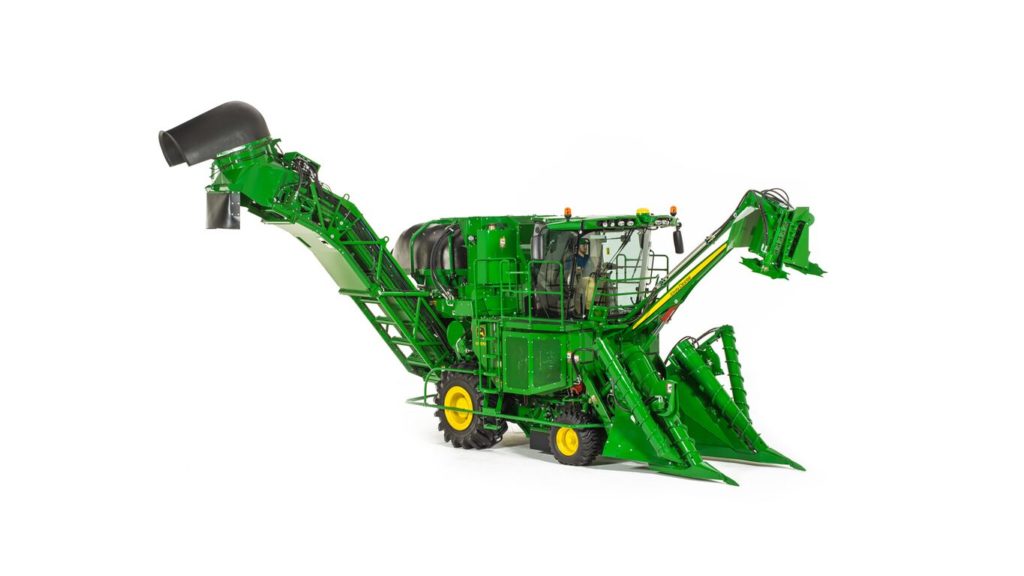 John Deere Gators & Commercial Lawn Tractors
John Deere has introduced hundreds of Gator models over the past 50 years. These models have played a significant role in the evolution of our lawn and garden equipment today. Let's take a look at the history of these machines.
John Deere Riding Mowers in the 1960s
The 110 Model:

In 1963, John Deere first broke into the lawn tractor market by introducing the

model 110

. This model had a 4-stroke engine with 7 horsepower, fueled with petrol.

The 60 Model:

After proving success with the 110 model mower, John Deere introduced the

60 model

shortly after. This was particularly designed with more urban customers in mind, specifically those who had less land and didn't necessarily need the larger 110 model.
John Deere Riding Mowers in the 1970s
In addition to upgrading existing 1960s models in the early 1970s, Deere took on some major advancements in 1975 when the 200, 300 and 400 Series riding mowers hit the market. These machines provided customers with new and exciting features, which we'll dive into below.
200 Series:

These models included similar features to the John Deere 110 and 112, such as the V-belt Variator Drive and mechanical clutch PTO. However, the new design gave customers engine options between 8-16 horsepower, a rubber Iso-mounted, a fully-shrouded engine with a low tone muffler system, and a new style hood and grill. This design took on the styling of full-sized Deere agriculture tractors with a back-sloped brow.

300 Series:

The

300 Series

was a hydrostatic model that was upgraded to a 16 horsepower Kohler K-Series engine. Most upgrades to this machine were made to the body, as it took on a more square hood design with integral headlights, engine side panels, and a black instrument panel. One of the biggest changes included the engine being moved from under the hood to under the rear fender pan.

400 Series:

Following the trend of design improvements, similar to the 300 Series, Deere continued making more visible advancements with the

400 Series

. This included the wheelbase on the 400 becoming 6 inches longer than the 140, a track that was 7 inches wider, and the weight of the machine being 250 lbs more. Deere also added power steering to this vehicle, which was a complete game-changer at the time.
Since 1837, about 700 tractor models have been designed.
John Deere Riding Mowers in the 1980s
In 1984, Deere released its first tractor which combined a diesel engine with hydrostatic drive and power steering, making quite an impression in the tractor industry. This machine was known as the John Deere 430 and was very similar to the 420 models. 
The 300 Series:

The redesign of the 300 Series led to the introduction of the 318. What was great for customers was that many attachments of the 140 and 300 Series could still be used on the new 318 models.

The R and S Series:

The

R Series

(R70, R72, and R92) was a good fit for customers needing a solution for smaller pieces of land. Key features included 5-speed gear-drive transmission, in-line gearshift, full-length welded steel frame, and a tight turning radius of 27 inches. This provided operators with even more dependability, long equipment life, and on-the-go shifting. For those with slightly larger lawn areas, Deere had produced the

S Series riding mower

(S80 and S82).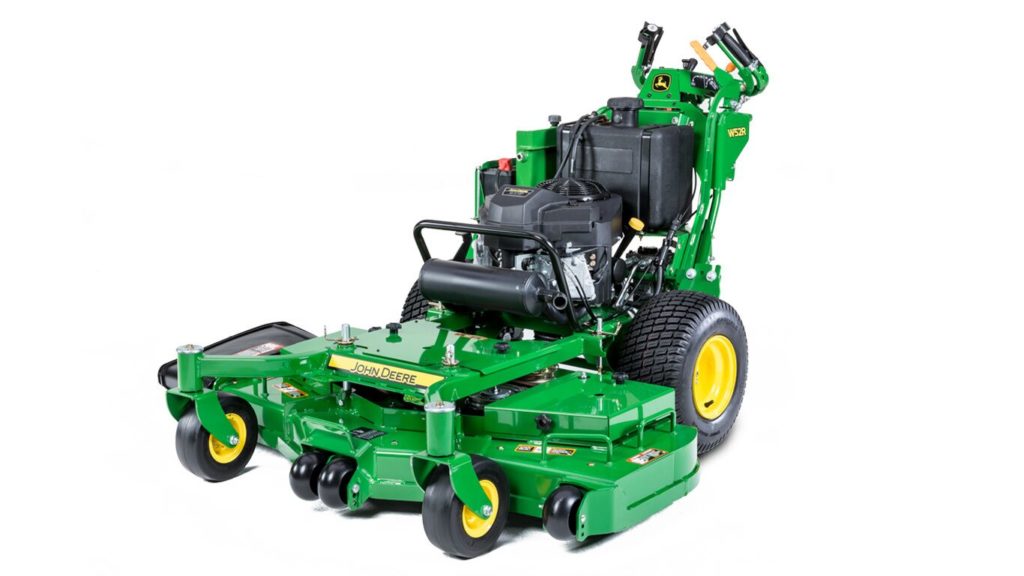 John Deere Riding Mowers in the 1990s
The 90s were known for many things but for Deere specifically, this was a time for exponential growth in both numbers and technology. In the 1990s, John Deere hit both the 2 million and 3 million milestone – manufacturing its 2 millionth lawn tractor with the LX188 model and its 3 millionth tractor with the LT133 in 1998.
LT Series:

In the late 1990s, the

LT Series

(133, 155, and 166) became one of the most popular lines of John Deere mowers ever. With this series, operators could experience high-quality wide cuts and a greater amount of fuel compared to competitive models in its class. An emphasis was put on comfort with adjustable operator seats for those who spent long hours using their equipment. 

LX Series:

The LX Series was first introduced in the 90s and remained for 16 years to follow. Customers remember this series for its versatility, as each model was compatible with several sizes of mower decks to meet operators' needs. The LX Series also worked great for various other projects around the yard. For example, owners could latch snowblower attachments to the machine to help fight off winter storms.

GT and GX Series:

The GT and GX Series were very similar to one another when it comes to style and uses. For customers with plots of land around 4 acres in size, both machines can hook up to other implements like snow blowers, baggers, carts, front blades, and a variety of rear attachments like aerators, and utility carts. These machines were the best fit for owners who needed a little more power and size for their weekend activities.
John Deere Riding Mowers in the 2000s
LA Series:

This model combines power and versatility to make a perfect fit for medium-large-sized lawn owners. Key features include the full-length steel welded frame, full pressed lubrication, cast-iron front axles, headlights, translucent fuel tank including a sight gauge, comfortable operator station, Edge Cutting system, and option for Reverse Implement. Backed with plenty of power, this series also incorporates the John Deere's trademarked CargO Mount system, allowing for a large bagger or other heavy rear-mounted equipment to be easily attached. Other attachments like lawn sweepers, front blades, tractor shovels, mid-mount blades, carts, snow blowers, sprayers, and aerators can be easily added to the LA.

X Series:

The technology is what sets this machine apart, as it transfers power to the wheels through the use of the hydrostatic transmission to save time during operations and eliminate unnecessary gear-changing to speed up or slow down. The X Series also incorporates the Edge Cutting System, designed to improve convenience, performance, and reliability.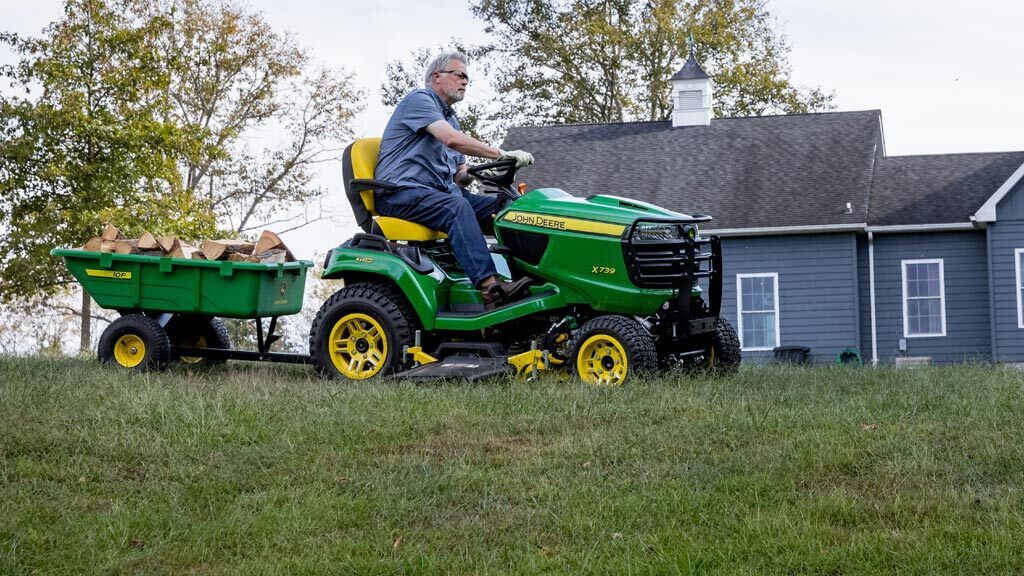 John Deere Equipment: Machines in the Years to Come
John Deere has many different vehicles that are designed to improve operations across a few different industries. These machines have seen a transformation through the years and will continue to evolve with the times. 
If you have any questions about John Deere machines, contact your local John Deere dealer.
If you enjoyed this post or want to read others, feel free to connect with us on Facebook, Pinterest, or Twitter!
You might also like: