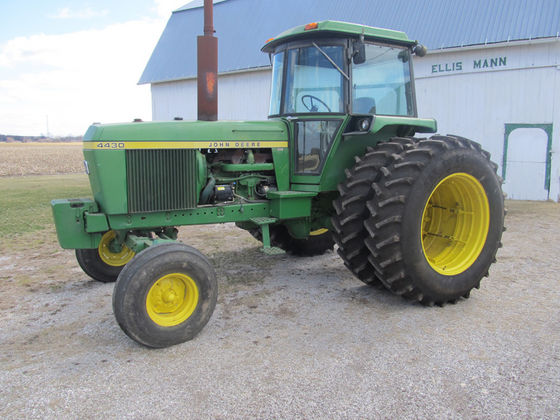 This 1976 John Deere 4430 was sold at auction for $24,000 April 16th, 2011 in Delta, Ohio
I've compiled 948 auction sale prices on John Deere 4430 tractors over the last 15 years.
Last Saturday (April 16, 2011) on a very small farm auction in Delta, OH (northwest OH) a 1976 JD 4430 with 4,360 "1 owner" hours sold for the 5th highest auction price I've seen: $24,000. I spoke with auctioneer Jason Whalen of Whalen Real Estate & Auction on Tuesday morning.
"There were four guys in the bidding up to $18,000," said Whalen. "A local guy wound up buying it and drove it home." Whalen said there was a good crowd given the small nature of this auction. A total of 197 bidding No.'s were given out.
What I found very interesting on this 1976 John Deere 4430 for sale for $24,000 was the number of hours: 4,360. On all (4) of the 4430's I've seen sold for more than $24,000 over the last 15+ years, each had significantly lower number of hours, in the 2,200 – 3,300 range. So to see this 4430 with 4,360 hours sell for $24,000 just offers more proof of how values on very good conditioned used tractors just cotinue to rise.
Do I see this changing the rest of 2011? No, I don't.
About Machinery Pete: Greg "Machinery Pete" Peterson has been working in the agricultural industry for 21 years and details agricultural equipment prices and trends at his website, Machinerypete.com. Greg also writes columns for Successful Farming magazine, Implement & Tractor magazine, Agriculture.com web site and also appears on the Machinery Show on RFD-TV.