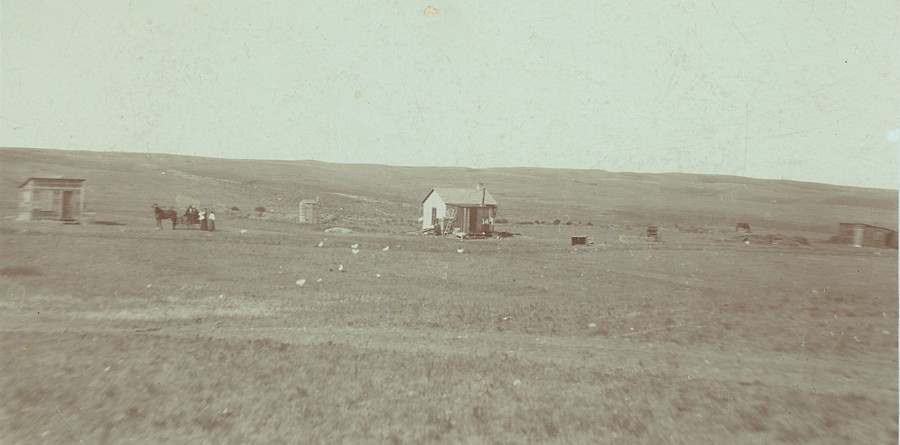 Machinery Pete's farm equipment roots lead back to Tolley, North Dakota in 1907 where his great grandmother's 1/2 brother Rasmus Miller bought into the local Deere dealership.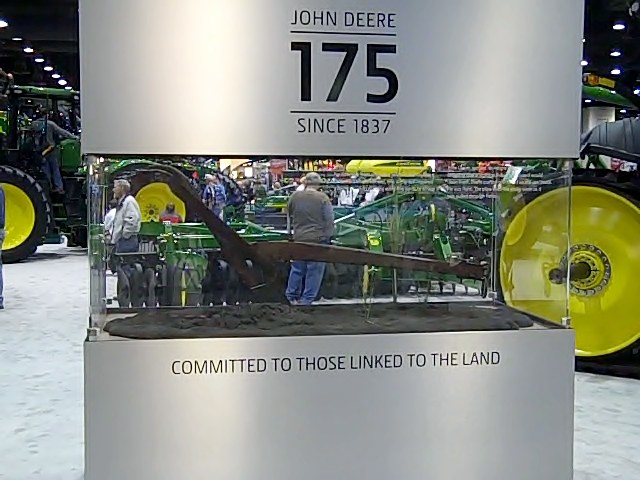 Looking through Deere's 175 Year Anniversary Exhibit at the 2012 National Farm Machinery Show in Louisville, KY: February 2012.
Machinery Pete's farm equipment roots lead back to Tolley, North Dakota in 1907 where his great grandmother's 1/2 brother Rasmus Miller bought into the local Deere dealership
John Deere is celebrating its 175th year anniversary this year. Closing in on 200 years since John Deere's plow revolutionized the world of agriculture and beyond.
Anniversaries are opportunities to reflect. What I'm struck by when I think about Deere's amazing 175 year history are the people. John Deere and the early folks who helped him found the great company. All the folks who have bought, counted on and loved John Deere tractors and farm equipment over the generations. Loyal customers who have passed on their love and devotion to Deere green and what it stands for.
I also think about all the John Deere dealers over the years, their employees, their families, spread out across the world. Bringing John Deere quality to their little corners of the globe. This one hits close to home for me as I come from a long line of Deere dealers stretching all the way back to 1907.
105 years.
In 1907 in the little northwestern North Dakota farming town of Tolley, my great grandmother's 1/2 brother Rasmus Miller bought into the local Deere dealership. Rasmus brought the first Waterloo Boy tractors to northwestern North Dakota. In 1920 my great grandfather George Peterson had an opportunity to buy into the dealership with Rasmus looking to retire. Before George agreed he made a walk over to the one-room schoolhouse in Tolley to find my grand father Comart Peterson. George had a question to ask his son. George was a blacksmith. He knew iron, he knew equipment, he knew what farmers needed. What he didn't know was math. He asked my grandfather Comart, then 13 years old, if he would help him with the books if he bought into the dealership.
Grandpa said yes.
My grandfather Comart spent 19 years as a Deere dealer until the dust bowl depression days made things so tough the business wasn't big enough to support both my grandfather's family and his brother Dave's family. So Grandpa left the dealership side of the business and went to work for Deere corporate, where he spent the next 31 years.
My uncle R.J. Peterson followed Comart into Deere's corporate side and traveled the world working for Deere for 37 wonderful years. My father Jerry Peterson started on the corportate side with Deere but saw an opportunity in the early 1960's and bought into a Deere dealership in the small farming town of Benson in west-central Minnesota. Dad is semi retired now after spending nearly 50 happy years as a Deere dealer in Benson, MN. My two younger brothers manage two of their four Deere stores.
Me? The dealer biz wasn't for me, but guess the apple didn't fall too far from the tree as its now been 22 1/2 years I've been compiling auction sale price data on all types of farm & construction equipment and building our Machinery Pete brand.
Whether I'm traveling the country covering machinery auctions of used farm equipment for sale, or talking to folks every day on the phone, via email or social media sites like Facebook, Twitter & Youtube, I've always been struck by the deep, deep connections folks have to their equipment. Everyone has their own family history with unique twists & turns, ups and downs. But through it all the powerful connection to their equipment. It's truly been an honor and a privilege to hear so many of their stories and bring them forward in my writing for Successful Farming magazine, online, or on our "Machinery Show" on RFD-TV.
Trust is built day by day. Trust isn't easy. But when there is trust in a relationship, its a beautiful and powerful thing. Scratched out of the Illinois earth 175 years ago, John Deere began building something truly special. What will the next 10, 25, 50 years hold for Deere and its customers?
I can't wait to find out.
About Machinery Pete: Greg "Machinery Pete" Peterson has been working in the agricultural industry for 21 years and details agricultural equipment prices and trends at his website, Machinerypete.com. Greg also writes columns for Successful Farming magazine, Implement & Tractor magazine, Agriculture.com web site and also appears on the Machinery Show on RFD-TV.