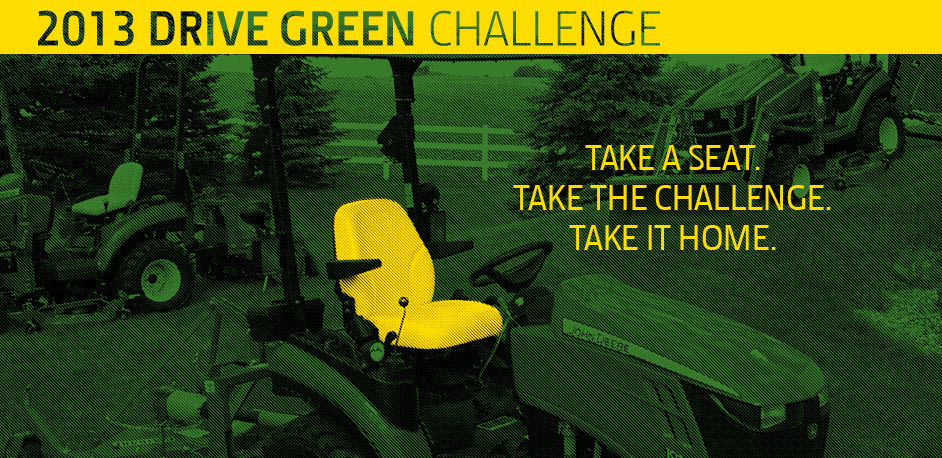 The 5th year of the John Deere Drive Green Challenge is in full swing at dealerships across North America. The annual event, which runs from January to November, let's interested customers test-drive a tractor from the newest John Deere line and put its features to the test. Unlike a typical trip to the dealership that can only provide a spin around the parking lot, the Drive Green Challenge takes place in a realistic environment to truly expose the equipment's capabilities.
At the Drive Green Challenge attendees are given the chance to compare different brands side by side and then see how a Deere measures up. The engineers at Deere are confident enough in their design and build that there is no anxiety when a competitor is given the chance to out-do a Deere.
This hands-on event has something for every interested buyer. Farmers, ranchers, property owners, commercial lawn and landscape operators alike have several options to choose from and compare to the competition. The various models of John Deere 1 Family Sub-Compact Tractors, as well as 3E Series and 5D/5E Series Tractors, are the highlighted models at the event. These machines and their attachment counterparts are available for interested buyers to put to the test in real-life situations such as moving and hauling heavy loads, maintain traction across tough terrain, and making tight turns around obstacles.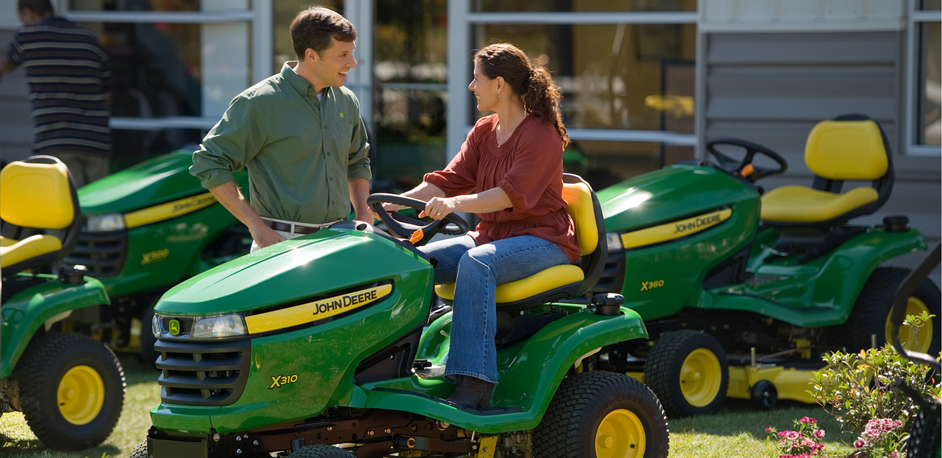 The best way to decide on something is to try it for yourself first, especially when it's an expensive piece of farm equipment that you will rely on daily. Whatever work you plan on accomplishing with a John Deere utility tractor there is a machine for you at your local Drive Green event.
For Farmers: The John Deere 5E series is the largest and strongest of the tractors shown at 2013 Drive Green events, which makes it ideal for large farms. For farmers who require more power than that of a sub-compact tractor or 3E, but still want to maintain the feeling of control and maneuverability, the 5E series is the best bet. Farmers can experience first-hand the versatility of the John Deere 5E series by test driving not only the machine itself, but putting to work the compatible implements and attachments.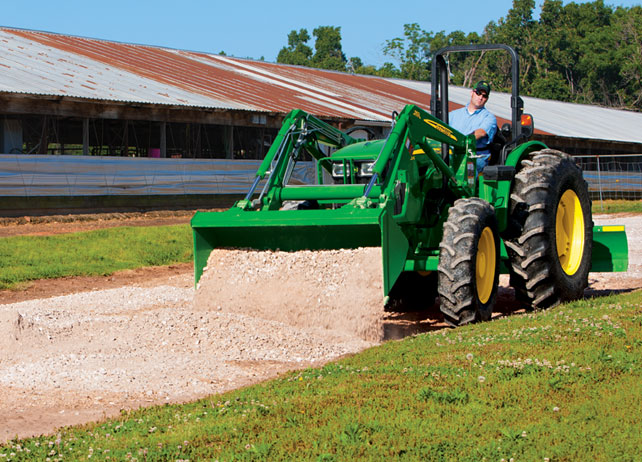 For Ranchers: The 5E series poses the same opportunities for ranchers due to its ability to take on more strenuous tasks than the smaller utility tractors. Implements such as wheel rakes several pieces of hay equipment are all fully compatible with the 5E series which makes it perfect for growing and harvesting hay crops to feed livestock. Ranchers can put a 5E series tractor to the test during the 2013 Drive Green Challenge and determine if it will adequately fit their needs for strength, power, durability, and versatility.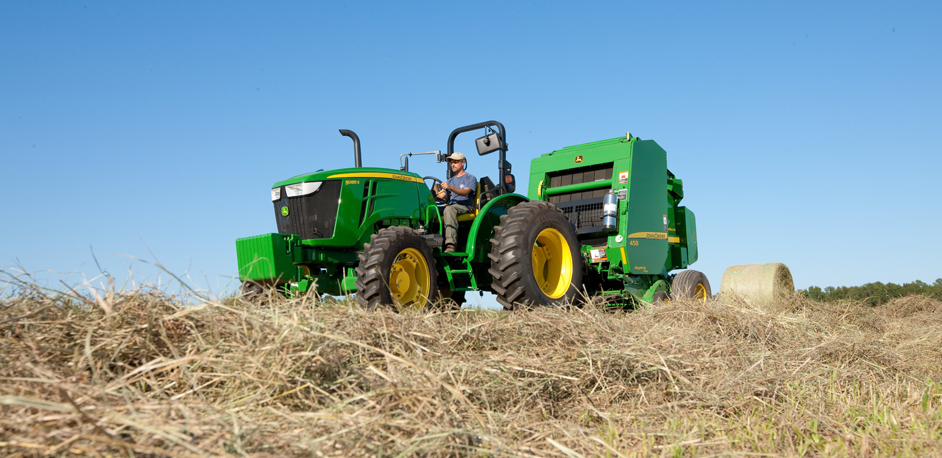 For Property Owners: The sub-compact and 3E series tractors available at the Drive Green events are worth a look from every property owner. These compact utility tractors are perfect for lawn and garden care along with all types of outdoor tasks that need to be done across expansive properties. Deere doesn't expect property owners to take their word for it; instead they let you decide for yourself by allowing competitor comparison. In this video, a representative from John Deere breaks down the differences in design and operation between the Deere 3E series and the Kubota L Series.
http://youtu.be/lEFEL7VoEcs
For Commercial Landscapers: If you make a living by maintaining and crafting landscapes you need a reliable machine that is capable of carrying out a wide range of tasks. Both the sub-compact and 3E series are manufactured to be compatible with several landscaping attachments such as box blades, hole drillers, wood chippers, grooming mowers, snow blowers, and more. During the Drive Green Challenge event landscapers can put the tractor, along with various attachments, to the test to determine if it has the talent to exceed their landscaping needs.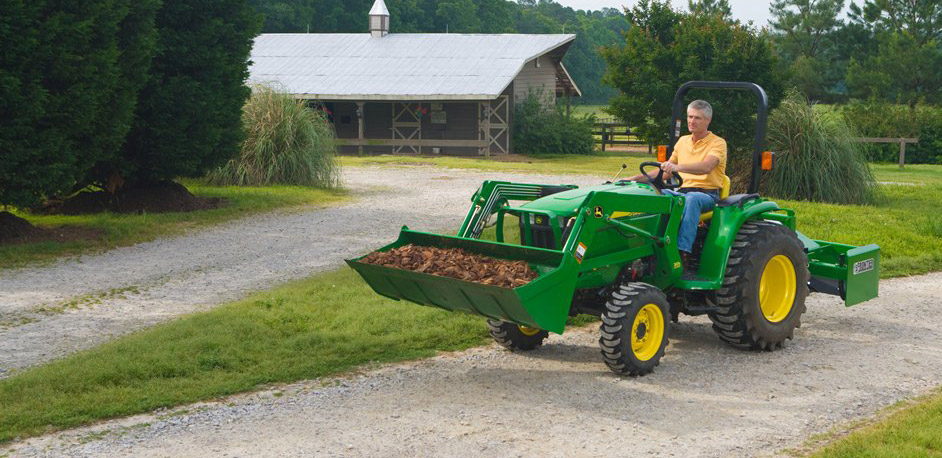 For Every Interested Buyer: The Drive Green Challenge event is not limited to those in the agricultural industry; it is open to any interested buyer. If you've never purchased a piece of agriculture equipment or are looking to change brands then this is the perfect event for you. At each event there are several expert John Deere dealers ready to answer any questions or address any concerns you may have. The event is also an opportunity to try your luck a contest to win a John Deere 1 Series Sub-Compact Utility Tractor with loader and grooming mower.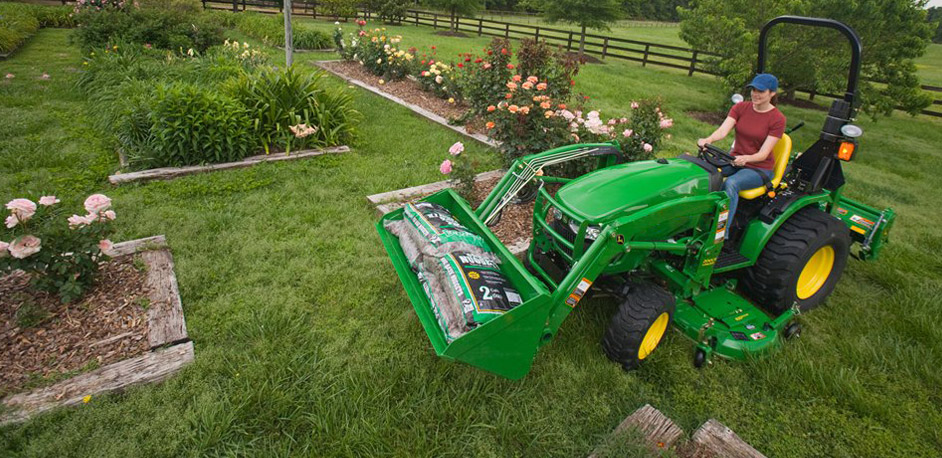 This event is a true testament to the pride John Deere and Company put into every piece of agriculture equipment it manufactures. By letting customers compare every feature of the tractor to competitor brands they are guaranteeing satisfaction. Find out when your local dealership is having its 2013 John Deere Drive Green Challenge event and get yourself behind the wheel of your future utility tractor.
Related John Deere Drive Green Challenge Links & Resources
If you enjoyed this post read more on our Facebook page!
You might also like: