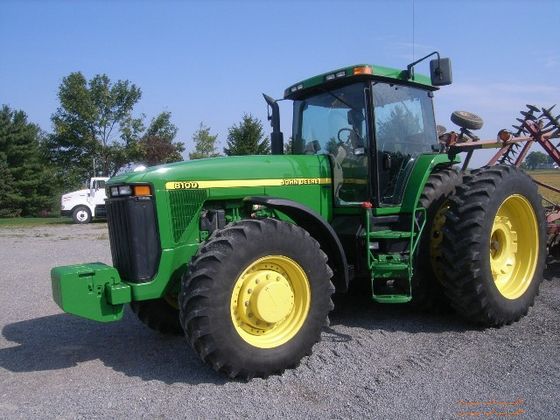 The John Deere 8100 Tractor
This 1999 John Deere 8100 tractor with 1,340 hours sold for a new record high auction price of $105,000 on a farm sale in northwest Ohio last Saturday (Nov. 19, 2011)
How fast and how high have used tractor values been rising? Let me show you.
Deere made their model 8100 tractors (160 HP) from 1995-1998. Just about one year ago exactly, on a November 16, 2010 farm auction in east-central Nebraska, a 1997 JD 8100 MFWD tractor with 1,455 hours in "excellent" condition sold for $91,000…a new record auction price I had seen on a JD 8100.
That record lasted less than three months.
On a February 10, 2011 farm auction in the same area of east-central Nebraska, a 1999 John Deere 8100 with 1,191 hours in "excellent" condition sold for $97,500. A new record high sale price.
Now comes another new record auction price, from a nice farm auction last Saturday, November 19, 2011, in northwest Ohio where auctioneer Aaron Siefker sold a 1999 JD 8100 MFWD tractor with 1,340 hours in "excellent" condition for $105,000.
A 15.4% jump in the record auction price in one year's time. Wow.
Also setting a new record high auction price on the northwest Ohio farm auction last Saturday was a 1992 model JD 4960 (200 HP) tractor with 2,758 hours. It went for $86,000, besting the former high auction price of $83,500 for a 1993 JD 4960 MFWD with 3,156 hours sold on a September 16, 2011 farm equipment auction in south-central Minnesota.
Like I said, used tractor values are R-I-S-I-N-G.
About Machinery Pete: Greg "Machinery Pete" Peterson has been working in the agricultural industry for 21 years and details agricultural equipment prices and trends at his website, Machinerypete.com. Greg also writes columns for Successful Farming magazine, Implement & Tractor magazine, Agriculture.com web site and also appears on the Machinery Show on RFD-TV.