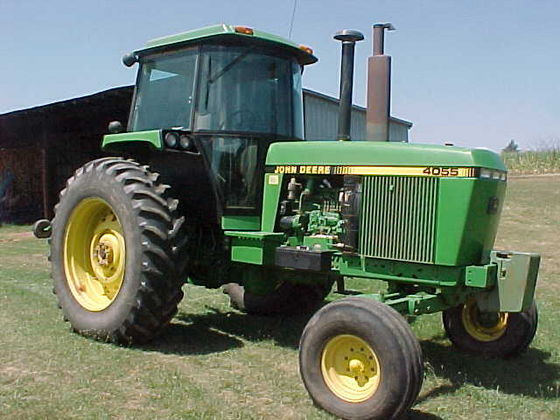 Used John Deere 4055
This John Deere 4055 2WD tractor with 2,462 hours sold for $46,000 on a farm auction near Gettysburg, PA September 10, 2011
The record stood for 15 years and 7 months.
$45,000 was the highest auction sale price I had ever documented on a John Deere 4055 tractor. That sale price was all the back on February 1, 1996 on a farm auction in southwest Iowa, where a 1992 model 4055, two-wheel drive with only 339 hours, in excellent condition, sold for $45,000. 4055's are 105 horsepower and were made by Deere from 1989-92.
Ready for the scoop on the new record price?
It came on a farm auction near Gettysburg, PA on September 10, 2011. This south-central Pennsylvania auction had a John Deere 4055 (2WD) with 2,462 hours on it in very good condition. It sold for $46,000.
15 years and 7 months later, with 2,123 more hours and it sells at auction for more money. Shows you how these very nice condition used John Deere tractors really hold their value.
About Machinery Pete: Greg "Machinery Pete" Peterson has been working in the agricultural industry for 21 years and details agricultural equipment prices and trends at his website, Machinerypete.com. Greg also writes columns for Successful Farming magazine, Implement & Tractor magazine, Agriculture.com web site and also appears on the Machinery Show on RFD-TV.