RDO Equipment is one of many John Deere dealerships that serve its customers through the use of auctions. While traditional auctions are still very much a major factor in the buying and selling of new and used equipment, the digital age has helped expand the horizons. Thanks to online auctions, equipment-seekers from all corners of the United States (and beyond) can virtually participate in the auction process. To get a better understanding of both in-person and online equipment auctions, we recently sat down with Brian Messerschmidt, auction/call center sales manager at RDO Equipment.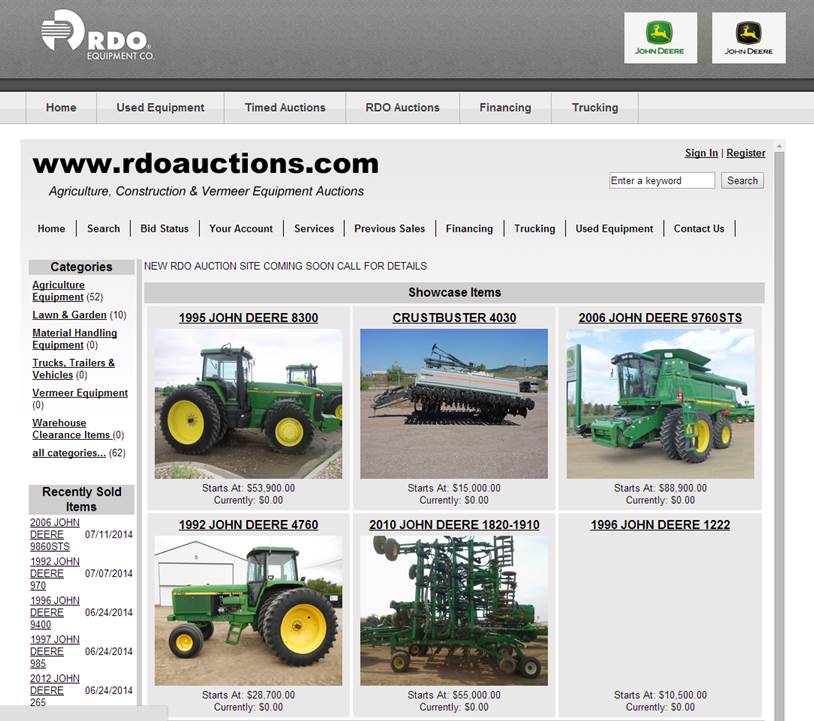 In this post, we will share some of the questions and answers that resulted from our conversation, enjoy!
Q: Can you provide us with a little bit of your personal background, your role at RDO, and how you got into the equipment industry?
A: "How I got into the industry is a little bit backwards actually. I started out going to school for agribusiness and ended up working for a chemical company. From the chemical company, I ended up going to work for a Buick dealership in town here. At that dealership is where I met the vice president of RDO's sales who also heads up everything on the agriculture side. So in a roundabout way, about twenty years later I ended up back on the ag side. When I went to work for RDO I started out working with the precision ag products and from there it was a steady progression into the office where I was actually in on the ground for when we would post things on MachineFinder. Before the site functioned like it does today, every morning I would manually update equipment through a separate portal that would push it out through MachineFinder.
About twelve years ago, we had some success with an on-site equipment auction and we followed that up with an online auction after we saw other businesses thrive with that concept. We figured since we already had a system up and running, this would be an interesting avenue to follow along. One of my bosses at that time had asked me to look at listing pieces for our online auction and then I worked with our equipment evaluation manager who would give me all the pieces and starting bids. Then, I would load them and promote them off of there and that's basically how we got started with our online auction system."
Q: RDO hosts both live (in person) and online auctions.  Why do you host auctions and what kinds of benefits does each offer to customers?
A: "Of course with an on-site auction, you get the exciting atmosphere. You get the guys that want to come around and they want to be there and they enjoy the comradery, being with their fellow farmers. The on-site auction pleases those that just love going to these things and love the whole equipment auction experience. And honestly, there's still some equipment buyers out there that just don't want to turn on a computer. These are the people that will still drive 100 miles to look to buy a piece of equipment.
However, when we do an on-site auction, whether we're transporting equipment to one of our sites or to one of the auction company's venues, it gets pretty time-consuming as far as the man-power (cleaning, trucking, and getting the pieces ready) that's involved. This whole process takes a great amount of time, where our online auctions can save this time and effort with virtually the same experience.
Online auction users get great pictures, information is uploaded and updated and they also have our people available to answer phone questions when they come in which allows us to reach a much broader audience. We have people from basically every state in the U.S. with some provinces in Canada and even some place in Mexico and overseas that use the online auction system to buy equipment just because it's so much more convenient."
Q: We know RDO is a very large dealership.  How does the diversity of equipment listed impact your auctions?
A: "In some ways, we end up taking in some unique pieces from time to time because of how spread out our locations are. At times, that can be a challenge because what might have worked for a farmer in one area of the country, is not necessarily going to work for everybody else at that whole area's trading events. The online auctions give us a chance to show the equipment to people from all over and get the excitement generated that way and open the door for people to find an exact match to their need."
Q: Pertaining to in-person auctions, are there certain locations where auctions are more popular than others?
A: "Some locations draw more interest and some of our locations are more suitable for in-person events so yeah we see some spots that are a bit more popular than others. Time of year is another impacting factor. This time of year, with the warmer weather, or if there's inclement weather, turnout can be affected both ways. In my opinion, online auctions eliminate all the elements and buyers can still see everything that's out there. Guys at various store locations will take pictures around all parts of the equipment and generally do whatever they can to meet the needs of a customer that has some interest."
Q: What are some "hot" items this time of year?
A: "Of course seasonality has a big impact on what is being sold and what's popular. We try to stay ahead of the curve with timing. We want to get our planters, air seeders and things like that out in the beginning of the year. This time of year we try to get things like tractors and combine harvesters moved but realistically what I've found during my years of doing this is you're going to have things that are seasonal but you still have to have a diverse group of equipment available on all auctions just because you don't know what it is that a certain buyer is going to be looking for, regardless of seasonality. It's important for us to not limit ourselves just because it's "that time of the season."
Q: Do you have a customer story you'd like to share or a story about an unusually high auction price on a piece of equipment?
A: "For the most part, once we get to a price we are happy with and sell the equipment, we generally see happy customers. We receive a number of calls following sales from buyers thanking us for telling them exactly what it was they were getting out of a product and standing behind it.
One of the greatest stories I can think of is we had a guy that always bought pieces of equipment off of our auction at a specific store location. He had an account manager that he always worked with that happened to not be there one day. The rear main seal on a four-wheel-drive tractor started leaking and he called us and said "I'm not really complaining or anything but I think this needs to be addressed." He is one of our very loyal customers who has purchased about fifteen pieces of equipment from us so there was no way we weren't going to immediately fix the problem on his tractor. We helped him out right away, made sure he was happy, and sure enough he went out and bought three more pieces of equipment from us at our next auction.
We want every one of our customers to know ahead of time what it is they are getting in a piece of equipment. With RDO, we want everybody to know we are going to stand by that piece of equipment. If we tell customers something, that's what they can expect to get. If what we've promised to deliver falls short, we've got no problem with buying it back. We want repeat buyers with our online auctions and we want people to know we stand behind each of our pieces of equipment."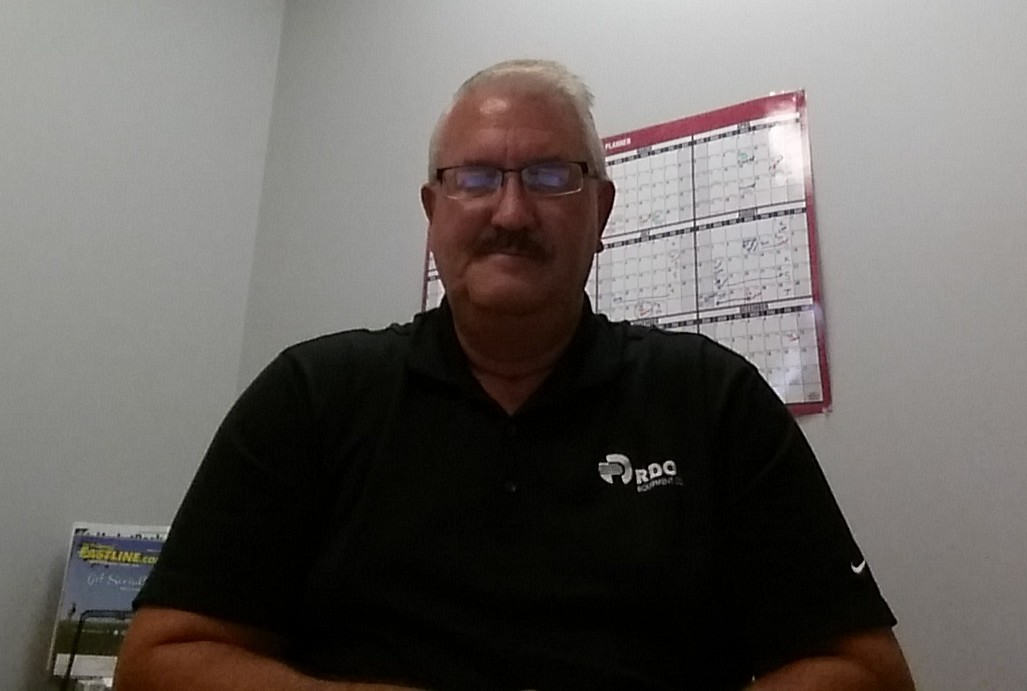 Hopefully the results of this conversation have shed some light on RDO auctions and how auctions can benefit all types of farmers. A special thanks to Brian Messerschmidt, for giving us an inside look at the auction industry. If you enjoyed this post or want to read others, feel free to connect with us on Facebook or Google+!