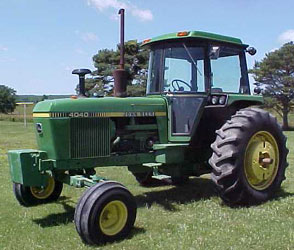 Used John Deere 4040 Sells Big
This "1 owner" tractor sold on a September 2, 2011 farm auction in north-central Missouri
Modern farming is a big diverse world.
Easy to focus on the ever increasing size & complexity of all types of equipment needed to farm these days, but the daily stream of auction sale price data that comes across my desk and into our www.machinerypete.com web site speaks to the wonderfully diverse nature of farming today.
Two recent examples are a used 31-year old John Deere 90 horsepower tractor and a small used 6-row John Deere planter pushing 20 years old, both sold on recent farm auctions. An ageing 90 HP tractor and a two decade old 6-row planter, big deal, right?
Actually, yes, big deals.
The tractor was a 1978 John Deere 4040 tractor with only 1,368 "1 owner" hours sold on a September 2, 2011 farm auction in north-central Missouri (see pic above). Sale price was $33,000, making it the 2nd highest auction sale price I've ever seen on a JD 4040 tractor. So apparrently still lot of buyer interest in older, smaller tractor like this in very good condition.
Ditto for the 6-row John Deere 7200 planter sold for a new record high auction price of $20,250 on a farm retirement auction August 13, 2011 in southeast Minnesota. Again, who cares about an older, smaller 6-row planter? Lots of folks.
A big wide world of modern farming indeed.
About Machinery Pete: Greg "Machinery Pete" Peterson has been working in the agricultural industry for 21 years and details agricultural equipment prices and trends at his website, Machinerypete.com. Greg also writes columns for Successful Farming magazine, Implement & Tractor magazine, Agriculture.com web site and also appears on the Machinery Show on RFD-TV.