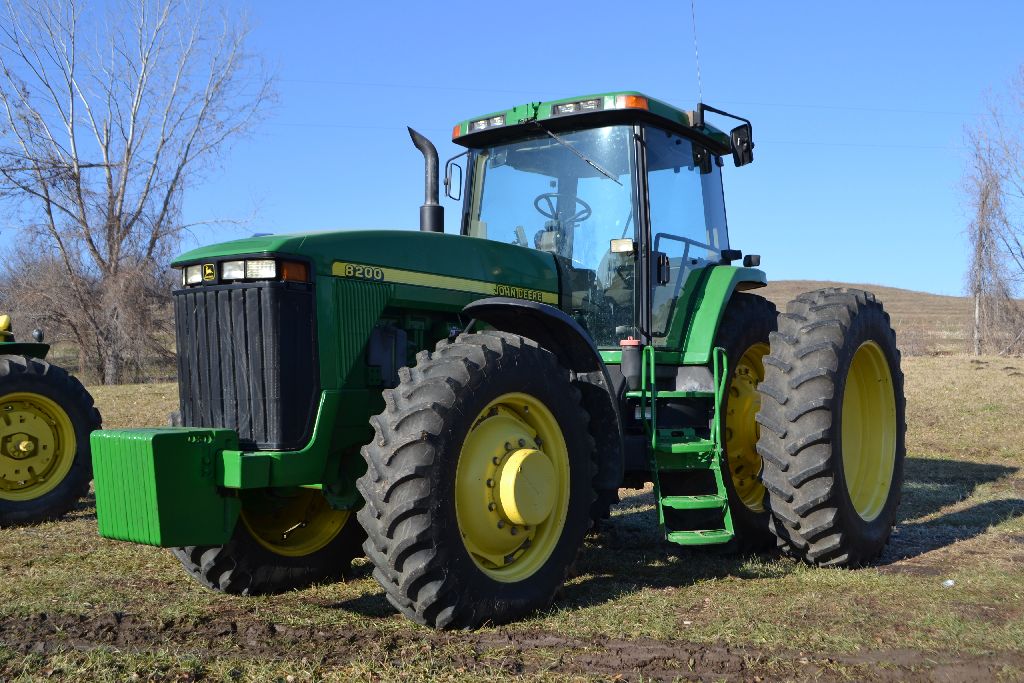 This 1999 John Deere 8200 tractor with 3,918 hours sold for a new record high price of $88,000 on a farm auction March 10, 2012 in northwest Missouri.
Up until last year I had only seen (1) John Deere 8200 tractor ever sell for over $80,000 at auction.
That one was WAY back on a March 6, 1997 farm auction in southeast Minnesota, where a 1995 model 8200 with only 545 hours sold for $81,000. It took another 14 years until I saw the next JD 8200 tractor sell for more than $80K, a 1998 model 8200 with 2,750 hours in "excellent" condition sold for $86,000 on a March 26, 2011 farm auction in northeast Colorado.
So far this month, March 2012, I've already seen (2) 8200's go over the $80K mark at auction, including a new record high sale price of $88,000 for the sweet 1999 model 8200 with 3,918 hours sold on a farm auction in northwest Missouri on March 10, 2012 (see pic). The other JD 8200 sold for over $80K was a 1995 model with 3,830 hours that went for $83,000 on a March 5, 2012 farm sale in northwest Indiana.
BTW: on that same March 5, 2012 farm auction in northwest Indiana, a 1995 John Deere 8400 tractor with 3,622 hours sold for a lofty price of $98,000 and a 1976 JD 4430 tractor with 7,286 hours went for $19,500.
As you can see, the market for good condition used tractors remains very, very strong.
About Machinery Pete: Greg "Machinery Pete" Peterson has been working in the agricultural industry for 21 years and details agricultural equipment prices and trends at his website, Machinerypete.com. Greg also writes columns for Successful Farming magazine, Implement & Tractor magazine, Agriculture.com web site and also appears on the Machinery Show on RFD-TV.